And to round out the slew of posts today I'm very happy to finally announce my Lovecraftian-action novella 'Vanguard' (an adaptation of a screenplay I'm currently shopping) will be appearing in the long-awaited anthology Cthulhu: Deep Down-Under. Edited by giants of the Australian weird fiction field Christopher Sequeira, Steve Proposch and my old mate Bryce Stevens, CDDU will be announced/presented to the world Oct 18 & 19 at Armageddon Con in Melbourne.
It's been torturous to keep quiet all year about this, so I'm sure the other amazing writers & artists in this collection are just as thrilled we can finally go public. How's this for a role call: Stephen Dedman, Greg Chapman, Kaaron Warren, Geoff Brown, Jason Fischer, Steven Paulsen, Robert Hood, Lucy Sussex, Nick Stathopoulos, and many many more. Not to mention an intro by Ramsey Campbell. The boys have excelled themselves collating this.
Here's Armageddon's announcement:
__________________________________________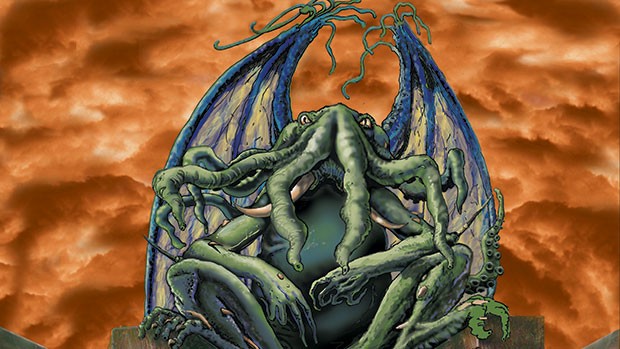 http://armageddonexpo.com/au/comics-sci-fi-fantasy-trading-cards/cthulu-deep-down-under/
H.P. LOVECRAFT'S TITANIC MONSTROSITY RISES IN AUSTRALIA – AT ARMAGEDDON CON, MELBOURNE 2014!
24 of the best Writers of horror and fantasy in the country, and 25 amazing Artists, are proud to launch a MONSTROUSLY HUGE collection of stories: CTHULHU: DEEP DOWN UNDER!  A new tome with an original introduction by world literary legend RAMSEY CAMPBELL!  And a PROSE piece by legendary Australian singer songwriter STEVE KIBEY of THE CHURCH!
Come to the launch, find out about this massive, more than 500 page project, and its stunning 25 full-colour poster style illustrations of terror and suspense that will be available as SIGNED prints at Armageddon!
An incredible collection, featuring the work of the following talents slated to appear at Armageddon:
Writers/ Editors like
AARON STERNS (WOLF CREEK 2)!
KAARON WARREN (SLIGHTS, THROUGH SPLINTERED WALLS)
CHRISTOPHER SEQUEIRA (X-MEN VS VAMPIRES!)
JASON FRANKS (BLOODY WATERS! MCBLACK COMICS SERIES!)
G. N. BRAUN (HAMMERED!, COHESION PRESS)
LUCY SUSSEX (THE SCARLET RIDER, THIEF OF LIVES)
JANEEN WEBB (DEATH AT THE BLUE ELEPHANT)
DMETRI KAKMI (MOTHER LAND)
STEVEN PAULSEN (THE STRAY CAT)
STEVE PROPOSCH (BLOODSONGS MAGAZINE)
Artists like
JAN SCHERPENHUIZEN (THE TWILIGHT AGE COMIC SERIES)!
BRUCE MUTARD (FAMED WRITER-ARTIST OF THE SACRIFICE!)
W. CHEW CHAN (SUPERMAN RETURNS STORYBOARD ARTIST)
PAUL CAGEGGI (PANDEIA COMICS SERIES!)
Come and meet these creators for the story behind a ground-breaking new Australian anthology! [October 18 & 19]
___________________________________________
For more posts: THE LATEST.