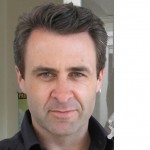 Born in Melbourne, Australia, in 1972, Aaron read voraciously from a young age, perhaps aided by the fact he didn't talk until five (it's true). Drawing and writing seemed a natural extension of an obsession with all things fantastical, producing a ten-page epic to Mr Smith in Grade Five entitled 'An Adventure with the Australian Smurfs'—depicting a young boy walking home from school being shrunk down by smurfs living near Gardiners Creek in Chadstone and joining them in a battle against the evil Space Smurfs. It was only required to be half-a-page.
Though actually quite scared of horror when young (particularly freaked out by glimpsing a trailer for Night of the Living Dead or some other zombie movie where multiple hands reach out of the darkness towards a couple in a bed; and an unfortunate change of channel one night just when the bulldog-with-the-human-head showed itself during Kaufman's Invasion of the Body Snatchers) Aaron (pronounced Ahren by the way) eventually gravitated towards the dark side. The signs had been there. He always wanted to be Darth Vader, for one thing, rather than that whiny blond kid. Beginning to read more dark fantasy—particularly Howard's bleaker Conan stories—he then began seeking out anything apocalyptic, which led a little too early into the dystopias of Huxley and Orwell.
And then one day he felt strangely compelled to walk down a street in the country city of Ballarat (to which his family had moved the year before) that he'd never been down before and past a second-hand bookshop with one novel displayed prominently in the window: Stephen King's It. It'd all been a little spooky actually. But he bought the book—and then everything else by King and Clive Barker, including all the non-fiction he could find, thus leading to a life-long interest not only in horror fiction but its reception and theory.
In between playing in heavy metal bands, hosting a radio show and various martial arts and Aussie Rules-playing, Aaron continued to write in high school, most notably a story about a boy who finds a saber-toothed tiger down the creek near his house. It was called 'Saber'. And another story about a chainsaw attack at a drive-in. That one was called 'Chainsaw Terror'.
Initially thinking he'd need a steady income to support his vague ideas of a writing career, Aaron initially applied for Graphic Design at the end of high school. However, his then-English teacher—the inspiring Ros McArthur—suggested he instead consider the arts program at Deakin University, a rural university located outside of Geelong, seeing as their literary studies course was more progressive than others at the time and actually included—shock, horror—science fiction and film. Aaron changed his preference at the last minute and made it into Deakin.
Where he stayed for ten years.
As fate would have it, Aaron's first year teacher turned out to be the demanding and driven Hazel Rowley, who in a pivotal moment during a young student's first flailing weeks at university singled out his essay as an example to the rest of the class and made them listen to 'every bloody word'. This moment solidified Aaron's decision to study at Deakin.
Working through the university syllabus, Aaron undertook a separate nightly reading ritual working back through the classic short stories of the horror genre: every Lovecraft story, the ghost stories of the '20s and then late 1800s, Poe, then back further to the early Gothic. This grounding soon springboarded into a desire to see the cutting edge of horror: the new works which sought to rewrite the conventions and push the boundaries: the anthologies edited by Dennis Etchison, by Douglas E. Winter, by Harlan Ellison. Novels by Bret Easton Ellis and J G Ballard and Jack Ketchum. Films by David Cronenberg.
Heavily influenced by the theories of Douglas E. Winter about a new wave of fiction rising in the horror landscape—a form Winter called 'anti-horror', or fiction that seeks to undermine and subvert horror conventions to produce a new kind of fiction not limited by the tropes and conservatisms of traditional horror—Aaron enrolled in the Honors course next at Deakin, beginning a thesis that would be entitled Anti-Horror: Tracing Postmodernism in Horror Fiction with the blessing of supervisor Brian Edwards, looking primarily at Clive Barker's Books of Blood and Harlan Ellison's short story 'The Man Who Rowed Christopher Columbus Ashore'
Moving back to Ballarat from Geelong, Aaron began working security (partly to avoid becoming a recluse) at the most popular bar in town, Publicity, and then also at the hottest nightclub Hot Gossip. These would be pivotal times that would greatly feed into the building world of 'Watchmen' and the novel Blood in the future, particularly in the nights spent with the tight-nit older crew of Tiny, Max, Mick Sharp and Mick White and the other hard nuts there.
Graduating with First Class Honors and wishing to continue his academic studies, Aaron moved permanently to Geelong and began working part-time at the Centre for Research in Cultural Communication as an administrator, while enrolling in the Masters program, and upgrading soon thereafter to a Ph.D. He also began off-campus tutoring in Literary Studies and Journalism, and administrating the CPA journalism cadets' course, and joining the Faculty Board as a student representative, and a couple of other part-time jobs, all while trying to study full-time. It was a bit much. Still thankfully he was no longer doing security.
During this time Aaron joined the Melbourne Horror Writers, traveling to the big city once a month to meet with the likes of Bryce Stevens, Chris Masters and Steve Proposch at a haunted pub in South Melbourne. Finally communicating with like-minded genre souls rather than being the lone voice at uni, Aaron reveled in this time and accepted an offer from Stevens to take over the editing of the society newsletter when the organization became the Australian Horror Writers. Aaron paid for the printing of each issue of The Journal of the Australian Horror Writers himself, editing the journal from 1996 to 1998, when the AHW folded. He also acted as the Australian correspondent for David B. Silva's Hellnotes guide to the horror field for many years.
Aaron traveled to the US (and particularly the object of his obsession for so many years due to its depiction in film and fiction: New York) in 1997, attending the International Conference on the Fantastic in the Arts to present a paper on Bret Easton Ellis that was well-received. He returned in 1998 to present a paper on David Cronenberg's Crash, but only days after the conference he suffered an anaphylactic reaction while in Washington DC to a still-unknown substance (he hopes it's not America in general, but wouldn't be surprised if it was just to DC) and spent ten days in intensive care in the now-defunct DC General Hospital. His first memory waking up in the ER was seeing the guy in the bed across from him's leg chained to his guerney (the hospital was attached to a prison). Big Jim—a friendly giant in the ward Aaron stayed in for his last day—gave the sage advice to hold close his suitcase the entire night as 'things'em go missing 'round here'. Aaron didn't sleep much that night. But he did manage to continue on his trip to stay with Doug Winter in Virginia and fulfill a longstanding dream by conducting a lengthy interview (which will be made available elsewhere on this site). He was also able (despite his father being none too happy at him not coming straight home) to make it to London on the round trip back and meet Michael Marshall Smith and Stephen Jones and exchange Aus and Brit books.
However, 1998 also saw the publication of Sterns' first story 'The Third Rail', so it wasn't all bad. Accepted by editors Jack Dann and Janeen Webb for the World Fantasy Award-winning anthology Dreaming Down-Under, 'The Third Rail' arose from Aaron's first visit to New York and depicted a newly-arrived wannabe-immigrant who discovers the price the city requires of its inhabitants. It was shortlisted for the 1998 Aurealis Award for Best Horror Short Story, and the satisfaction of publishing it influenced his decision to withdraw from his Ph.D. to devote more time to fiction, feeling frustrated for some time that he'd spent too many years discussing others' work instead of writing his own. (He was also buoyed by discovering Peter Straub had dropped out of his doctorate—and it didn't hurt him any—and that Hazel Rowley was in the middle of making a similar decision to abandon her secured tenure to move to the States and pursue biography writing full time, encouraging him to do the same. Thanks Hazel. You are missed by many.)
Thus began a whirlwind few years of recovery from the allergic attack (which took a few years, in truth) and many odd jobs to bring in income. Moving finally back to the place of his birth, Aaron secured a tiny one-bedroom apartment in Brunswick which his next-door neighbors tried inadvertently to burn down a number of times, met his (still-)girlfriend Robyn within a month (after a particularly memorable Snuff Puppets show full of puppet dismemberment and castration — bring the kiddies), and gravitated back to security work to bring in income. Working at the biggest nightclub in Melbourne—the Metro at the top of Bourke—Aaron eventually held the top floor of the club by himself—called God's Bar.  He also accepted an offer from Deakin to return to teach the Gothic and Subversive Fiction unit, and so began a weird life of extremes—teaching at university during the day, bouncing at night. Kinda like secretary by day, stripper by night or something. But it all fed into his fiction, the Metro eventually becoming the setting for the Metropolis in Blood (which will be fairly obvious).
The other important event from this time saw Aaron share an office in Brunswick St, Fitzroy with the first person he'd met at uni and sat next to every Lit class, Daniel Austin, and a friend of Dan's from Bendigo, one Greg McLean, an aspiring film-maker. The next two or three years would be formative, the trio working in their respective hovels in the office and sharing writing back and forth and arguing every issue under the sun at every opportunity. Knowing McLean's interest in horror, the two had many discussions about the genre and Aaron railed at the film-maker whenever he could about Winter's teachings regarding undermining generic expectations. It probably got through too. The two began their first collaboration Darkness Comes, a zombie script arising because Aaron maintained that as well as genre films should play with expectation zombies should be fast and scary—like an incoming storm. Unfortunately Zack Snyder thought the same thing.
Having read an early version of the 'Watchmen' short story (named before Aaron realized there was a rather important graphic novel of the same name), a visiting American friend in 2000 of Dan's named Adam Simon—yes, the director of Brain Dead and Carnosaur—suggested optioning it and developing it into a screenplay, fleshing out a probable plot (which still stands to this day, in essence). Aaron, who had quit the Metro by now, set about writing during the days he wasn't doing temp typing work. Looking to develop an entire mythology around the werewolves of the story, Aaron delved into the legends of his Latvian ancestry, soon realizing that the ancient Livonians from the area had many tales of what were called vilkači, or turnskin; men turned into beasts for the protection of the village's crops and people. It played into the story nicely. (Later, he would begin to learn Latvian to aid the novel, his writing encouraging him to reconnect with his heritage).
He then rewrote the short story to reflect the new angle the script had taken—depicting nightclub security as werewolves—and subsequently sold it to Jack Dann's next collection Gathering the Bones, a tri-country anthology co-edited with Dennis Etchison (the US) and Ramsey Campbell (the UK). Dann then suggested adapting the script into a novel, and Aaron began the daunting task of writing his first novel, something he wasn't sure he'd ever be able to do. Scripts seemed hard enough. But eventually he pushed out a draft and began to develop it over the years.
Not long after 'Watchmen' appeared, Aaron also sold 'At Night My Television Bleeds' to Orb Publications (which is forming the basis of his current novel), set around a creek very similar to Gardiners in Chadstone (a lot happened at that there creek).
Working now as an extras/ bit part actor (thanks to a referral from uni friend and now-policeman/army reserve/all-round action man Al Cooke), Aaron then filmed a cameo in McLean's first film Wolf Creek as Bazza's Mate, a nasty truck driver in an early scene, having already appeared in McLean's short ICQ as a sicko who cuts his own hand off. Thanks to the success of Creek, McLean soon secured the funding for his next feature Rogue, about a crocodile attack on a tour boat. Aaron served as script-editor. Aaron continued to act while working on his fiction, appearing in hundreds of shoots over a number of years, mostly as a policeman arresting someone in the background (appearing on Neighbours nearly every week for a while there), but sometimes a little more prominently such as in the Bodyjar clip 'Not The Same' in which he plays Mr Big, or an ad-libbed part in an episode of 'Thank God You're Here' which was great fun. Importantly, this all provided exposure to the machinations of film sets.
Aaron was then contracted to work on a couple of scripts—including Wolf Creek II—and then sold his next — very personal — story 'The Rest is Silence' to Dann's ten-year follow-up to DDU, Dreaming Again, thus completing the big three of Dann's anthologies. (Jack's encouragement of young writers and impact on the speculative fiction landscape during this time is perhaps immeasurable.)
In 2009, Aaron finally traveled to the US again and survived with nary a scratch. Ostensibly to conduct research for the Blood novel (which had been reset to New York), Aaron coincided the visit with BookExpo America and the HWA Conference (having been a member of the association for some ten years by that stage). Thanks to a referral from the lovely Ellen Datlow, Aaron happened to place his novel in the hands of agent Beth Fleisher and subsequently signed with her. He then went on to Los Angeles to finally meet his film agent Caren Bohrman and stay with McLean at Adam Simon's house for two weeks of roaring debates of writing, no housework, and some pellet-gun firing that might have got a bit out of hand (see photo below). Good times.
Aaron returned home to work on various projects, in the meantime placing an updated version of the 'Watchmen' short story (now set in New York with even more werewolf) in Bewere the Night, an anthology edited by Ekaterina Sedia from Prime Books.
As well as co-writing the script for Wolf Creek II, Sterns and McLean have written a prequel novel Wolf Creek: Book One for Penguin. The novel's due for release in conjunction with the new film next year, and will be the first in a series co-written by McLean and the cream of Australian horror authors (the late Paul Haines was working on the second novel until his tragic passing earlier this year; Brett McBean, author of the excellent—and very Wolf Creek-like novel The Mother—has taken over instead).
Sterns and McLean are working on a number of other screenplays, including a film version of his vicious and visceral werewolf novel Blood. But in the meantime, Sterns is pushing ahead on his next novel—a body horror story set in the shadow of the coming singularity. More on that soon.
He lives in Melbourne, Australia, with his newly-engaged partner of 14 years and their brewing baby (due September 12!). [UPDATE: Now fully-brewed into the world!] They've just moved from a tiny fortress in inner-city Carlton to a monstrosity of a house in the leafy eastern suburbs in anticipation of their growing family. The book collection has room to breathe now too!
He's still itching to return to New York as soon as he can though.