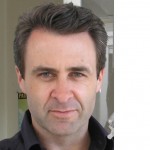 Aaron Sterns is the co-writer of Wolf Creek 2 (winner best screenplay Madrid International Fantastic Film Festival 2014), as well as author of the prequel novel Wolf Creek: Origin. The novel, published by Penguin, has already been described as "one of the best serial killer novels out there […] destined to be considered a classic in future years' (Jeff Ritchie, ScaryMinds). The Hollywood Reporter calls the film an "edge-of-seat gorefest" and Variety says it is "quite a ride".
Sterns is the author of various Aurealis Award-nominated and Year's Best Fantasy & Horror recommended short stories, including 'The Third Rail' and the dark werewolf-bouncer world of 'Watchmen' (the basis for his upcoming vicious and visceral werewolf novel Blood). He is a former lecturer in Gothic & Subversive Fiction, editor of The Journal of the Australian Horror Writers and Ph.D. student in postmodern horror. He also served as a script-editor on Greg McLean's Rogue and appeared in a little cameo as Bazza's Mate in Wolf Creek.
Sterns is currently working on another novel as well as a number of screenplays, including a film version of Blood.
He lives in Melbourne, Australia, with his partner of 16 years and their 16-month old bundle of joy – the third of the 'Wolf Creek babies'.