I'm pleased — and shocked — to announce that Wolf Creek: Origin won the best Australian horror novel of the year at the recent Australian Shadows Awards (given by the Australian Horror Writers Association). It's especially pleasing because it's such an unconventional horror novel in many ways — the protagonist is the serial killer; not being told from the victims' points of view means you can't trade off that empathetic level of suspense; and the path is essentially pre-determined. Yet these are the judges' words:
"As the character of Dean Winchester said in the hit series Supernatural, 'at least ghosts had rules, but people were just plain crazy'. In Wolf Creek: Origin, the horror lies in the depths of depravity of Mick's mind. The murderous streak in Mick emerged early in life with the murder of his sister, and takes the form of a 'dark passenger' much in the vein of Dexter Morgan from the TV series Dexter. A prequel to the two popular movies, this book excels in its gory detail and does not hesitate to even mention bestiality. A superb novel that would make an excellent movie, I had John Jarratt in mind's eye as I read this book."
They got it
[I'd love to see it as a movie too.]
Here's the full list of winners. Congrats to all the nominees, and my thanks to the judges and to the AHWA.
http://www.australianhorror.com/index.php?view=39
AUSTRALIAN SHADOWS AWARDS
Winners for the AHWA's Australian Shadows awards for 2014 have been announced.
Our winners for the 2014 awards were:
Novel:
Aaron Sterns and Greg McLean – Wolf Creek: Origin
Short Fiction:
Alan Baxter – Shadows of the Lonely Dead
Edited Works:
SQ Issue 14 – edited by Sophie Yorkston
Collected works:
Andrew McKiernan – Last Year When We Were Young
Paul Haines Award for Long Fiction (novella)
Shane Jiraiya Cummings – 'Dreams of Destruction'
The awards celebrate the finest in horror and dark fiction published by an Australian or New Zealander for the calendar year of 2014. Works are judged on the overall effect – the skill, delivery, and lasting resonance – of a story.
Previous winners have included Lee Battersby, Terry Dowling, Paul Haines, Brett McBean, Kirstyn McDermott, Bob Franklin, Kaaron Warren, Will Elliott, Deborah Biancotti, and Amanda Spedding.
And here's the unbelievable trophy. Greg and I get one each apparently. It's just as well, because I'd fight him for it: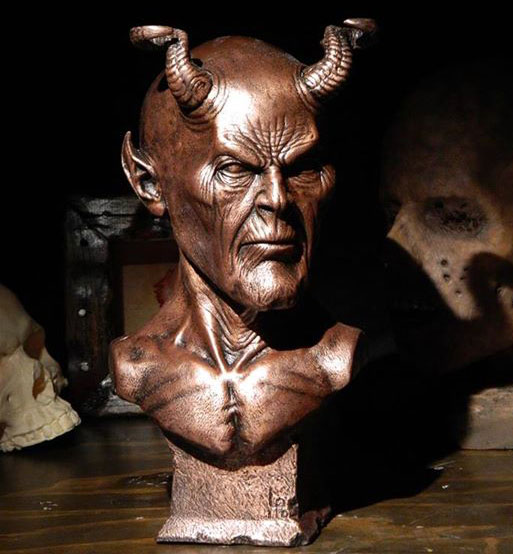 For more posts: THE LATEST.