'Wolf Creek: Origin' Wins 2014 Australian Shadows Award
April 30, 2015
I'm pleased — and shocked — to announce that Wolf Creek: Origin won the best Australian horror novel of the year at the recent Australian Shadows Awards (given by the Australian Horror Writers Association). It's especially pleasing because it's such an unconventional horror novel in many ways — the protagonist is the serial killer; not being told from the victims' points of view means you can't trade off that empathetic level of suspense; and the path is essentially pre-determined. Yet these are the judges' words:
"As the character of Dean Winchester said in the hit series Supernatural, 'at least ghosts had rules, but people were just plain crazy'. In Wolf Creek: Origin, the horror lies in the depths of depravity of Mick's mind. The murderous streak in Mick emerged early in life with the murder of his sister, and takes the form of a 'dark passenger' much in the vein of Dexter Morgan from the TV series Dexter. A prequel to the two popular movies, this book excels in its gory detail and does not hesitate to even mention bestiality. A superb novel that would make an excellent movie, I had John Jarratt in mind's eye as I read this book."
They got it
[I'd love to see it as a movie too.]
Here's the full list of winners. Congrats to all the nominees, and my thanks to the judges and to the AHWA.
http://www.australianhorror.com/index.php?view=39
AUSTRALIAN SHADOWS AWARDS
Winners for the AHWA's Australian Shadows awards for 2014 have been announced.
Our winners for the 2014 awards were:
Novel:
Aaron Sterns and Greg McLean – Wolf Creek: Origin
Short Fiction:
Alan Baxter – Shadows of the Lonely Dead
Edited Works:
SQ Issue 14 – edited by Sophie Yorkston
Collected works:
Andrew McKiernan – Last Year When We Were Young
Paul Haines Award for Long Fiction (novella)
Shane Jiraiya Cummings – 'Dreams of Destruction'
The awards celebrate the finest in horror and dark fiction published by an Australian or New Zealander for the calendar year of 2014. Works are judged on the overall effect – the skill, delivery, and lasting resonance – of a story.
Previous winners have included Lee Battersby, Terry Dowling, Paul Haines, Brett McBean, Kirstyn McDermott, Bob Franklin, Kaaron Warren, Will Elliott, Deborah Biancotti, and Amanda Spedding.
And here's the unbelievable trophy. Greg and I get one each apparently. It's just as well, because I'd fight him for it: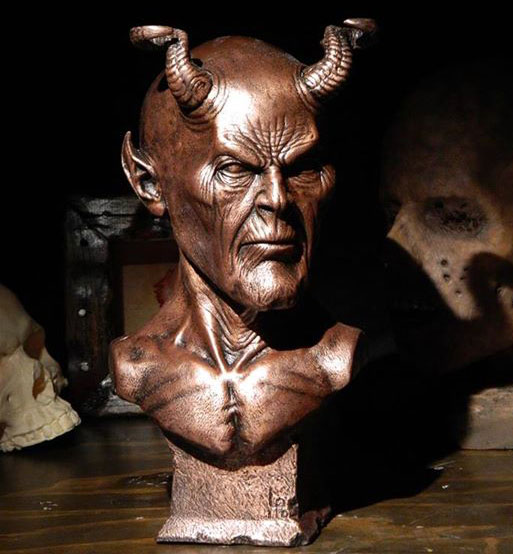 ________________________________________________________________________________________
New Aaron Sterns' Special Edition of 'Cthulhu: Deep Down Under' (sort of)
Nov 22, 2104
For a limited time (because there's only five on offer, and three have sold), you can get a special edition of Cthulhu: Deep Down Under, the upcoming antho featuring my Lovecraftian-action novella 'Vanguard'. For US$110 pledged to the crowdfunding campaign you'll get sent out a copy of the limited edition hardcover signed by myself and artist Sarah Ellerton, a signed print of her incredible illustration accompanying my story, a signed print of the cover by W. Chew Chan, and a personalised email (whatever that means — I think I'm supposed to write you a sonnet or something).
But they've already been selling gangbusters, so get in quick! All the deets here: https://www.indiegogo.com/projects/cthulhu-deep-down-under
And here's Sarah's amazing artwork. You know you want it: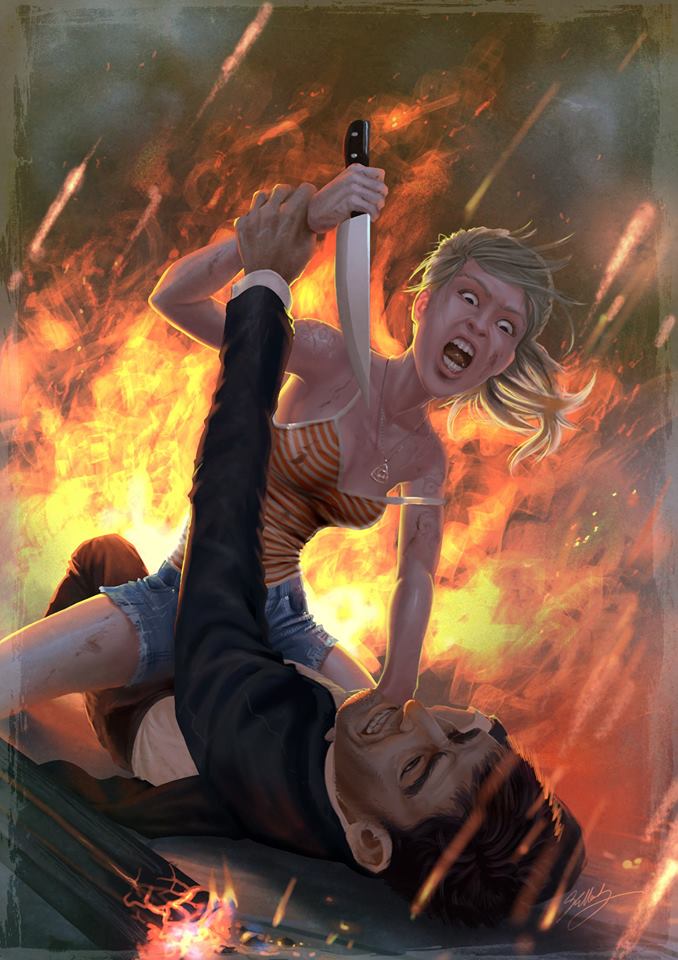 ________________________________________________________________________________________
'Elevated Genre' Screenwriting Panel at Monster Fest Film Festival 2014
Nov 22, 2014
As part of the Monster Fest Academy of Horror and Mayhem I'll be speaking alongside screenwriters Shayne Armstrong & Shane Krause (6 MIRANDA DRIVE), Matthew A. Brown (JULIA), and Colin & Cameron Cairnes (100 BLOODY ACRES) about the rising demand for Elevated Genre — scripts that play with generic expectations and merge genres — and how it can help horror writers (both film and fiction) sell their work. Hosted by producer Mark Lazarus, it's on Thursday 27th at 2:30pm at Yah Yah's in Collingwood. All the details here: http://www.monsterfest.com.au/events/monster-academy.html
For anyone hoping to break in to the field, this should be unmissable.

Running in conjunction with Melbourne's Monster Fest Film Festival this year, the Academy of Horror and Mayhem is an incredible week-long symposium covering every aspect of film-making with panels on screenwriting, directing, film-financing, pitching, SFX, casting, working with actors, crowd funding, and distribution and marketing, and more from Monday 24th November to Friday 28th November.
________________________________________________________________________________________
'Cthulhu: Deep Down-Under' Crowdfunding Launch
Oct 14, 2014
I'll be at Armageddon Melbourne this Saturday & Sunday (18/19 Oct) for the crowdfunding launch of Cthulhu: Deep Down-Under, featuring my Lovecraftian-action novella 'Vanguard'.
We have Booth 74 (author roster still to be determined), but will all be on the Comic/ Animation Stage at 4pm Sat for the official launch. If you're at Armageddon please come along and support us. We'll be selling signed prints of the great art from the collection (*very* cheap, so first-in, first-served). And I'll even be bringing some rare Wolf Creek 2 postcards to hand out.
C:DDU is edited by the formidable trio of Christopher Sequeira, Steve Proposch and Bryce Stevens, and features not only works by Kaaron Warren, Stephen Dedman, Geoff Brown, Steven Paulsen, Jason Fischer, Janeen Webb, Robert Hood and Jason Franks, and art by Sarah Ellerton, Nick Stathopoulos and Jan Scherpenhuizen, but also an introduction from the inimitable Ramsey Campbell on antipodean horror. This is a huge and ambitious undertaking, and marks quite a leap for Lovecraftian horror in Australia. Very proud to be associated with it.
http://armageddonexpo.com/au/comics-sci-fi-fantasy-trading-cards/cthulu-deep-down-under/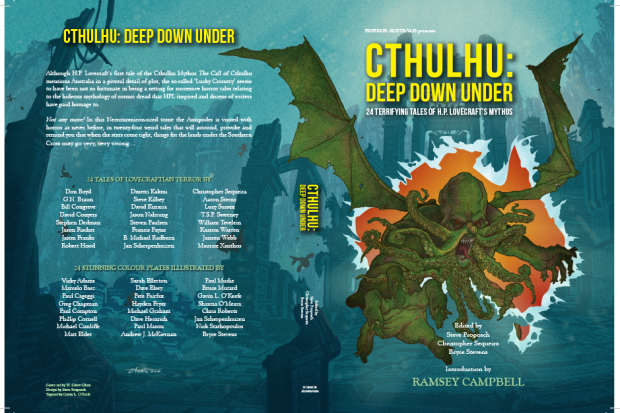 If you can't get there (or live O/S) never fear for the crowdfunding site is now live! Check out https://www.indiegogo.com/projects/cthulhu-deep-down-under for the great offers.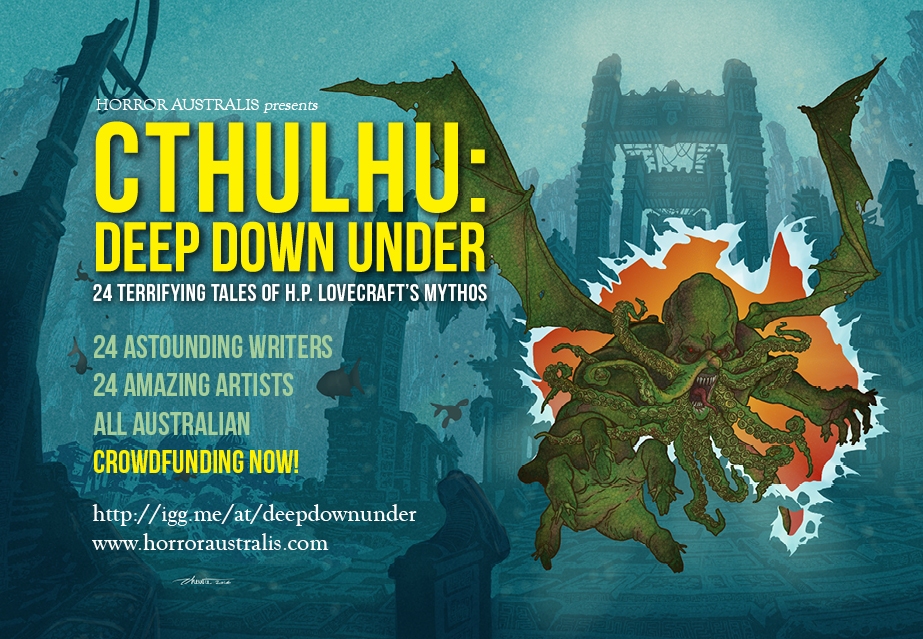 ________________________________________________________________________________________
New novella 'Vanguard' in 'Cthulhu Deep Down-Under'
Aug 8, 2014
And to round out the slew of posts today I'm very happy to finally announce my Lovecraftian-action novella 'Vanguard' (an adaptation of a screenplay I'm currently shopping) will be appearing in the long-awaited anthology Cthulhu: Deep Down-Under. Edited by giants of the Australian weird fiction field Christopher Sequeira, Steve Proposch and my old mate Bryce Stevens, CDDU will be announced/presented to the world Oct 18 & 19 at Armageddon Con in Melbourne.
It's been torturous to keep quiet all year about this, so I'm sure the other amazing writers & artists in this collection are just as thrilled we can finally go public. How's this for a role call: Stephen Dedman, Greg Chapman, Kaaron Warren, Geoff Brown, Jason Fischer, Steven Paulsen, Robert Hood, Lucy Sussex, Nick Stathopoulos, and many many more. Not to mention an intro by Ramsey Campbell. The boys have excelled themselves collating this.
Here's Armageddon's announcement:
__________________________________________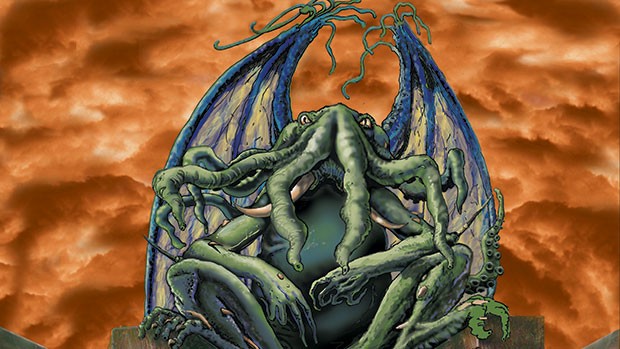 http://armageddonexpo.com/au/comics-sci-fi-fantasy-trading-cards/cthulu-deep-down-under/
H.P. LOVECRAFT'S TITANIC MONSTROSITY RISES IN AUSTRALIA – AT ARMAGEDDON CON, MELBOURNE 2014!
24 of the best Writers of horror and fantasy in the country, and 25 amazing Artists, are proud to launch a MONSTROUSLY HUGE collection of stories: CTHULHU: DEEP DOWN UNDER!  A new tome with an original introduction by world literary legend RAMSEY CAMPBELL!  And a PROSE piece by legendary Australian singer songwriter STEVE KIBEY of THE CHURCH!
Come to the launch, find out about this massive, more than 500 page project, and its stunning 25 full-colour poster style illustrations of terror and suspense that will be available as SIGNED prints at Armageddon!
An incredible collection, featuring the work of the following talents slated to appear at Armageddon:
Writers/ Editors like
AARON STERNS (WOLF CREEK 2)!
KAARON WARREN (SLIGHTS, THROUGH SPLINTERED WALLS)
CHRISTOPHER SEQUEIRA (X-MEN VS VAMPIRES!)
JASON FRANKS (BLOODY WATERS! MCBLACK COMICS SERIES!)
G. N. BRAUN (HAMMERED!, COHESION PRESS)
LUCY SUSSEX (THE SCARLET RIDER, THIEF OF LIVES)
JANEEN WEBB (DEATH AT THE BLUE ELEPHANT)
DMETRI KAKMI (MOTHER LAND)
STEVEN PAULSEN (THE STRAY CAT)
STEVE PROPOSCH (BLOODSONGS MAGAZINE)
Artists like
JAN SCHERPENHUIZEN (THE TWILIGHT AGE COMIC SERIES)!
BRUCE MUTARD (FAMED WRITER-ARTIST OF THE SACRIFICE!)
W. CHEW CHAN (SUPERMAN RETURNS STORYBOARD ARTIST)
PAUL CAGEGGI (PANDEIA COMICS SERIES!)
Come and meet these creators for the story behind a ground-breaking new Australian anthology! [October 18 & 19]
________________________________________________________________________________________
Talking Australian Gothic with Terry Hayes at the Melbourne Writers Festival
Aug 8, 2014
In huge news, I've been invited to talk at the Melbourne Writers Festival (which I'm told is quite rare for genre writers). I'll be in conversation with none other than the legendary Terry Hayes (writer of Mad Max 2, Dead Calm, et al) about the contribution of cinema to an "Australian Gothic". I'm absolutely thrilled at the opportunity, and hope it's well-attended (they have us in the main cinema at ACMI in Fed Square!). Will be a lot of fun. Even better is that I get a free pass to any (not sold out) session at the MWF, something I've certainly never had the fortune to experience before. Will be a heady week.
___________________________________________________
http://www.mwf.com.au/session/australian-gothic-cinema/
Australian Gothic in Cinema
Saturday Aug 30 4pm, ACMI Studio 1  Tix: $22.00/$19.00
Successful and controversial Australian films Wolf Creek, Mad Max and Dead Calm have exposed the real and imagined dark side of our nation. Screenwriter/novelists Aaron Sterns and Terry Hayes discuss the role of cinema in creating an Australian Gothic. In conversation with Richard Watts.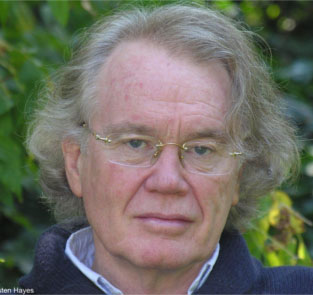 Terry Hayes is a former journalist and screen-writer. Born in Sussex, England, he migrated to Australia as a child and trained as a journalist at the country's leading broadsheet. At twenty-one he was appointed North American correspondent, based in New York, and after two years returned to Sydney to become an investigative reporter, political correspondent and columnist.
He resigned to produce a prominent current affairs radio program and a short time later, with George Miller, wrote the screenplay for Road Warrior/Mad Max 2. He also co-produced and wrote Dead Calm, the film which launched Nicole Kidman's international movie career, Mad Max Beyond Thunderdome and a large number of TV movies and mini-series – including Bodyline and Bangkok Hilton – two of which received international Emmy nominations. In all, he has won over twenty film or television awards.
After moving to Los Angeles he worked as a screen-writer on major studio productions. His credits include Payback with Mel Gibson, From Hell, starring Johnny Depp, and Vertical Limit with Chris O'Donnell. He has also done un-credited writing on a host of other movies including Reign of Fire, Cliffhanger and Flightplan, starring Jodie Foster.
I Am Pilgrim is his first novel. He and his American wife – Kristen – have four children and live in Switzerland.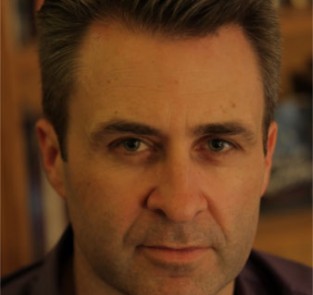 Equally comfortable in both fiction and film, Aaron Sterns has worked in the horror field for over twenty years. He is not only the co-writer of Wolf Creek 2, winner of Best Screenplay at the Madrid International Fantastic Film Festival, but also author of prequel novel Wolf Creek: Origin, described as 'one of the best serial killer novels out there ['] destined to be considered a classic in future years'.
Sterns is the author of various Aurealis Award-nominated and Year's Best Fantasy & Horror recommended short stories, including The Third Rail (from the World Fantasy Award-winning Dreaming Down-Under) and the dark werewolf-bouncer world of Watchmen (the basis for his vicious and visceral upcoming novel Blood). He is a former lecturer in Gothic & Subversive Fiction, editor of The Journal of the Australian Horror Writers and Ph.D. student in postmodern horror. He also served as script-editor on Greg McLean's Rogue and appeared in a little cameo as Bazza's Mate in Wolf Creek.
Sterns is currently working on another novel and a multitude of screenplays, including a film version of Blood. He lives in Melbourne with his fiancee and the third of the 'Wolf Creek babies'.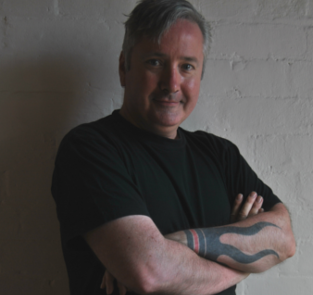 Richard Watts is a Melbourne-based arts writer and broadcaster. He presents the weekly program SmartArts on 3RRR and is a staff writer for ArtsHub, as well as a member of the Green Room Awards Association's Independent Theatre panel. Richard currently serves on the boards of La Mama Theatre and the literary journal Going Down Swinging, and was previously the Chair of Melbourne Fringe. He is a life member of the Melbourne Queer Film Festival, and the founder of the Emerging Writers' Festival.
________________________________________________________________________________________
Guest speaker at My Deakin World Short Film awards
Aug 8, 2014
So this is cool. My university, Deakin Uni, has asked me back to speak at the awards for their "Deakin experience" short film competition. I'll be talking building tension in story, as well as regaling the audience with tales of my time at Deakin (I'll have to censor some of my residence days – O Week was wild at Deakin). Should be fun.
________________________________________________________________
https://blogs.deakin.edu.au/mydeakinworld/2014/08/04/aaron-stern-announced-as-special-guest-for-my-deakin-world-short-film-festival/
Deakin alumni and award winning author Aaron Sterns is announced at the special guest and speaker at the My Deakin World Short Film Festival – Deakin Edge, Federation Square, 1 September, 2014.
Aaron is the co-writer of Wolf Creek 2 (Best Screenplay Madrid International Fantastic Film Festival 2014), and author of the prequel novel Wolf Creek: Origin from Penguin Books.
Author of various Aurealis Award-nominated and Year's Best Fantasy & Horror recommended short stories, including 'The Third Rail' and the dark werewolf-bouncer world of 'Watchmen' (the basis for his upcoming novel Blood), Sterns is a former lecturer in Gothic & Subversive Fiction, editor of The Journal of the Australian Horror Writers and Ph.D. student in postmodern horror.
Aaron is part of a panel on the Australian Gothic in Cinema, at the Melbourne Writers Festival, Saturday 30 August. He is currently at work on his next novel and a raft of screenplays.
________________________________________________________________________________________
Rue Morgue Online – Interview with all three 'Wolf Creek' prequel novel writers
Aug 8, 2014
My favourite magazine in the world Rue Morgue recently interviewed Greg, Brett and I for their online site, the first (and only?) time I think all three of us have been interviewed together. Read on:
_________________________________________________________________

http://www.rue-morgue.com/2014/08/hell%E2%80%99s-shelves-greg-mclean-aaron-sterns-and-brett-mcbean-on-the-wolf-creek-novels/
Hell's Shelves: Greg McLean, Aaron Sterns and Brett McBean on the Wolf Creek novels
Interview with Alan Kelly, Aug 4 2014
Alan Kelly sits down to talk with with Greg McLean, Aaron Sterns and Brett McBean on the WOLF CREEK series' expansion into the world of literature.
Tie-in novelizations often gain credibility only by dint of their association with a well-received pop-culture property; in the case of Penguin Books Australia's first two Wolf Creek novels, though, readers are in good hands. Penguin has commissioned a six-part fiction series based on Greg McLean's acclaimed 2005 horror-thriller, with McLean serving as co-writer on the first two installments.
In Wolf Creek: Origin, McLean teams with Wolf Creek 2 co-writer Aaron Sterns to explore the early days of budding psychopath Mick Taylor. As a young jackaroo driven by bloodlust and haunted by the spectre of his father's brutality, Taylor is pitted against the Others, a collective of equally nasty outback psychopaths; a tag-team of snuff movie-making brothers who prey on couples; a mine-dwelling, paedophiliac child-killer; and a corrupt cop who proves to be the most dangerous adversary of them all. In The Desolation Game, written by McLean and novelist Brett McBean, Taylor has honed his murderous skills during the Vietnam War and, at the apparent behest of an outside force, leaves a trail of carnage across the Australian outback.
The first two prequel novels are brutal origin stories with a take-no-prisoners approach to fleshing out McLean's iconic bogeyman, but they retain the ambiguity of evil that made Wolf Creek so compelling. They are every bit as harrowing as readers would expect. We recently caught up with the writers to discuss origin stories, the nature of evil, and Wolf Creek's singular psychopath.
At what point did you decide to explore Mick Taylor's background?
Greg McLean: Wolf Creek was always intended, if the movie worked, to be the creation of an Australian "Bogey Man" type of figure. Primarily I was just really focused on making as good a movie as possible, but at the same time I was very aware we did not have our own homegrown figure like that. We certainly had enough basis in reality to draw from, but the dots had just never been joined in a way that was really cohesive. So in that sense, from the writing of the screenplay for the first film there was always the notion of a continuing story following this character. It took some time to flesh out just what that journey would be, and personally I find the character pretty fascinating. Plus his world – Outback Australia – not just at this time period, but over 50 or so years, is great to be able to explore.
Aaron Sterns: Actually, back when the first Wolf Creek started screening, Greg and I were sharing a writing office and we'd idly bandy around storylines for Mick Taylor graphic novels. It was then, I think, when we realized the mythic potential of the amazing character Greg had created, which was confirmed soon after as the movie started worming its way into the cultural consciousness.
We agreed, for instance, that he would've grown up in a small town with an abusive, or at least domineering, father. And that he'd probably had a number of nascent years of mistakes and missteps growing into the consummate murderer he would become. We actually came upon an idea during this brainstorming that Greg thought was so strong it could be used for the film's sequel, so, being the horror guy, he sent me off to write it. Flash-forward a few years following Rogue and other projects, and when Wolf Creek 2 came back on the radar Greg let me know about a potential fiction series he was setting up with Penguin.
We mapped out a general arc of six books together, knowing that the first book would be his very beginning, the second book would be his Vietnam experience, and so on, but at this stage I was only intending to help curate the series, as I was working on my own material. The more I thought about it, though, the more I realized I knew Mick's genesis – having read studies on serial killers for so many years and always intending to write my own take, and having also co-written the sequel script – and that this was an opportunity to write not only the origin story of perhaps the most iconic Australian horror villain, but also attempt what could be a great Australian gothic story: depicting in some way how this vast, uncaring landscape can either kill us or turn us mad. Greg gave me the broad brief that the first book would see Mick wandering the desert when he's taken under the wing of a serial killer who trains him to clear the Outback of rival serial killers, but apart from that I had carte blanche to create the entire story.
Did you ever have any worries that by fleshing out Taylor's background, he might become less frightening? How did you avoid this?
GM: I think this is a concern in one sense, as this was a large part of what was so exciting about the first movie – there was little to no mention of who the hell this guy was… the lack of  backstory was kind of shocking. However, these novels are much more character based drama that horrific things happen within than specifically simple horror stories. So in that sense they're very much stand alone stories following the development of the character in a very detailed and dramatic way. Also, its important to remember you can only do the first story of a character like this once. Once you see Mick in the first movie – everything before and after that story is kind of anchored by his appearance is that tale. Also, the cats out of the bag in terms of what he's capable of. So the fear in stories before and after that have to be based upon different things. Having said all that, and as I frequently say, you can never really know the mind of a madman. No matter what you know he's always got something else up his sleeve you would NEVER expect in a million years. That's why he's an interesting character I guess — he's finally unknowable.
AS: I don't think we remove any ambiguity. I think if anything we complicate it. The first novel explores the question of whether Mick eventually becomes a serial killer because of his brutal upbringing, or whether it was a trait inherent within him, but I think leaves it up to the reader to decide. It even gives some grounding to his psychopathology to suggest why he might kill people in the sexualized way he does, and that maybe he continues to do so to suppress the demons of his past. The slightly supernatural tinges to his abilities hinted at in the first movie – his preternatural ability to second-guess his victim's actions, the metaphorical fading into air in the end frame – are also explored in both books, and might be the result of the survival skills ingrained in him by his father, or possession by the spirits of the land during a near-death experience alone in the Outback, or might just be as a result of his stark-raving madness. Again, it's up to the reader. But to me, it freaks me out a little more to know what he's done in his past (and I wrote it!).
Were there a lot of intense plotting sessions? Did you start with a broad outline of the story and go from there, or was the writing process different with each book?
Brett McBean: This was my first time writing in someone else's universe, and so I wasn't sure what to expect: a detailed twenty-page synopsis of the story and detailed character notes that I had to adhere to, or carte blanche. As it turned out, it fell somewhere in between. I was given a three-page outline, which contained the basic plot and characters, but was told it was only a rough guideline, and so, other than not making it a romantic comedy or changing the setting to space, I had plenty of room to move, creative-wise. This was an ideal situation: I knew what Greg wanted, yet I had the creative freedom to write a novel that both satisfied the brief as well as my own sensibilities.
GM: Brett and I meet a few times, I read his work and could see where his own sensibilities lie and thought he was a terrific storyteller and a really gifted writer. The rest really was sending drafts over email and sending notes but it was actually a pretty smooth process, I have to say. I think that's what happens when you both have very clear ideas about what you want to achieve, as it turned out really well.
Wolf Creek: The Desolation Game suggests there might be an external force in control of Taylor. Will future instalments have a supernatural bent?
BM: I can't speak to future installments, but there is definitely a supernatural edge to the second novel. We had to be careful, however, not to lay the supernatural on too thick, as Wolf Creek is reality-based horror. So we made the supernatural unreliable; is it real, or only in Mick's mind? I think it plays well, as the character of Mick Taylor already skirts that line of being slightly beyond normal human capabilities when it comes to hunting and killing.
GM: As Brett says, the stories are very reality based; we've kept that important tonal quality from the films. But having said that, we do explore it more deeply in Brett's book. The concept of some external or cosmic evil guiding Mick is woven into the Wolf Creek mythos. It's implied in the first and second film and is certainly a concept that I'm very interested in exploring because at the heart of the question is: Is there an evil beyond what human beings are capable of? And where does evil come from? From within a single individual? Is it collective? Is it learned or just innate in some incredibly evil personalities from the beginning? It's an interesting theme to ponder and explore, and one we'll perhaps never have an answer to.
Other novels that take place in the Wolf Creek universe have been commissioned. What other authors will you be working with?
GM: At this point I've plotted out the books and we're in the process of thinking of great writers who might be interested in the character and the story world of Wolf Creek. So no names as yet.
Was it daunting, writing a story involving a character as iconic as Taylor?
BM: Oh, absolutely. Your gut-thought is, "Christ, I hope I don't screw this up." Because you not only have to capture the character, but you have to be careful, especially with a character as evil as Mick, not to create a caricature. That was the real task of writing this novel: making Mick a real, fully-rounded and believable character, while staying true to what was laid out in the first movie and not to tip over into cartoonish excess.
AS: It should have been, but I didn't have time. I wrote the first draft of Wolf Creek 2 soon after the release of the first movie, so although we were beginning to see its rise in popularity, I had a clear vision in my head, based on a great premise Greg and I had come up with, and my own knowledge of the Mick Taylor character, having read and given notes on the screenplay that was the precursor to Wolf Creek — and was able to get the script out before I had time to worry about its reception. The Origin novel proved a bit harder, in that it came some years afterwards, and Mick Taylor had become part of our cultural consciousness. But I was also given a pretty crushing deadline of about four or five months to turn in a first draft, with only the general logline of the story Greg provided me with – that a young Mick is wandering the desert when a serial killer takes him under his wing and trains him – and my own ideas about Mick's past coupled with a lifelong fascination of serial killers. (In fact, when I was younger I used to write first-person one-page monologues of John Wayne Gacy and Ed Gein and John Haigh in an attempt to understand their psychology, but then it depressed me too much and I had to stop!) From there I was given free reign to imagine Mick's upbringing, so I put all thoughts about what the huge amount of Wolf Creek fans might think about my take, and followed the story unrolling in my head. It was only after I emerged after a breathless four months that I stopped to think about the weight I'd taken on my shoulders, and whether I'd done the series justice. For me, I'd seen the opportunity of Origin as a way to write a great Australian gothic novel on a big stage, channeling the likes of Cormac McCarthy or Jack Ketchum for an Australian audience. It was only later that I realized people might have their own view on Mick's past, or that they might expect a more conventional 'slasher' novel, and that I'd been quite ambitious in thinking I could pull this off. I can only hope we've succeeded.
Did the fact that the character already exists make it easier or more difficult to write?
BM: Thankfully – and perhaps a little scarily – I found I slipped easily into Mick's skin. It was a blast to write that character's voice. I think this largely had to do with how well written and acted the character was in the first film. When you have a character as well-defined as Mick Taylor, it makes the job a lot easier when it comes to fleshing out that character in prose form.
AS: Having an already an established character to work towards meant that a lot of the little decisions about voice and motivation and attitude were already done for me, so what I could do is have fun building their foundations in the novel (some little antecedents for his attitudes towards foreigners, for instance), that can bog you down when you're trying to develop an original character. But there's definitely a potential for mimicry or fan-fictionalism (if that's a word) when approaching an established character. I guess that's why superheroes and characters like James Bond are rebooted so often, because after a while the character becomes just a series of bald traits or catch-phrases. The thing in our favor is that there'd only been one movie depicting Mick Taylor, and he's actually not on-screen for a lot of it. There's only a few extended dialogue scenes, such as the great campfire scene. I know, because I went back through the movie in minute detail to capture Mick's voice. John (and Greg with his great script) managed to nail the character in very short time. But when it comes to Wolf Creek 2 Mick is on-screen doing his thing for far more of it, so the fact I knew all this extra material having co-written the script meant, I suppose, that I was an obvious choice to write the prequel story. I got to fill out both timelines, and I took it as a great privilege and tried to reward Greg's faith in me.
Can we expect to see a film adaptation of these books one day?
GM: At this stage I'm really just focused on successfully telling the prequel stories as novels but you never know. Casting the young Mick would be seriously great fun as there's some amazing young actors coming out of Australia right now. We'd be spoiled for choice so time will tell. Maybe when the whole series is finished so a few years away yet.
Given the choice, what other movie madman (or woman) would you pit Taylor against?
GM: That's a funny question but we seriously joke about this question on set while shooting. Mick VS Predator? Mick VS the Alien Queen? Mick VS Hannibal Lecter? Mick VS Leatherface? All I know John Jarratt assures me Mick Taylor would gut each one of them and shove their spine up their arse before they could make their first move.
________________________________________________________________________________________
The Rise of Rural Horror in Aus & US Film – 'American Review' looks at 'Wolf Creek 2′
Aug 8, 2014
The prestigious American Review recently published an article by the esteemed Dean Bertram that includes a quote from me. A very insightful piece that speaks to some of the issues I'll be talking about at the Melbourne Writers Festival soon (more on that later!):
________________________________________________________________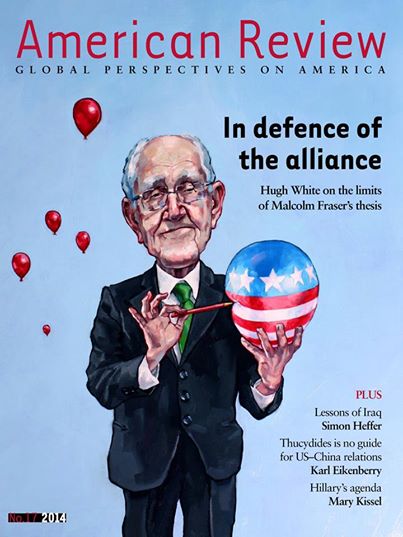 http://americanreviewmag.com/stories/The-Wolf-Creek-Chain-Saw-Massacre
THE WOLF CREEK CHAINSAW MASSACRE
American and Australian horror films have reimagined rural landscapes as places of malevolence and dread
By Dean Bertram
American Review, Issue #16, August 2014
A cultural sea change swept over American and Australian cinema in the early 1970s. The wild but defining rural spaces of both countries had long been the touchstones of their respective national identities. In his formative 1893 paper "The Significance of the Frontier in American History," US historian Frederick Jackson Turner posited:
"To the frontier the American intellect owes its striking characteristics. That coarseness and strength combined with acuteness and inquisitiveness, that practical, inventive turn of mind, quick to find expedients, that masterful grasp of material things, lacking in the artistic but powerful to effect great ends, that restless, nervous energy, that dominant individualism, working for good and for evil, and withal that buoyancy and exuberance which comes with freedom — these are traits of the frontier, or traits called out elsewhere because of the existence of the frontier."
Across the Pacific, a national identity that placed a similar emphasis on the "bush" experience was being cemented by writers like Banjo Paterson and Henry Lawson in the pages of The Bulletin — "The Bushman's Bible." Indeed, some 60 years later, in The Australian Legend, Russel Ward recognised the late 19th century as when "Australians generally became actively conscious, not to say self-conscious, of the distinctive 'bush' ethos, and of its value as an expression and symbol of nationalism."
The formulation of these rural-centric nationalisms coincided with the birth of cinema, and their impact on both countries' filmmaking was unmistakable. Just as the Western was a dominant genre in American cinema — arguably the American genre — from the medium's birth, so too are the first several decades of Australian film history replete with a rich assortment of tales of the bush, from the country's first two feature films The Story of the Kelly Gang (1906) and Eureka Stockade (1907); through the twice remade and sequel-spawning rural comedy On Our Selection (1920, 1932, 1995); to a string of cattle and sheep station dramas including The Squatter's Daughter (1910, remade 1933), The Overlanders (1946), and The Phantom Stockman (1953). Both national cinemas expressed similar themes: rural life was tough and often hazardous, but it built the kind of strong character that helped the good guys prevail. In so doing, these films continued to bolster the original narratives from which they drew inspiration.
However, as the twentieth century progressed, rural tropes became increasingly distant from the day-to-day realities of most citizens in either nation. The frontier ethos and bush ethos were formalised when the majority of Americans and Australians still lived on rural properties or in small country towns. But by 1970, only 26 per cent of the US population, and just shy of 15 per cent of the Australian, could be categorised as rural. Filmmakers in both countries began to look at such places through a less idealised, and often hostile, lens. Their camera's gaze moved from traditional rural heroes and heroines, capable of dealing with the harsh environment in which they existed, to urban protagonists existentially menaced not just by a hostile geography but by the rural antagonists who dwelt therein. The once familiar landscapes which had defined national character were transformed into alien outlands of malevolence and dread.
American horror films of the period in particular re-imagined rural geographies and inhabitants as inimical to urban outsiders. The rural antagonists of Night of the Living Dead (1968), Deliverance (1972), The Texas Chain Saw Massacre (1974), and The Hills Have Eyes (1977) are variously portrayed as murderers, cannibals, and rapists. It's also worth noting the concurrent slew of revisionist Westerns that inverted the formulaic moralities and histories of the genre and the frontier, including The Wild Bunch (1969), Little Big Man (1970), McCabe and Mrs Miller (1971), High Plains Drifter (1973), and Buffalo Bill and the Indians, or Sitting Bull's History Lesson (1976). Both contemporary and historical genre films were chipping away at popular conceptions of the American frontier and rural decency. The "New Wave" of Australian cinema followed a similar trajectory. Wake in Fright (1971), Night of Fear (1972), The Cars that Ate Paris (1974), Picnic at Hanging Rock (1975), Long Weekend (1978), The Chant of Jimmie Blacksmith (1978), and Mad Max (1979), all eschewed the traditional bush ethos, and instead transformed its sacred geography into one ripe with death and degeneracy.
Rural settings have remained a staple of both nations' horror cinema until the present day. American titles like Friday the 13th (1980), Evil Dead (1981), The Blair Witch Project (1999), and House of 1000 Corpses (2003) along with their sequels, remakes, knock-offs, and hundreds of other "cabin in the woods"–type movies, have been a staple of the American screen for almost half a century. Australia's less prolific cinematic output has nonetheless continued to release dozens of horror films set in the outback, including Road Games (1981), Razorback (1984), Rogue (2007), The Horseman (2008), and Dying Breed (2008).
The Australian exemplar is of course Wolf Creek (2005), and the recently released sequel Wolf Creek 2 (2013). Like The Texas Chain Saw Massacre, to which its similar cinéma vérité style and shocking depictions of violence often attracts comparison, Wolf Creek was marketed as being based on true events. The Texas Chain Saw Massacre — along with Psycho (1960) and Silence of the Lambs (1991) — was inspired by Ed Gein, the rural Wisconsin serial killer. Gein's predilection for grave robbing, cannibalism, wearing the skin of his female victims, and fashioning human body parts into furniture was blood-splattered grist for the horror filmmaking mill. He was a real life embodiment of the rural terrors that would inundate American cinema screens for decades to follow. Wolf Creek drew similar inspiration from serial killer Ivan Malat, and the Peter Falconio murder. These highly publicised criminal cases acted as cautionary tales on the dangers of travelling in the Australian outback and buttressed the types of fears expressed in post-1960s Australian cinema.
Wolf Creek's serial killer, Mick Taylor, is played with unsettling menace by Australian screen mainstay John Jarratt. Taylor is the dark reflection of heroic bushmen characters immortalised on Australian celluloid by homegrown stars from Chips Rafferty through Paul Hogan to Hugh Jackman. Both Wolf Creek films are overtly conscious of their subversion of this archetype. They deliver self-referential nods to the audience even as they deliver their savage and satirical blows.
In the first film, Mick Taylor appropriates Mick "Crocodile" Dundee's most famous catchphrase "that's not a knife," just before slicing off a screaming backpacker's fingers and severing her spinal cord. In the sequel, Taylor introduces himself to another unlucky tourist as "Mick Taylor… pig hunter and general outback legend." Because the audience has seen what Taylor is capable of, a sense of dread is evoked even by the film's references to traditionally benign or humorous Australian motifs. One of Wolf Creek 2's cleverest moments emerges when Taylor's British captive tries to placate the outback killer with a rendition of the well-worn "Tie Me Kangaroo Down Sport." Even Australian audiences momentarily forget the song's once comical last verse. Mick soon reminds us though, cutting his captive off mid chorus, and blurting out the song's final lines. Coming from his mouth, they resonate a sinister meaning:
"Tan me hide when I'm dead Fred,
Tan me hide when I'm dead.
So we tanned his hide when he died Clyde,
And that's it hangin' on the shed."
Taylor's nativism and xenophobia — the ugly side of the bush spirit — is demonstrated through his aggressive targeting of international backpackers: "foreign bastards" and "noxious bloody weeds" as he describes them. Moreover, Taylor is presented as being self aware of the very type of rural vs. urban and wilderness vs. civilisation themes that have become mainstays of both the American and Australian horror genre. Filled with malicious superiority he tells his most recent urban captive: "In this world there's people like me and people like you. And people like me eat people like you for breakfast." Indeed, the film's British outsider — a history major, played by Australian actor Ryan Corr — like other civilised British protagonists in earlier Australian horror classics (Gary Bond in Wake in Fright and Dominic Guard in Picnic at Hanging Rock) is overwhelmed by the brutality of the outback. The bush's inhabitants, mysteries, and horrors present challenges beyond the physical and psychic traits developed in an urban and civilised life.
I recently asked Aaron Sterns, writer of Wolf Creek 2 for his opinion on the central thesis of this piece, and if he and director/co-writer Greg McLean were conscious of the historical change in cinematic depictions of the Australian bush while writing their film. "You're probably right that there was a shift in the depiction of the outback/bush in film in the 70s," Sterns said. "I'm thinking Wake in Fright, Picnic at Hanging Rock, etc., which were very influential on us." However, he also suggests:
"The fear or distrust of the bush has always been endemic in Australian culture. I'm particularly thinking of early Australian gothic stories such as Barbara Baynton's The Chosen Vessel and Henry Lawson's The Drover's Wife, and the artists of the Heidelberg School ([Frederick] McCubbin in particular, who would often depict small figures in the malevolent or inhospitable landscape, lost children, etc.). Early explorers often died crossing our land, the first settlers experienced grief and heartbreak, and although there might have been a transition period when people no longer survived off the land as much, we have always gravitated toward the 'safety' of the cities in Australia. Wolf Creek certainly taps into that … For me, being out of place in the outback is central to the Australian experience, and being a city boy is something I've always felt (having lived in the country too, and never feeling entirely comfortable). Mick's a personification of the potential threat of the landscape, but then so is the tramp in The Chosen Vessel, and the snake in The Drover's Wife. Maybe we're just tapping into those early stories."
In her 2013 book, The Rural Gothic in American Popular Culture: Backwoods Horror and Terror in the Wilderness, Bernice M. Murphy argues a similar position in regards to American cinema: that rural horror films belong to an older cultural strain. According to Murphy, this tradition reaches back through American Gothic writers like Charles Brockden Brown and Nathaniel Hawthorne to the savage realities faced by European settlers on the frontier.
While darker byways of both countries' formative narratives may well have long existed, post-1960s cinema drove such fear-laden tales to the cultural forefront. A generation of new, predominantly urban movie-goers would vicariously experience the backwoods and the outback, the frontier and the bush, as landscapes of nightmare and death rather than struggle and triumph.
This revisionist interpretation is no more accurate than the traditional. But as always, cinematic depictions say more about the preconceptions of filmmakers, and the cultures in which they create, than the realties of rural life, past or present. I'm reminded of another quote from Frederick Jackson Turner's influential paper: "At the frontier the environment is at first too strong for the man. He must accept the conditions which it furnishes or perish…" Like the hapless victims in rural horror movies, we are soft from civilisation's modern amenities. Those travails of frontier or bush, met by our forebears, would likely spell our demise. And while we might not like to admit it, these films whisper in unintended allegories that it is not our national ethos that has failed, but rather our ability to maintain its rigorous demands.
________________________________________________________________________________________
Monsterpictures Interview
Aug 8, 2014
Here's an interview I forgot to post from a few weeks back, appearing on the Monsterpictures site. I like that first line.
_______________________________________________________________________________________
http://monsterpictures.com.au/features/toe-curler-an-interview-with-wolf-creek-2-writer-aaron-sterns/

Toe curler: An interview with Wolf Creek 2 writer, Aaron Sterns
by Marcey Papandrea, July 2 2014
Aaron Sterns is an interesting guy. He co-wrote Wolf Creek 2 with director Greg McLean and was responsible for the very first Wolf Creek prequel novel, Origin: Wolf Creek, Book 1. Both projects take a hard look at Wolf Creek's deranged hero, bushman Mick Taylor, and create a causal link between a young jackaroo and the killer he became. In the novel, Sterns builds a figure defined by early-life trauma; in the Wolf Creek 2, Sterns reveals just how that trauma continues to impact Taylor, letting us know that resolution of our hero's demons is unlikely.
Sterns is a good fit for building on the Taylor legend. He is the author of several award-winning short horror stories, and the upcoming werewolf novel, Blood. He spent time as a lecturer in Gothic and Subversive Fiction, edited the Journal of Australian Horror Writers, and is a PhD student in postmodern horror. The most fun a writer can have, Sterns says, is in creating the backstory for frightening figures like Taylor, and the author was in his element during the writing of the Wolf Creek novel. The new film, in turn, allowed Sterns to enter into far murkier territory, upping the ante in Taylor-derived devastation. Sterns' scenes, at times, were of the sort even he was surprised to see onscreen.
Sterns is currently working on another novel, a number of screenplays, and a film version of Blood. Monster caught up with the Sterns to discuss the novel, available now through Penguin Books, and the sequel, which is on DVD and BluRay through Roadshow.
MONSTER: How did you get involved with co-writing Wolf Creek 2?
STERNS: Greg and I shared an office in Fitzroy (Melbourne) in our early days. We'd trade scripts back and forth for comment, including his script that became Wolf Creek. I even had a cameo in that film. We bandied around sequel ideas after its filming, until hitting upon something we thought was innovative and 'big' enough to warrant the sequel. Given my interest and experience in the horror field, even then, Greg said: Great, go off and write it. We've been developing the script since, until Greg had the opportunity to return to Mick's world and we secured the funding to finally shoot it.
MONSTER: From script to screen, how different if at all, did the film turn out? Was everything in the script in the film?
STERNS: Well, as with any script there's an incredible amount of changes along the way. Amazingly the structure of the film — and its central idea — is still the same as it is in my initial treatment and first draft. We set the film up as being about a backpacking couple, only for this to be playing with audience expectations, and for it to really be about an encroaching character. I was channeling Psycho in this. A lot of cosmetic stuff has changed along the way — dialogue, particular scenes and how they play out, and the opening and ending went through endless variations. And, of course, there were dialogue changes in rehearsal. Even on set with John adlibbing and playing around with lines. But it's quite faithful to the shooting script. And I'm actually surprised some of the more extreme moments (that were excised from the Australian theatrical release, but can be seen in all their glory on the Blu-Ray version) were ever filmed.
MONSTER: Was it frustrating to know the film was cut for theatrical release?
STERNS: I'd been telling everyone all along how there were scenes in this film that'd make your toes curl. That's why they brought a horror writer in, after all! Then a month or so before release, it became evident the film would be getting an MA release. I was assured at the time the DVD would be uncut, so at least I could fall back on that. However, it has to be said that making the film a little more palatable also opened it out to a much wider audience. Roadshow backed it in a big way, even putting up billboards and buying TV spots. How many Australian horror films get that? And the film justified it with its box office, becoming the number one film in the country its first week, which is almost unheard of for local horror.
MONSTER: Do you see this success helping increase awareness in the horror genre here?
STERNS: I think the entire Australian industry's in trouble. The Babadook, which is by all accounts a wonderful film, hasn't performed well. The Rover — not a horror film, but another lauded locally-shot flick, actually shooting alongside us in Hawker last year — has also failed to attract numbers. There was an article in the papers recently claiming that Wolf Creek 2 had been illegally downloaded two million times already. There are arguments back and forth about piracy, in some quarters that it encourages a culture in which film and television is central, and that it complements legal, profitable avenues that still return income; in other quarters that it's destroying the low-budget and mid-tier films. I waver between the two.
It took us years to get Wolf Creek 2 financed, despite its pedigree. I know that trying to get original genre works, or indeed any Australian-made films, is even harder now, if not impossible. If people realised how difficult it is to get a film financed, let alone dreaming up the idea, writing the script, getting the right actors, finding an enthusiastic director, securing sales, then maybe they might value others' work a little more.
MONSTER: You wrote Origin: Wolf Creek. How did you get involved with the first Wolf Creek novel?
STERNS: My background is in fiction, having written short stories for many years. Penguin approached Greg about the possibility of novelising the films, but this morphed into an idea of exploring Mick Taylor's backstory. He hints at a few things in the first film, about being the head kangaroo shooter on a station, for instance, and people have often asked about his past, and how it might have contributed to what he became. I've researched serial killers extensively, so when Greg asked me straight off the bat to write one of the novels in a proposed series of six, I said yes, as long as it's the first one. The juicy ideas are always in the origin story, and the more I thought about it, the more I realised Mick's upbringing was unfolding in my head. After a quick research trip to outback Queensland following an interview with John Jarratt to get his thoughts on Mick's genesis, I wrote the first draft in three months. A whirlwind.
MONSTER: How much input did John Jarratt have with forming Mick Taylor, in regards to the script for Wolf Creek 2 and the book?
STERNS: The first thing I did upon signing the book contract was sit down with John. I knew he had particular ideas about Mick's psychopathology, and he proved a wealth of insight. Even more rewarding were a couple of anecdotes he gave me, and some of his own history growing up in Aramac in central Queensland. I was so fascinated by the place I took a trip up there and set Mick's hometown there, though it's called Erebli in the novel. As for the film, John suggested Mick riding the horse after Paul — I had Mick commandeer a paddock wagon — and he contributed quite a bit of the vernacular. There's no one that knows Aussie slang like John — though "nun's nasty" is mine.
MONSTER: What's next for you?
STERNS: I have a multitude of projects in the works. Hopefully I can even talk about some soon.
MONSTER: On a scale of 1 to 10 how bloody awesome is Monster Pictures?
STERNS: This is where I say 11, right? The MonsterFest Fil Festival is huge for horror in this country. I'm hoping it can do a little bit of a crossover with fiction as well at some stage, particularly in that I straddle the two, because fiction always seems the poor stepchild of film when it comes to horror. Hopefully, Monster Pictures can continue to grow, and become the conduit for great horror to be produced here, too.
________________________________________________________________________________________
Best Screenplay at Nocturna Film Festival 2014
June 10, 2014
Wolf Creek 2 cleaned up at Nocturna 2014, the Madrid International Fantastic Film Festival. Best Screenplay, Best Director to Greg, and Best Performances to John and Ryan. So I can now say I'm an award-winning screenwriter. Crazy.
http://www.nocturnafilmfestival.com/index.php/en/news/549-nocturna-festival-2014-awards

NOCTURNA 2014 AWARDS
OFFICIAL SECTION:
PAUL NASCHY Best Film Award: La Cueva
Best Director Award: GREG McLEAN, Wolf Creek 2
Best Screenplay Award: GREG McLEAN, AARON STERNS, Wolf Creek 2
Best Performance Award: RYAN CORR and JOHN JARRATT, Wolf Creek 2
Best FX Award: Extraterrestrial
Special Performance Mention: EVA GARCÍA VACAS, La Cueva
DARK VISIONS SECTION
Dark Visions Best Film Award: Cruel and Unusual
MADNESS SECTION
Madness Best Film Award: Pinup Dolls on Ice
AUDIENCE AWARDS
Best Film Audience Award: Savaged
Shots Best International Short film: Lothar
Shots Best Spanish Short film: 24 Horas con Lucia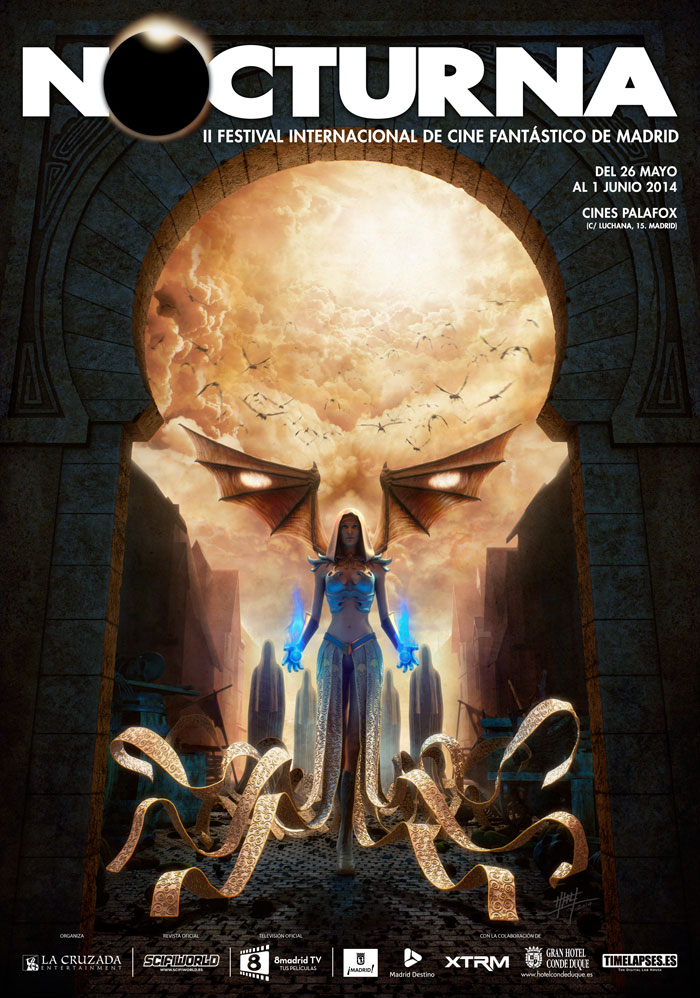 ________________________________________________________________________________________
'A Lasting Dread' – Wolf Creek: Origin makes it into Rue Morgue
June 3, 2014
I can now say I've made it into my favourite magazine. Canadian horror mag Rue Morgue (which I've subscribed to for some years) has an article on Wolf Creek: Origin in their May 2014 issue (#144). I'm particularly pleased Alison managed to include my tribute to Jack Ketchum in there. And many thanks to editor Dave Alexander for being such a great supporter of Wolf Creek.
http://www.rue-morgue.com/magazine/434-issue-144
A Lasting Dread
by Alison Lang
Rue Morgue #144, May 2014, p.50
In 2005, a little Australian movie called Wolf Creek made a sizeable splash in theatres worldwide, grossing over $27 million during its box office run.
Set against the barren backdrop of the Outback, its unique take on genre conventions and unrelenting violence kept horror fans rapt. It also divided critics, many of whom erroneously lumped it with the likes of Saw and Hostel as yet another example of hyper-gratuitous torture porn.
Nine years later, Wolf Creek still holds up as a modern-day masterpiece of Ozploitation. This is due in no small part to the film's antagonist: the affable and relentlessly depraved bushman, Mick Taylor, played with jocular menace by John Jarratt.
Director Greg McLean and co-scriptwriter Aaron Sterns have brought the popular character back in Wolf Creek 2, which hits North American theatres in mid-May, and they've delved even further into Mick's backstory by releasing the first two books in a Penguin Australia-commissioned series of original novels. Sterns was tapped to write the first installment – titled Origin: Wolf Creek Book 1 – shortly after he and McLean had completed the screenplay for Wolf Creek 2 in 2007.
"The fact that I'd just written the sequel means I knew Mick better than anyone, save for Greg and John Jarratt," Sterns says.
The book begins with a young Mick starting his first job as a jackaroo (trainee) on a sheep ranch. It's grim work, and as Mick endures the taunts of his superiors, fragmented memories of a horrific childhood come lurching back to him. You almost feel sorry for the guy, until a few prominent details reveal themselves – namely, his tendency to fly into near-blackout rages, a growing penchant for sado-masochistic sex, and the matter of the mysterious childhood death of his sister. The story grows more complicated as we realize Mick is an unreliable narrator with multiple layers that peel back, slowly revealing the extent of his corruption.
"I thought it would be interesting to test," reveals Sterns. "Can we still have an interest in this character, even when we already know what he becomes? It's one of those back-engineering problems that is quite fun to work with. Like the Star Wars prequels, in Revenge of the Sith we know what Darth Vader becomes. The key is to explain what happens to get him there and keep it interesting."
While Wolf Creek 2 embraces the comedic aspects of Mick's Aussie buckaroo persona, the Origin novel is unrelentingly dark in comparison, with no moments of respite for any of its ruined characters. Sterns – a former instructor of gothic and subversive fiction at Deakin University – says the bleak tone is reflective of his own beliefs about what makes effective horror.
"A lot of horror is quite flippant," he says. "It's about body counts, the blood, people in pain, racking up the little thrills of seeing someone die. There's no impact there, no understanding of the toll that is paid. It's horrible. What always concerned me is that each person who dies in a horror film – that's an entire world. Those deaths have an emotional cost in reality, and you should feel it."
Amongst other influences, Sterns cites Jack Ketchum – another novelist who crossed over into film collaboration with 2011's The Woman – as a profound inspiration when it comes to creating unflinching, haunting prose.
"With a writer like Ketchum, the actual writing is as strong as possible," says Sterns. "He's trying not to let you off the hook. And he sets up the different characters so well that when everything goes down, you feel everything. He doesn't just set something up and then quickly jump away to make it easy on the reader. He stays with it, and it's horrendous."
Origin is definitely a wrenching reading experience, but it is also a significant achievement as a standalone Australian gothic novel, with a surprisingly literary sensibility that elevates the material. (The second novel, written by Australian horror writer Brett McBean, finds Mick in Vietnam, and may lead to four more titles to complete the series.) It's hard not to be equally engrossed and appalled by Mick's downward spiral – and it's impossible to look away.
"I wanted to get across a sense of Mick's tragic inevitability – the fact that he still has so much darkness to get through," says Sterns. "The horror I love doesn't really give you answers or endings, and there is no end. The experience just stays with you: a lasting dread."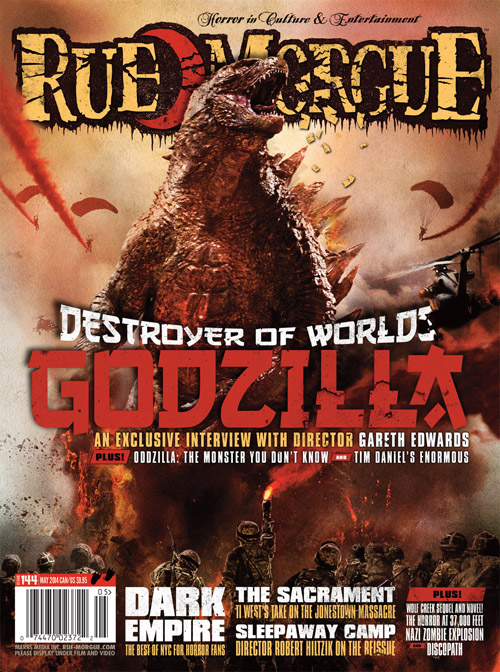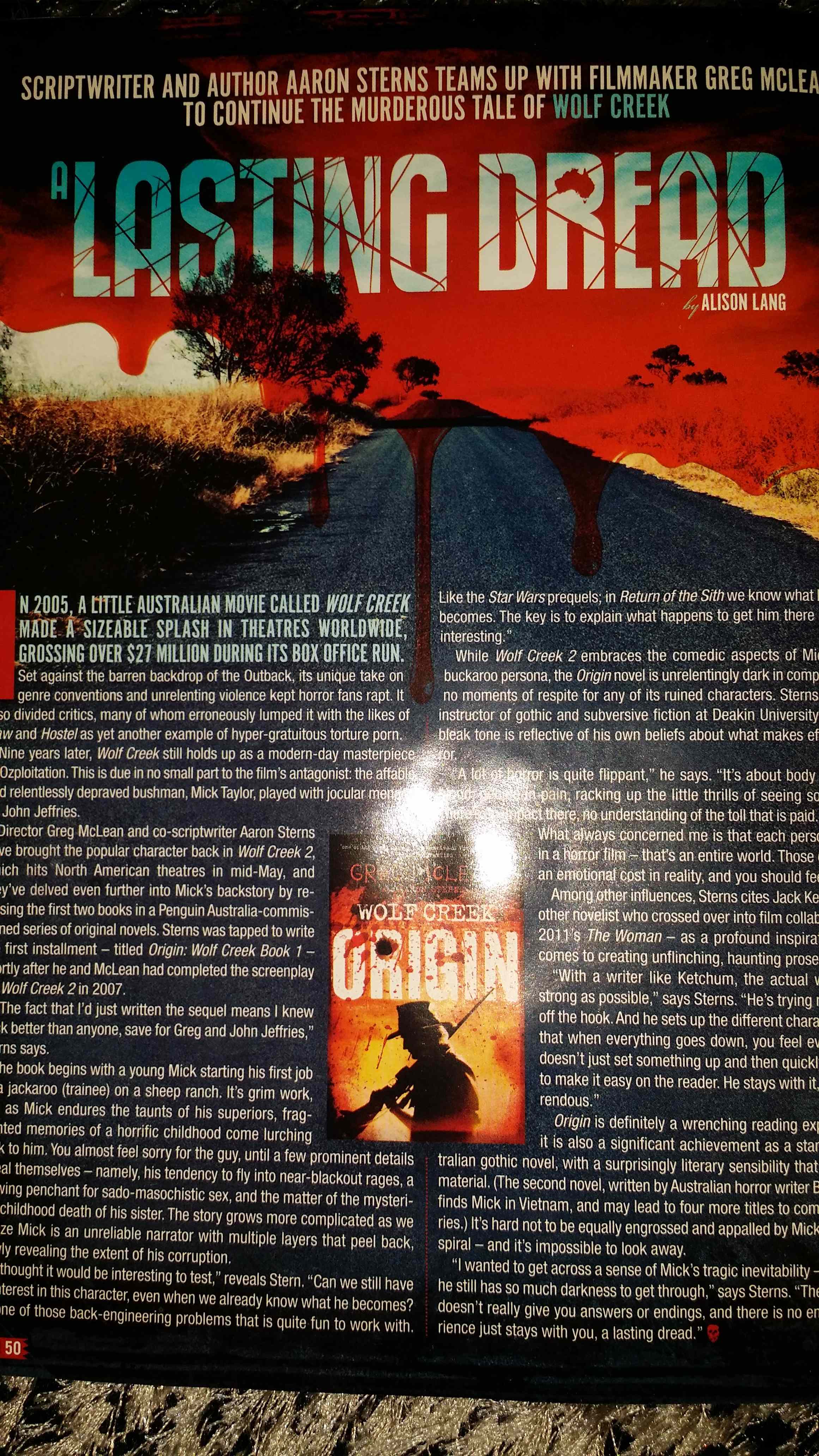 ________________________________________________________________________________________
US Trip 2014
April 30, 2014
I fly out tomorrow morning to attend the World Horror Convention in Portland, Oregon next week. I'm on two panels — 'Horror From the Page to the Silver Screen' with Jack Ketchum and Brian Keene, amongst others; and 'Hardcore F*cking Horror', again with Jack Ketchum. As well as being involved in the mass signing Friday night, I've also been asked to give the screenwriting award at the HWA Bram Stoker Awards. Amazing. And that's not even counting the people I'm looking forward to catching up with, or the pitches I'll be doing. Or the Twin Peaks pilgrimage I'm doing on the way to the Convention, stopping off at the Salish Lodge in Snoqualmie (the setting for the Great Northern). Really hoping I can get down to the RR Diner and grab some cherry pie and a cup of coffee, black as midnight.
https://www.facebook.com/groups/501012233284451/permalink/723347584384247/
I don't think I'll have access to this site while I'm away, but will be posting to my FB author's page (facebook.com/aaronsternsauthor) and to Twitter (@aaronsterns) so you can follow my progress at either of those locations. There might even be some cool things happening in LA beforehand…
See you in a month.
________________________________________________________________________________________
World Horror Convention 2014
Apr 18th, 2014
To coincide with the release of Wolf Creek 2 and Wolf Creek: Origin in the U.S. I'll be attending the World Horror Convention next month in Oregon. In fact, I leave for the States in a week and a half!
I'm booked in for the mass-signing at the conference on the Friday night, so will be signing copies of Origin then and hopefully some posters of Wolf Creek 2 if I can bring enough.
I'll be posting updates and photos from the trip, including, hopefully, a set visit to Greg's new film featuring a certain footloose-dancing actor; and a little birthday side-trip/pilgrimage I'm doing to Twin Peaks country.
So: more to come.


________________________________________________________________________________________
'Wolf Creek 2′ and 'Wolf Creek: Origin'  hit the States
April 18, 2014
Wolf Creek 2 releases on VOD in the United States today–and it's the full, uncut version.
The film in the original state is much more uncompromising and cohesive, I feel, and early US reviews seem to be reflecting this. The Horror Society describes it as "a superior horror thriller that works on many levels", while The Quiet Earth says "if such a thing as an artistic horror movie exists, Wolf Creek 2 is it." Joblo's reviewer even says it's "the first time this year a horror film entertained me so much!" (of course, the year is young)
And we even get a theatrical release May 16, a rare feat for a little Aussie horror movie in the big US market.
But that's not all. The Wolf Creek prequel novels were released today in the US by Penguin Global.
Wolf Creek: Origin is available here at Amazon. For those who don't know, Origin follows a young Mick Taylor's doomed struggle to overcome a brutal and traumatic childhood. Michael Helms in the latest Fangoria calls it a novel of "frequently extreme proportions", and says "your expectations will be flayed […] typical scene-for-scene novelizations can only pretend to the kind of creativity found here." A cool summation indeed.
The second book in the series, Wolf Creek: Desolation Game (written by Aus horror author Brett McBean and McLean), tracks Mick's transformation from amateur murderer to trained killer during the hell of the Vietnam War–and his discovery of a little something called 'head-on-a-stick'. It's available here.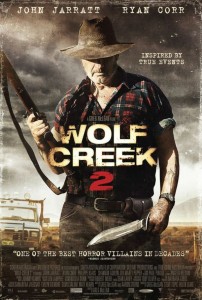 ________________________________________________________________________________________
'Wolf Creek 2′ opens, and the reviews are in
Feb 22, 2014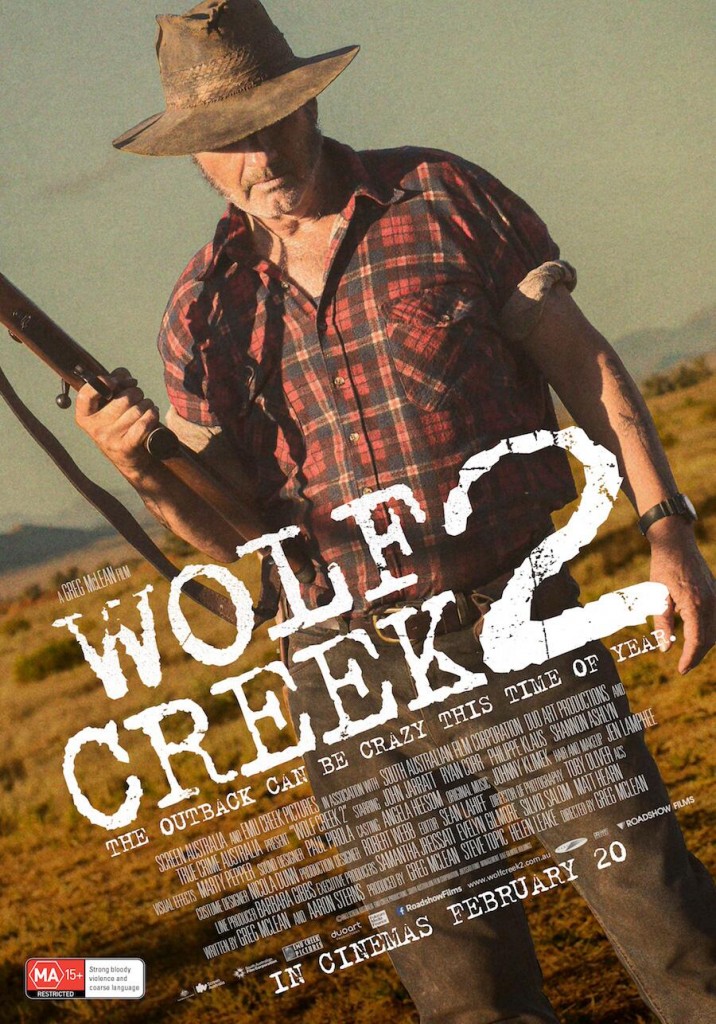 It's been a monster week. Wolf Creek 2 opened in Australia on February 20 and life has been a blur. I've been to screenings at Roadshow, a cast and crew screening in Adelaide that I introduced (with Producer Helen Leake and Roadshow Head of Production Seph McKenna), another fan's screening in Adelaide that I also introduced, and then the Melbourne premiere Wednesday night at the Coburg Drive-in. (I've since gone to see it twice again at Doncaster and South Yarra's Jam Factory to experience it with a big crowd.) I'd still prefer the uncut version (the Aus theatrical version is MA and takes a couple of my more choice images out — what did they expect, bringing a horror writer in?). But I'm told the DVD will be uncut. I'm holding them to that.
As well as that I was interviewed by Channel 9 News at Adelaide Airport after I'd barely stepped off the plane, and I've been doing a series of radio interviews to regional stations (thanks to an old friend Paul Cook who'd put the word out). In the space of days: Star FM Mid-north coast with Nic & Josh; Hot FM Central Queensland with the very funny EJ & Browny; Hobart's Heart FM 107.3 with David & Kim; Radio Esperance WA with Wayne Taylor; Radiowest with Paul himself; Star FM Albury with Ben & Kristie (that was a fun one); Star FM Coffs Harbour with Sami & Jay; and I have ones upcoming with Stacey & Elliot at Hot FM Cairns and Jase & Jess at Star FM Mount Gambier. John Jarratt tells me he'd do all that in an hour. Pretty overwhelming to a reclusive writer though. EJ at Hot FM CQ was kind enough to send me their interview, and can be found here: http://www.4shared.com/mp3/xfwYaKA9ba/Wolf_Creek2_Full_edited_interv.html It's a hoot.
And now to the reviews. I'd have to say I'm a little inclined to agree with some of the comments about the overdose of humour (if you've read Wolf Creek: Origin you'll see the tone I tend to convey — it's bleak and confronting and brutal. There's some humour, but it's pretty black and spare). And there are way too many kangaroos
But, hey, the film got made, I'm happy with it, and I'll be even happier with the DVD where people get more of a taste of the original vision.
Generally, the reviews have been great. Paul Byrnes at The Age/ Sydney Morning Herald gives it four stars, and says it has "bowel-twisting tension, and a clear sense of purpose and theme". He gets special points for mentioning me.
Jake Wilson gets even more points for introducing me thusly in The Age/ Sydney Morning Herald: "[Mick's] back to his old tricks in Wolf Creek 2, which McLean directed from a script he co-wrote with author and academic Aaron Sterns (intriguingly described by his publisher as a former 'researcher in postmodern horror')." Now that's how you'd like to be described in a national newspaper. He describes the film as "the most notable home-grown fiction feature to hit cinemas since P.J. Hogan's Mental".
Luke Buckmaster in The Guardian says the sequel is "louder, faster and more entertaining. The body count is bigger; the death scenes more elaborate", while Ron Cerabona also in the Sydney Morning Herald says "if you like horror movies, Wolf Creek 2 is well worth seeing", giving it three-and-a-half stars too (which seems to be the standard).
There's also more nice reviews up on Quickflix, Cheatedhearts, Switch (four stars too), Truly Disturbing, Access Reel, Resident Entertainment, and AAP.
And then there's Leigh Paatsch at the Herald Sun who gave the film half-a-star, and called it a "knuckle-dragging exercise in torture porn". Well, it's just as well he didn't get to see the R version then, isn't it? He seems to be having a go as much at the genre — and the sick perverts who write/watch/read it — as the film. Maybe he could defer to someone else at the paper a little more open-minded next time he has to watch one of these nasty, nasty horror movies. At least they mightn't come into the cinema with a pre-determined review. But, hey, each to their own. My pre-determined view is I've never much cared what the guy thinks, so I guess we're even.
Over at my facebook page (www.facebook.com/aaronsternsauthor — check it out) I've been running one last competition for signed copies of Wolf Creek: Origin, inviting people to photograph themselves next to the many Creek 2 billboards plastering the country. The winner was a dog showing its arse to Mick. Not sure what that says about my followers — maybe just that they're a cool irreverent bunch. Or they saw a dog and clicked LIKE after all the unrelenting horror stuff I post there. Anyway, here's a pic I forgot to post. You have to do these things: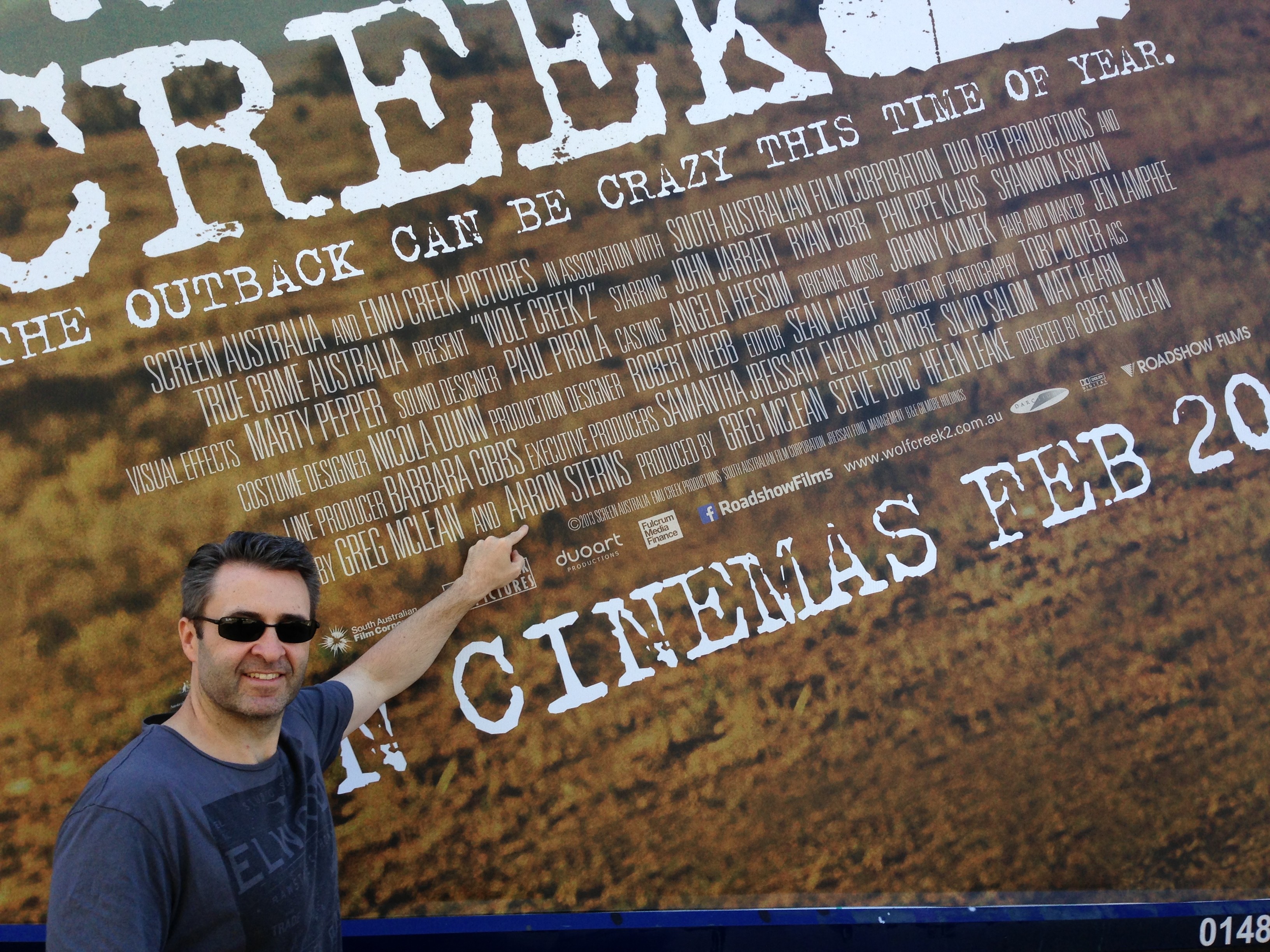 (Cnr Elgin and Drummond Sts, Carlton)
________________________________________________________________________________________
'Wolf Creek 2′, serial killers, and how horror "should change you for life"
Feb 18, 2014
Well, this is a big one.
The Herald Sun interviewed me a few weeks ago regarding serial killers for their true crime online section. I think Blanche has done an exceptional job at making me sound eloquent.
The article reminds me that when I was younger (just beginning Uni, if I recall) I used to set myself writing tasks over the summer holidays: every day I would have to write a one-page monologue from a famous serial killer's perspective (John Wayne Gacy, Henry Lee Lucas, John Haig). I began to realise we fetishise serial killers' killing techniques and quirks (like Gacy's clown costume), and collate the numbers of their victims like collectors' cards. Thinking about the deaths of innocents in such a necessarily detached manner made me so depressed I had to stop writing — and even reading — about them for quite some time. But I guess it was all good grounding for Origin.
http://www.heraldsun.com.au/news/law-order/wolf-creek-writer-aaron-sterns-believes-were-right-to-fear-the-presence-of-outback-killers-like-the-fictional-mick-taylor/story-fni0ffnk-1226829294689
Wolf Creek writer Aaron Sterns believes we're right to fear the presence of outback killers like the fictional Mick Taylor
Blanche Clark, The Herald Sun – Law and Order: True Crime Scene
February 18, 2014
Author Aaron Sterns – the Wolf Creek 2 co-writer believes we have a right to fear the unknown in the outback. Picture: Steve Tanner. Source: News Limited
Wolf Creek 2 co-writer and author Aaron Sterns believes the Australian Outback could be home to more serial killers like Ivan Milat.
"This is one of the scary things, I think; we only hear these stories if a serial killer is caught or the body is found," the Melbourne-based writer told the Herald Sun.
"Look at how big Australia is. How do you find a body? That's what Wolf Creek taps into."
He cites British backpacker Peter Falconio's disappearance in 2001 as a case in point.
Truck driver Bradley Murdoch was convicted of Falconio's murder and is still in jail, but Falconio's body has never been found.
Sterns studied Australia and America's most notorious serial killers to help film director Greg McLean create Wolf Creek's terrifying and brutal predator Mick Taylor.
"When I was doing the research for this novel, I realised you could be made into a serial killer," Sterns says.
"There is a differentiation between what's called a psychopath and what's called a sociopath. Both don't feel empathy and both don't respect society's laws, but the psychopath is apparently someone who is born with that condition, whereas a sociopath is potentially a construct of the environment."
In the prequel novel Wolf Creek: Origin, released to coincide with the opening of Wolf Creek 2 in Australia on February 20, Taylor goes from a scrawny boy who witnesses the grisly death of his sister and flees his abusive father to an angry, emotionally detached jackaroo who kills anyone who goads him.
John Jarratt as Mick Taylor taps into our greatest fears of the bush. Picture: Supplied Source: Supplied
"One of the things I brought to this novel was the idea: was Mick Taylor inherently evil or was he a product of the environment?" Sterns says.  "I hope I leave it up to the reader to decide."
The fan of Brett Easton Ellis's American Psycho attributes his obsession with serial killers to witnessing domestic violence as a stepchild and trying to understand what causes that behaviour.
He was deeply affected by the death of US/Israeli journalist Daniel Pearl, who was killed in 2002 by terrorists in Pakistan.
"He was beheaded live and we saw the moment he went from a live person struggling to nothing, to this nothingness," Sterns says.
"There's this scene in Wolf Creek 2 which is that basically, because I wanted people to feel that moment when a character we loved became nothing in front of our eyes."
He says horror, both in literature and film, has more power than people realise.
"Good horror can affect you. It has a lasting impact. Terror and fear are momentary sensations that people can get excited by, but horror by definition is a lasting dread, and good horror changes you for life."
The former lecturer in Gothic and subversive fiction says Wolf Creek explores one of the fundamental aspects of being Australian — the fear of the bush and Outback.
And Wolf Creek 2 might not be the last of the fictional serial killer.
"Mick is still out there," he says.
________________________________________________________________________________________
'Wolf Creek 2′ co-writer is "the horror guy, the go-to man for all things grotesque"
Feb 14, 2014
Yes. Yes I am.
My University town's newspaper The Geelong Advertiser has run a great article today about the grounding Deakin Uni gave me for my horror career (being the only university at the time to even consider including genre fiction on the curriculum). Considering I taught there for a number of years (in Gothic and Subversive Fiction amongst other things) it's nice to now be able to acknowledge the contribution.
http://www.geelongadvertiser.com.au/news/horror-man-learns-his-skills-at-deakin-university/story-fnjuhori-1226826519533
Horror Man Learns his Skills at Deakin University
Margaret Linley, The Geelong Advertiser
February 14, 2014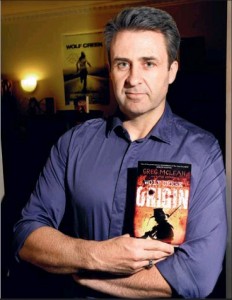 AARON Sterns is the horror guy, the go-to man for all things grotesque, macabre and scary. It's a skill set he honed while studying and lecturing at Deakin University.
And so it's no surprise his name shares equal billing on the screenplay for Wolf Creek 2, due to be released next week.
He is also the co-writer of a novel that is a prequel to the original Wolf Creek movie in which character Mick Taylor, played by John Jarrett, tortures and kills some backpackers whose car has broken down in the outback.
"The book looks at Mick Taylor's incredible backstory,'' Mr Sterns said. "So many people wanted to know. We get hints (in the films) of some of the barbaric possibilities that a bushman might have gone through where death is seen almost as a part of life it's almost mundane.
"I seized upon that. I place him working on a cattle station. I had his father a dogger, a dingo hunter. There's that exposure to death.''
Mr Sterns paid tribute to both his study and teaching experiences — he taught gothic and subversive fiction — at Deakin, which allowed him to focus on horror writing, a genre largely ignored by other universities.
"I knew a lot about the history of serial killers, the trigger moments, and so when I was given the opportunity to write about the most iconic serial killer (Mick Taylor) I could bring all of my imagination to the fore,'' the former Geelong man said.
"Taylor has become emblematic of the fear of the outback and it struck a chord. He is the expert bushman who didn't take kindly to tourists trampling all over his backyard. Wolf Creek is the highest grossing R film ever in Australia, the highest grossing film for that year.''
Australia, he said, was full of people clustered around the coastline inherently suspicious of the vast interior that can swallow people whole.
Mr Sterns was a consultant on the first movie, sharing an office with Greg McLean, the writer and director. He also had a cameo role, playing one of Taylor's cronies in the pub.
When the sequel idea was floated ''the script was handed back and forth'' between the two until it was ready.
Wolf Creek 2 will be released next Thursday.
Origin: Wolf Creek, by Greg McLean and Aaron Sterns, is published by Penguin. RRP $19.99
________________________________________________________________________________________
How my High School Teacher and Stephen King started me on the road
Feb 10, 2014
There's a very nice article in today's Ballarat Courier about how my High School English teacher and one Stephen King started me on the road to writing horror. I indeed walked down a side street I'd never seen before and found a used bookstore with King's It as the only book on display in the window. I promptly bought it, then everything else he'd written up until then. His Danse Macabre even introduced me to horror theory, so I'm very happy to have this little anecdote in print.
http://www.thecourier.com.au/story/2076387/ballarat-link-to-horror-film-wolf-creek-2/?cs=62
Ballarat link to horror film 'Wolf Creek 2′
By Kara Irving, The Ballarat Courier
February 10, 2014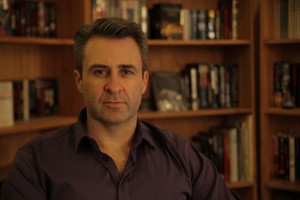 Funnily enough, Ballarat has ties to Australian horror film Wolf Creek 2.
Before Melbourne writer Aaron Sterns co-wrote the sequel to the box office hit, he lived in Gordon and attended Ballarat East High School.
In fact, if it wasn't for his high school teacher Ros McArthur, Wolf Creek wouldn't have a prequel or a sequel.
"We had moved to Gordon and I went to high school in Ballarat," Mr Sterns said.
"I wanted to study graphic design at university, but Ros was part of the reason why I got into writing and chose to study at Deakin (University in Geelong) instead.
"She knew my passion was writing and swayed me to study a course there, so I did."
As they say, the rest is history.
Mr Sterns, who lived in Ballarat for about 15 years, went on to appear in a cameo role in the original Wolf Creek in 2005. In 2007 he was the script editor for another Aussie horror flick, Rogue.
After the local and international success of Wolf Creek, Mr Sterns started writing a script for the sequel, and eventually, a prequel novel series. Mr Sterns said living in Ballarat also inspired his novel-writing career.
"I was walking along an arcade where Target is today and I discovered a small bookstore I'd never seen before," he said. "I noticed Stephen King's novel It in the front window. I know it sounds strange, but it seemed as if I was drawn to the book."
Mr Sterns said King's novels had since influenced his writing.
Now based in Melbourne with his family, Mr Sterns hinted he was considering a return to Ballarat for a book-signing in the coming weeks.
"I'm hoping sometime after the film release," he said.
Wolf Creek 2 is released nationally on February 20.
(With thanks to Cameron Oliver for the photo)
________________________________________________________________________________________
The 'Wolf Creek: Origin' & 'Desolation Game' book(s) launch
Feb 3 2014
We had an amazing turnout for the Wolf Creek novels launch, held at Notions Unlimited on the weekend. Thanks to everyone for trekking down the coast (hope I got to speak to all of you). And for those that couldn't make it (I know of at least two car breakdowns in the heat!) thanks for the best wishes and support.
A special thanks to Chuck at Notions for housing us, Jamie Blanks for hosting us, and Greg McLean for roping us in in the first place. It was great to be able to speak of the experience writing the novels (and the film), and a pleasure to sign copies for everyone.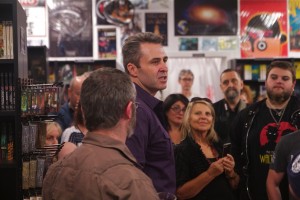 Author Aaron Sterns in full swing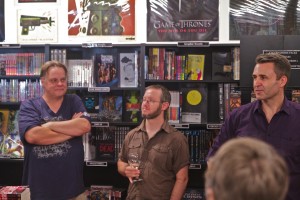 With host Jamie Blanks & fellow author Brett McBean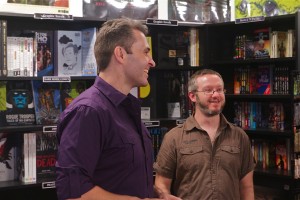 Not easy to get horror authors to smile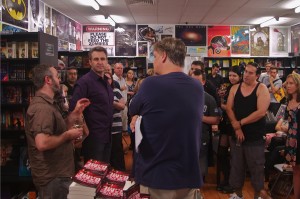 Lookit that crowd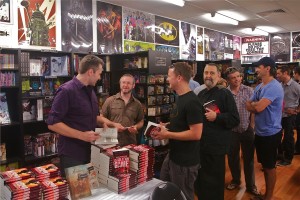 The line begins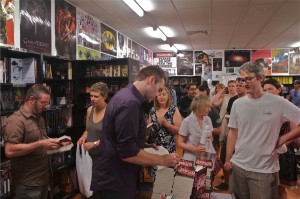 And keeps going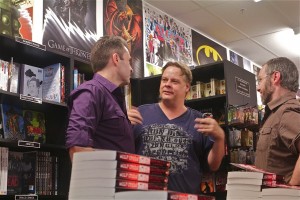 Cooking up something dastardly, I'm sure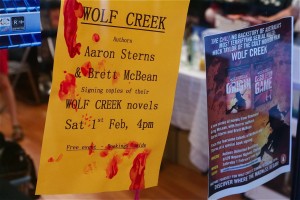 Chuck McKenzie's promotion even enticed some passing beachgoers in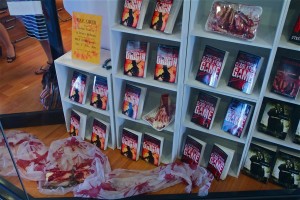 An impressive window display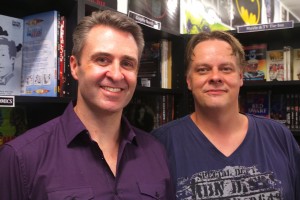 With Jamie
(With thanks to Dean Cowie for the photos)
________________________________________________________________________________________
The Latest 'Wolf Creek: Origin' Review – "A brilliant, creepy, internal horror"
Jan 31, 2014

Geoff Brown (the former president of the Australian Horror Writers Association) has just given his take on the Wolf Creek prequel novels. In his five-star review on Amazon.com & Goodreads he writes that "All I can say is 'wow'! […] The flawed narrator ploy for Mick Taylor's narrative oversight works wonderfully, and the final, brilliant ending left me wanting more. Bravo to the author/s for sculpting such a brilliant, creepy, internal horror."
He's also posted a longer review on the big UK site ThisIsHorror.co.uk, where he writes that "This is a book that doesn't hold back the punches, and gives everything that a horror fan is looking for. The writing by Sterns is another plus. The view inside Mick Taylor's head throughout the entire narrative was masterfully done. There are many great aspects to this book: the sense of the Australian outback; the sense of the onset of madness; and the threat from the antagonist are all fantastic. […] Definitely a great introduction to the bat-shit-crazy Mick Taylor."
Read all the nice stuff here: http://www.thisishorror.co.uk/wolf-creek-franchise/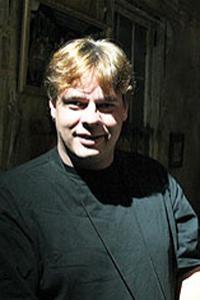 And in some other amazing news, legendary Australian horror film director Jamie Blanks has agreed to host the landmark Wolf Creek prequel novels book launch tomorrow at Notions Unlimited. It looks like being a fully-booked event, so should be an amazing day celebrating the birth of Australia's first horror franchise. I'll be posting photos in the next few days.
________________________________________________________________________________________
'Another nice article on the prequel novels'
Jan 25 2014
There's another article on the Wolf Creek prequel novels out today, appearing in Fairfax newspapers. I gave the interview for this a few weeks ago, so it's nice to see it come out just in time for the launch next week. It's an insightful take on Mick Taylor and his relationship to the landscape too, I feel. It also has a bit on my experience writing the novel, which I'll be going into more detail about in interviews to come.
http://www.smh.com.au/entertainment/books/the-word-on-wolf-creek-20140124-31crc.html
'The Word on Wolf Creek'
by Jane Sullivan, The Age/ Sydney Morning Herald
January 25, 2014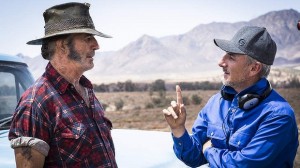 He's kind of Slim Dusty, he's kind of Bob Hawke, he's kind of Crocodile Dundee. He's a loveable larrikin, as Aussie an outback character as they come. He's also a serial killer given to wearing human skin.
We're talking about Mick Taylor, demonic anti-hero of the iconic Australian horror film Wolf Creek, owner of the second most famous set of movie sideburns after Hugh Jackman's Wolverine. The legend is back next month in Wolf Creek 2. And now you can read about him in two appropriately bullet-holed and blood-spattered Wolf Creek paperbacks, Origin and Desolation Game.
These are not novelisations of the films, but fully-fledged prequels that show us in detail how Mick developed from a frightened little boy into a monster – or as his creator Greg McLean calls him, "the apex predator of his domain". Like any self-respecting psychopath, from Hannibal Lecter to Freddie of the Friday the Thirteenth films, Mick deserves his own back story.
McLean, who directed and co-wrote the two Wolf Creek films, always intended his character to rampage through other media. He outlined a series of books and worked with a graphic designer to create mock-ups of how they might look. "You really have to have it fully created in your mind before someone else can recognise that vision and share it," he says.
It took time to find a publisher, but in the end Penguin took up Australia's first horror franchise. McLean wrote the novels with two award-winning horror writers: his script collaborator Aaron Sterns (Origin) and Brett McBean (Desolation Game). If all goes to plan and the first two titles sell well, there will be four more books in the series.
The collaborations worked, McLean says, because his two quite different co-writers had a clear idea of the story and character, but also had enormous freedom to create. "It was a learning experience all round … I think we all grew as writers."
Sterns says McLean initially provided him with just four lines on what the first book would be: "A 20-year-old Mick Taylor is wandering the desert when a serial killer sees his potential and trains him to take out the other serial killers prowling the outback". From there, he had free rein to imagine his story. His research included a visit to Aramac, home town of John Jarratt, the actor who plays Mick; and a cattle station in Queensland, complete with a "chilling" butchery shed.
There's no faulting Sterns' ambition. He saw Origin as "an opportunity to write the great Australian Gothic novel on a potentially big stage". A difficult thing to pull off with fans' expectations and a four-month deadline, but he has given it a red-hot go.
What is so appealing about the horrific Mick Taylor? "He's truthful," McLean says. He's "a totally, unashamedly Australian character steeped in the language and ways of the outback". But we have seen his dark side in real murderers such as Ivan Milat and Bradley Murdoch. "We're fascinated and deeply afraid of them."
I reckon another drawcard of both the books and films is the Red Centre itself, which has attracted writers and creators from Patrick White onwards. As Sterns says, it's a landscape that can drive the vulnerable mad.
It's huge, empty, romantic, terrifying. Maybe it's the kind of place that demands sacrifice.
But is the book industry ready for Mick? Sterns says one bookstore chain is selling the novels under paranormal and another under crime, because there's no dedicated horror section any more. They will just have to catch up.
________________________________________________________________________________________
The 'Wolf Creek' prequel novels launch – Official Invitation
Jan 24 2014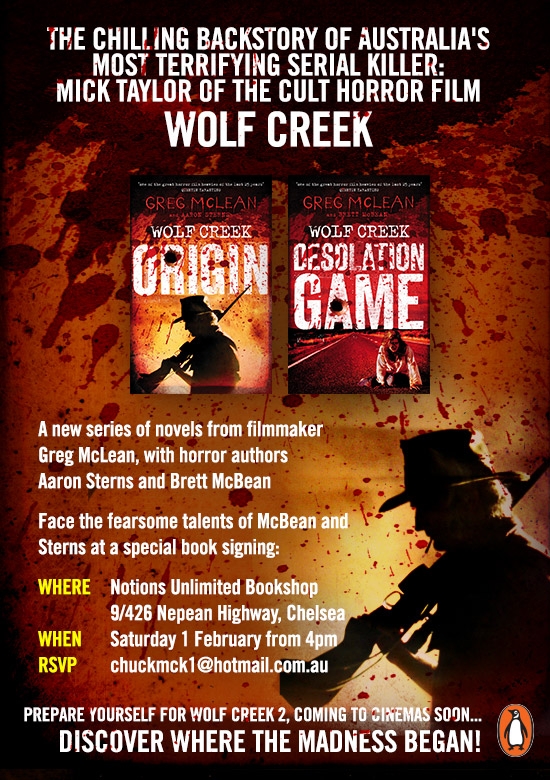 http://notionsunlimitedbookshop.blogspot.com.au/2014/01/wolf-creek-author-signing.html
Thursday, January 23, 2014
WOLF CREEK Author Signing!
With the release of WOLF CREEK 2 due next month in Australian cinemas, Notions Unlimited Bookshop is proud to present the following event, to celebrate the release of Penguin's WOLF CREEK prequel novel series:
Aaron Sterns (writer of WOLF CREEK 2, and co-author, with Greg McLean, of WOLF CREEK : ORIGIN), and Brett McBean (co-author, with Greg McLean, of WOLF CREEK : DESOLATION GAME) will be signing copies of their respective novels in-store.
Venue: Notions Unlimited Bookshop, 426 Nepean Hwy, Chelsea
Date: Saturday 1st Feb 2014
Time: Starts 4pm
Wine & Nibbles – plus some bloody surprises! – provided on the night.
This will be a FREE event, but space is strictly limited, so do please contact us to book your place.
info@notionsunlimitedbookshop.com /  03-9773-1102
________________________________________________________________________________________
'Couldn't help loving the guy […] while being aghast" – Another great 'Wolf Creek: Origin' review
Jan 24 2014
Bonnie Sparks at Bookish Ardour has posted a great review for Origin, giving it a resounding five stars. And it's nice to have a female perspective on the novel: "I found myself sympathising for Mick," she writes. "I found myself being appalled by his behaviour and sad when he gave into his urges. I found myself wanting Mick to get away with murder and at the same time I desperately wanted him to stop. Mick gets under your skin." I want people to be conflicted and confronted by this novel, and hopefully this points to some success.
I particularly like her summation that "I couldn't help loving the guy by the end of the story, while being aghast. […] His actions are grisly, his manner is cold, but I loved him as a character." I couldn't ask for better.
For the full five-star review:
http://bookishardour.com/2014/01/23/review-wolf-creek-origin-desolation-game/
________________________________________________________________________________________
The Official Launch of 'Wolf Creek: Origin'
Jan 19 2014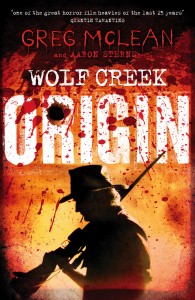 February is Wolf Creek Month – and what a way to start it off.
I'm pleased to announce the official launch of Wolf Creek: Origin and Wolf Creek: Desolation Game on Saturday 1st February 4pm at Chuck McKenzie's renowned genre bookshop Notions Unlimited (9/426 Nepean Highway, Chelsea – about an hour down the coast from Melbourne).
I'll be in attendance with DG author Brett McBean to sign, so we hope to see lots of people coming along to grab some light reading material while waiting in line at WOLF CREEK 2. It'll be sure to make everyone jealous.
More details can be found at my Facebook author's page: www.facebook.com/aaronsternsauthor
________________________________________________________________________________________
"'Wolf Creek: Origin' is a kick ass read" – The latest review
http://horrornovelreviews.com/2014/01/13/meet-mick-taylor-in-greg-mclean-and-aaron-sterns-wolf-creek-origin-review/
Meet Mick Taylor in Greg McLean and Aaron Sterns' 'Wolf Creek: Origin' (Review)
HorrorNovelReviews.com
by Matt Molgaard, Jan 14 2014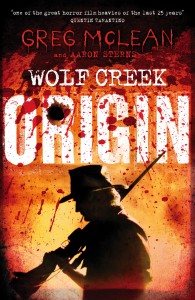 Back in 2005 a shocking little Aussie pic hit the market and left travelers of The Outback pissing in their boots. That movie was Wolf Creek, a vehicle for the ultra-violent and completely unrelenting Mick Taylor. Mick was in many ways the most frightening villain to make way to the screen in ages, and fans loved him for that.
They loved him so much Penguin released a pair of books dedicated to the man's ventures away from the screen. The first of the two, Wolf Creek: Origin offers exactly what you'd expect: a look at the early years of Mick and his rugged childhood. This kid never had it easy, and one horrible accident pushes things far, far beyond imagining. That's right, it's not so much an outright malicious act that triggers the inner killer of Mick Taylor. It's something quite different. The end result however? The same: the dude is a murderous psychopath that you just don't want to cross paths with.
Greg McLean's concept for this story is brilliant. It's terrific getting a chance to look at what – up to this point – has been one of the most mysterious murderers in the business. Knowing the human elements of the character is quite compelling. And scribe Aaron Sterns does a stellar job of articulating McLean's vision. This is a very well written novel that flows smoothly, though it is driven by aggression, and as a fan of the film, I can honestly say it feels like a perfect companion effort.
At the end of the day, I don't suppose it even matters whether you've seen Wolf Creek or not. This is a story that stands on its own two feet, and does so with wobbly pride. It's grizzled, it's harsh, and it's damn mean; Wolf Creek: Origin is a kick ass read.
Rating: 4.5/5
________________________________________________________________________________________
'Back to the Beginning for Wolf Creek' – nice article in local paper
Jan 7, 2014
I have another article in a newspaper today — my local the Progress Leader. I like the photo a lot more in this one, I have to say. Hopefully I don't look quite as intimidating (though I've been told that's quite fitting considering what I'm publicising).

Back to the Beginning for Epic Aussie Horror Story
by Holly McKay, Camberwell Progress Leader, 7th January 2014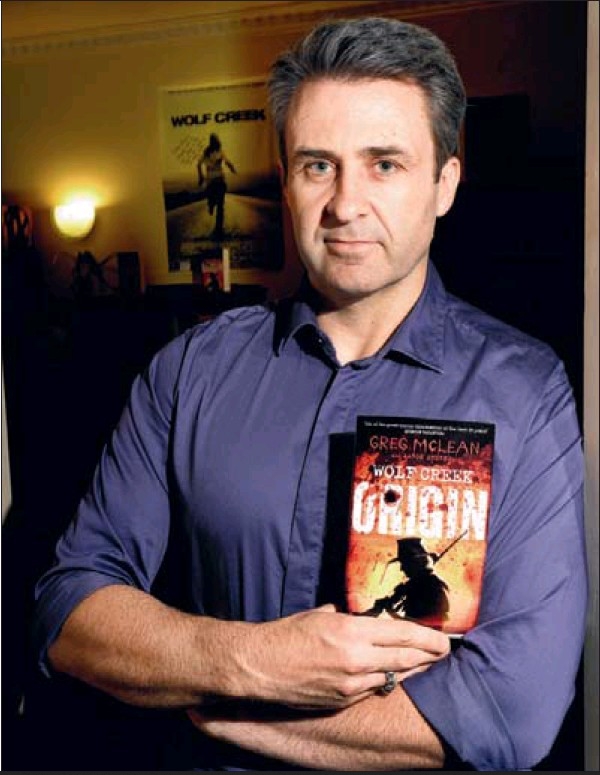 Aaron Sterns with his Wolf Creek prequel novel. Picture – Steve Tanner
A Balwyn North writer with a passion for gothic literature has co-written the prequel to one of Australia's greatest horror films.
Aaron Sterns has not only co-written the sequel to the film Wolf Creek, Wolf Creek 2, but is also the co-author of the prequel novel Wolf Creek: Origin.
Sterns said the book, released last Thursday, told the backstory of the films' central character, Mick Taylor.
The book was released alongside another book, Wolf Creek: Desolation Game as part of a series of six books.
Sterns said the idea for Wolf Creek: Origin came about as a way to give readers an insight into the childhood years of Taylor.
"It goes right back to the beginning.
"It follows him as a ten-year-old in his home town and how he witnesses the gruesome death of his sister, which has repercussions through his own life. [And] it follows him as he works on a cattle station and is pushed to the extreme by others — that's when you realise the depth of his psychosis."
Sterns said he and co-author Greg McLean, the producer [and director] of the films, had come up with the background story while filming the sequel.
"I saw it as an opportunity to write a great Australian gothic story."
[Actually, I'd completed the novel long before we started shooting, but close enough.]
________________________________________________________________________________________
The First Sighting – 'Wolf Creek: Origin' in stores
Jan 4, 2014
Dymock's 234 Collins St, Melb. 1.30pm today.
There it is!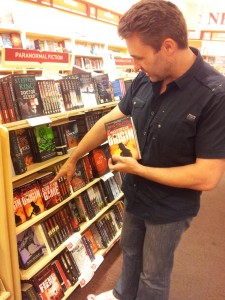 We're keeping some damn fine company there: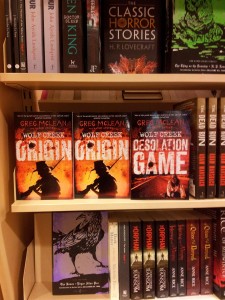 ________________________________________________________________________________________
The Only 'Wolf Creek: Origin' Giveaway – facebook.com/aaronsternsauthor
December 29, 2013
The Mick Taylor prequel novel Origin ships to stores next weekend, but there's a way you could get your hands on a copy before everyone else. I've decided to give away one of my personal author's copies (from a very dwindling supply) to a follower of my Facebook page, personally inscribed by myself. Unless you're a critic, or were one of my family at Christmas, this is the only way you'll get your hands on a pre-release copy (signed and everything!) because this is the only competition anyone's running. How exclusive is that? Head on over to facebook.com/aaronsternsauthor  and like/follow my page and you'll be in the hunt!
On New Year's Day I'll be letting my baby daughter choose one of my followers at random (I'm not sure how she already knows how to use a mouse). I'll message the winner Wednesday night, and then express post the book out the next day. Unless you're overseas it should hit you by Friday, and you can've read it before the stores even stock it (though I'm not promising anything — but, hey, they won't have signed copies, will they?).
And if you don't win, never fret because the book's very reasonably priced (in this day and age of $25-30+ books) at just $19.99 for the paperback, and $9.99 for the e-book. Nice pricing Penguin.
Good luck, and I look forward to signing a copy for one of you! (Oh, and even though it might reduce your chances, please tell your friends!)
http://www.penguin.com.au/products/9780143566717/origin-wolf-creek-book-1 (pb)
http://www.penguin.com.au/products/9781742537672/origin-wolf-creek-book-1 (eb)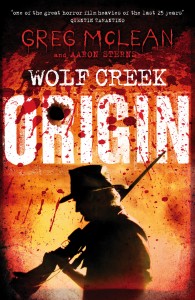 And when you've finished that get your hands on the second in the series: Desolation Game, by Greg & Brett McBean:
http://www.penguin.com.au/products/9780143566724/desolation-game-wolf-creek-book-2
See where Mick got the whole head-on-the-stick idea. Hint: it's pretty gross.
________________________________________________________________________________________
'Wolf Creek' Now Officially Australia's First Horror Franchise
December 28, 2013
Jeff Ritchie at ScaryMinds.com has included an article alongside his glowing review of Origin, noting that we now have this country"s first horror franchise.
I tried not think about this when I took on the writing of the film (though that was actually thankfully before the first movie hit big). However it was especially hard to keep to the back of my mind during the writing of the novel, considering Wolf Creek's so ingrained in our cultural consciousness. Expanding the Creek universe is quite a responsibility that we've taken on, but it's also a big step for Australian horror. This is Penguin's first foray into horror, and Village have put a lot into the funding for and distribution of Wolf Creek 2. Here's hoping it's all successful enough it leads to more opportunities for others in the difficult field that is Australian horror.
http://www.scaryminds.com/?action=viewArticle&articleId=34
Wolf Creek is now officially the first horror franchise from Downunder
Jeff Ritchie – Dec, 9, 2013
With a sequel due to hit cinemas February 2014, and the promise of an additional three movies, we were certainly getting excited, now Penguin have entered the bloody fray with two prequel novels.
Wolf Creek hit Australian cinemas in 2005 and became an instant hit. Sure there was a degree of resentment sent the movie's way, one SBS Critic labelled it as "unnecessary" for example, but the horror fandom loved it. Ask most foreign horror fans to name a Downunder horror movie and they are apt to either say Peter Jackson's Braindead or Greg McLean's Wolf Creek. With a sequel announced the anticipation amongst Australian fans could be felt, and after at times rocking production schedule the second movie is hitting cinemas early in 2014. Word we received here at the ScaryMinds bunker was even better, a further three movies have been planned!
On the back of the explosion in cinematic options, does Greg McLean ever sleep? – he's also been involved in another movie and a graphic novel, Penguin Books have weighed in with not one but two prequel novels. Greg McLean teams up with Aaron Sterns for the first novel, Wolf Creek: Origin, and backs it up with a second novel Wolf Creek: Desolation Game, writing alongside one of ScaryMinds' favorite authors Brett McBean! Word from Penguin is a bunch more novels are likely to hit shelves as well!
If after additional information then hit the official Penguin Books site. A print edition of each novel looks to have a listed price of around $19.99, while electronic options are also available.
Both books are expected to be available online and from all good bookstores from the 2nd of January 2014. Please note ScaryMinds will be reviewing both titles prior to Xmas! Which is my excuse for not including plot outlines. Anyone else getting a little excited? 2014 the year Mick Taylor came back!
________________________________________________________________________________________
The First 'Wolf Creek: Origin' Review
December 23, 2013
"McLean and Sterns have written a book that is destined to be considered a classic in future years." – ScaryMinds
Our first review is in, and it's a killer. The authoritative Australian horror website ScaryMinds calls Wolf Creek: Origin "one of the best serial killer novels out there." And, no, I have no idea what New Journalism is either. But apparently I write like Hunter S. Thompson – so, cool!
SPOILER ALERT, of course. They give away everything. So read at your own peril. And after you've read that, the DESOLATION GAME review's also up so check that out too. Well done G & B.
http://www.scaryminds.com/reviews/2013/book180.php
Wolf Creek: Origin (2014)
Author
Greg McLean, Aaron Sterns
Publisher
Penguin Books
Tweet
Length
287 pages
Genre
Serial Killer
Blurb
Nature vs nurture turns out to be a bloodbath
Country
Review
"'Cause what you don't realise, ya fucken amateur, is there's others like us." – Cutter
A young Mick Taylor escaping a troubled past takes a job as a jackaroo on a remote Western Australian sheep station where a man's past is his own business. Mick has difficulties settling in amongst the rough farmhands and soon makes enemies, with one bloke in particular seemingly watching him with undue interest. Seems Mick has some dark urges, which he can't contain and the body count starts rising, which doesn't go unnoticed. Cutter, who shares some of Mick's passions, finds evidence of a murder that Mick has committed and hides the evidence where Mick is going to be hard pressed to find it, in the den of another psychopath.
With things going wrong at the Station Mick is soon without a job and moves in with Rose, who just might have an answer to what troubles him. However Mick is soon slicing and dicing again, which doesn't escape the notice of other predators. Mick needs to find the evidence Cutter hid, and the only way he is going to be able to do that is by hunting down more seasoned psychopaths and searching their lairs. Adding to Mick's troubles are a couple of local police officers who are investigating recent deaths in the area, and they have Mick firmly in their cross hairs.
Okay annoying autobiographic paragraph, jump to the next one to avoid. When I was a kid, way before the advent of the internet as we now know it, yes kids dinosaurs roamed the earth and there was no Facebook or youtube, I was still a major horror fan. Which was cool except none of my friends shared this aspect of my personality but I did have a couple of cousins who also voyaged in darker waters. Unfortunately their parents moved them stateside and we only got to hang out during Christmas. Through various letters, remember no internet, I got to learned that in the States major horror franchises, Friday the 13th, Halloween, etc not only had the movies but also had novels! Yes I was jealous, jealous as hell, especially since they didn't think of bringing any of the books back Downunder. Which brings me to the Wolf Creek novels, finally we have an actual franchise in this part of the world! I'm reviewing Origin today, but I have the next Wolf Creek novel to look at, there's a sequel to the movie schedule for release in February 2014, and if that's not all she wrote we're being promised a further three movies and additional books. The U.S can keep their Jasons and Michaels, we have our own brand of serial killer, Mick Taylor, and the frightening thing is that Mick is an ordinary bloke that could actually be out there. Let's get our Origin on.
The novel is jointly written by Wolf Creek creator Greg McLean and Aaron Sterns, who besides being a writer in his own right does the academic thing. Now the problem with joint writers is sometimes the seams show, as differing writing styles are not necessarily compatible. I noted this to a certain degree in Origin; though to be honest it didn't take me out of the novel. One of our Authors, and I'm picking it's Aaron Sterns, has a tendency to drop into what was called the "new journalist" style in the 1980s at the start of a few of the chapters. It's hard to describe quickly what this style is besides saying it brings immediacy to the prose that puts the reader directly into the narrative. Most readers probably won't pick up on this nuance but just thought I would mention it to be thorough.
McLean and Sterns have written perhaps the best "early years" outing I have ever read. I'm sure, like me, a lot of people catching the Wolf Creek movie would have wondered how Mick came to be a brutal predator, well in between getting a major chill down our spines when Mick let loose that distinctive laugh. Origin seeks to put some meat on the bone, and does so in style. We gradually learn Mick has always had a "dark passenger", to borrow a Dexter term, and the nature versus nurture debate simply has no place in the Wolf Creek universe. Mick was a natural born killer, it just needed something to let loose his inner demons, however his blood lust is also being nurtured almost by the predators around him, to the cost of all involved. So we get some insight into Mick Taylor growing up in a dysfunctional family, sort of a cross between What's Eating Gilbert Grape's Mom and any number of fictional Fathers who are close to being sociopaths themselves, as well as how he was forged as a psychopath.
Now I know a lot of readers are already thinking "Rob Zombie did that with Halloween and destroyed the franchise in inane pseudo bullshit", but I'm here to tell you McLean and Sterns freaking nail it brothers and sisters! As opposed to Zombie our Writers do not destroy the legend of Mick Taylor, they enhance it. Mick comes from a truly redneck family, McLean and Sterns build this aspect of the character's environment with consummate skill, as opposed to Zombie who dropped his rednecks into a middle class environment, then added on the grunge factor. Furthermore Mick has never had a mythical edge to him, once again adding to the chill factor, he is simply an ordinary man with some well developed skills. We learn how he came to have those skills and while we get inside Mick's head we aren't presented with any trite reasons for his murderous hobbies.
I don't want to spend the entire review talking about the character of Mick Taylor, though the novel is told from his viewpoint and the revelations come as he experiences them, McLean and Sterns have also created a number of other memorable characters that will have you devouring this novel like a dingo who has come across an unguarded baby at Uluru, (Ayers Rock for the yanks).
Without giving too much away, Mick isn't the only predator in the empty landscape. McLean and Sterns draw each of the additional killers with broad strokes, giving each individual their own character and motivations. Mick might have a few Roos bouncing around in the top paddock but they pale in comparison to some of the others hunting the outback in Origin. While it might seem slightly trite to have a whole bunch of psychopaths, the feeling is the outback draws them, no one questions their past and there's a whole lot of empty country to dispose bodies in.
A few people are going to ask about the morality of having a book that serves up a serial killer as hero or at least central character, and to be honest Mick Taylor comes off as something less than an anti hero. But you will find yourself hoping Mick gets to the final pages as McLean and Sterns serve up even worse sociopaths than Mick could ever hope to be. I'm not saying Mick Taylor goes all Dexter on us, but there is the feeling that he at least offers some sort of community service, albeit from a purely personal frame of reference. By the end of Origin we are left in no doubt that Mick Taylor isn't going to be finding redemption, but at least the big fella does prove to be an intriguing character with a lot more to him than simply the need to hunt and kill.
I had a real good time with Wolf Creek: Origin, McLean and Sterns managed to fill in a whole lot of background on central character Mick Taylor without destroying any of the gravitas the character had from the original movie. The book is well written, paced to perfection, and is definitely a page turner. We welcome our first ever horror franchise, and wish Greg McLean best luck with it, the first book in the series has definitely started things in the right direction. Full recommendation folks, one of the best serial killer novels out there, McLean and Sterns have written a book that is destined to be considered a classic in future years.
Strangely this is the first Penguin horror novel the site has covered, either Penguin are giving the dark genre a wide berth or we all need to do some remedial research. If after more information then check the official Penguin site. The novel is expected to hit bookstores early January 2014, ensure you get in early as sales will no doubt be brisk.
Beyond Scary Rates this read as …
This is the
Wolf Creek
novel we have been waiting for.
________________________________________________________________________________________
'My First Newspaper Interview!
December 19, 2013
The Wolf Creek novels launch in two weeks, and to announce this groundbreaking publishing event the Sydney Morning Herald have interviewed me to get the word out. They've even included a photo of my library! (Yes, that's a Mick Taylor bobblehead next to Carnage in the background.) Read it all here:
Wolf Creek 2: The Genesis of a Murderous Intent
by Linda Morris, Features Writer, Sydney Morning Herald, 19th December 2013
Aaron Sterns, co-writer of
Wolf Creek 2
and a series of books.
Photo: Mal Fairclough
The outback serial killer Mick Taylor is to return to movie screens in a sequel of the blood-soaked Australian cult horror film
Wolf Creek
, as well as a series of novels.
With its shades of the backpacker murders, Wolf Creek 2 leaps eight years after the events of the original film to find Taylor – played by John Jarratt – preying on foreign visitors who have the misfortune to turn up in the wrong place at the wrong time. The film premiered at the Venice Film Festival and is to be released in Australian cinemas on February 20.
Now two new novels are to be published by Penguin in January which build the back story to Taylor's violent rages, taking fans back to the time he is a scrawny jackaroo at a remote Western Australian sheep station, struggling with the memory of his little sister's grisly death.
Film director Greg McLean and Wolf Creek 2's co-writer Aaron Sterns have written Wolf Creek: Origin, the first in Penguin's planned series of six print and digital novels.
McLean believes it's the first time a book series has been spun off an Australian horror film. "Mick Taylor has gradually assumed horror icon status, so creating a series of novels that delve into the darkest corners of his development and psyche in the years before we meet him in the first Wolf Creek movie seemed a really interesting concept."
Origin will answer the question about where did Taylor's murderous intent begin, if these events inured the character to the death of others, or primed him to seek pleasure from murder.
"It's an age-old question about serial killers and goes to the heart of this most Australian of horror villains," Sterns says.
Desolation Game, the second instalment to be published alongside Origin, has been written by McLean and horror author Brett McBean. This time Taylor, back from the Vietnam War, turns his killer impulse on a Kombi-load of sightseers.
Four other e-books will be commissioned from the best horror writers in the country.
As the first Australian horror film to be selected for both Sundance and Cannes and the highest-grossing locally produced horror film in Australia, McLean says Wolf Creek has paved the way for a flourishing local horror scene. "Horror as a genre is no longer a dirty word among Australia's funding bodies. As Wolf Creek demonstrated, you could make a creatively ambitious film that had a bold Australian voice which was also genuinely terrifying – and it could connect with audiences around the world."
Drawing on the disappearance of British tourist Peter Falconio and the Ivan Milat backpacker murders, Wolf Creek was banned in the Northern Territory in 2005, the year of its release, during the trial of Falconio's killer, Bradley Murdoch.
Sterns says part of Wolf Creek's original appeal lies in how it captures the inherent fear Australians have of the outback.
"We've read for years of people disappearing, and events such as the Lees-Falconio incident or Ivan Milat's reign of terror, and Wolf Creek illuminated the ease with which city people soon become out of their depth in the world beyond the asphalt of the cities."
Jarrett's characterisation of Mick Taylor struck such a chord because he embodied the laconic, jokey Australian everyman, an exaggeration of Mick Dundee, says Sterns.
"But there's a flipside to the casual sarcasm and tall poppy-chopping that Australians are fond of because Mick sees weakness in those unsuited to Australia, and views those who encroach on his territory — tourists and city slickers — as vermin.
"We've seen the latent xenophobia potentially in the Australian psyche brought to the fore in recent debates about refugee boats and Mick encapsulates and parodies one very dark side of this debate," says Sterns. "For me, depicting such a black-and-white intolerance hopefully shows his xenophobia up to be as ridiculous and unfounded as it really is."
________________________________________________________________________________________
'Wolf Creek: Origin' – The Prequel Novel is Coming
December 11 2013
This is where it begins.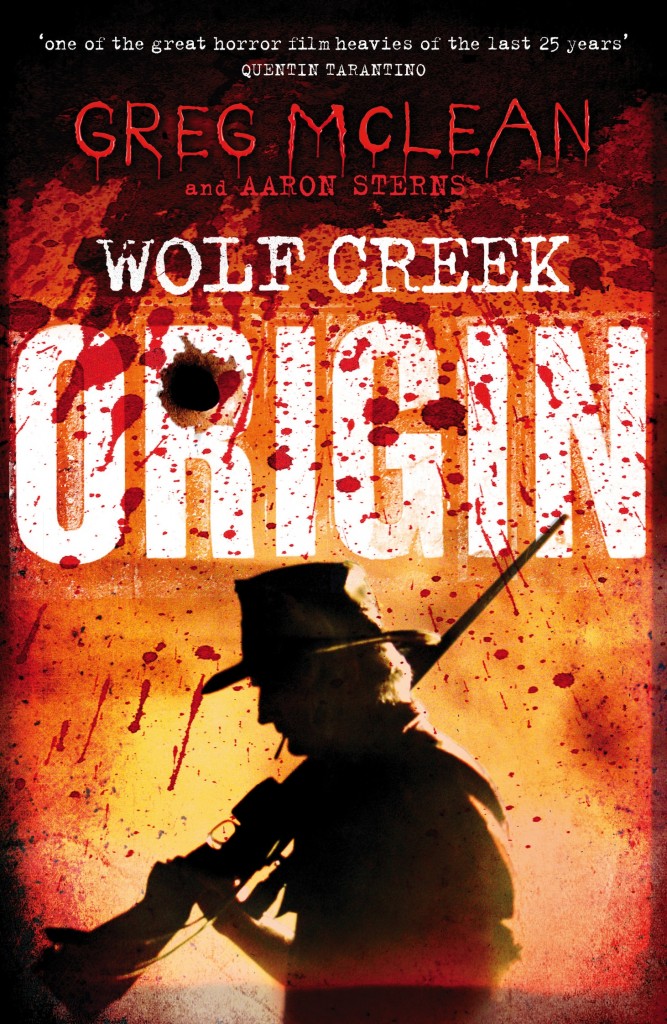 Before Wolf Creek 2 hits cinemas, comes an unprecedented venture in Australian horror—a series of prequel novels detailing the formation and rise of our most iconic horror villain. Not only has there never been a sequel to an Australian horror film (as Michael Helms informs me!), but we'll be simultaneously fleshing out the WC universe in a way never imagined here before.
And who better to depict Mick Taylor's bloody origin than the sequel's co-writer? Yes, I can finally announce that my fevre dream imagining of Mick's horrendous upbringing Wolf Creek: Origin will be published January 2nd from Penguin books (alongside the second in the series—Brett McBean & herr director's Desolation Game). Plotted out over a crazy lone road trip to John Jarratt's home town of Aramac in central Queensland, then written in a highly-stressful but surprisingly-enjoyable five months (seriously—five months from conception to deadline), it's amazing to now have the book in my hands (which resulted in this special moment with N—and no she's not allowed to read it yet. Or maybe ever, I'm not sure):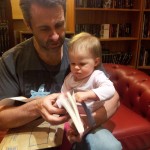 I guess I'm now one of the few writers in this country to be both a novelist and a screenwriter. They're somewhat diametrically-opposed skillsets in many ways, but I've been jumping between the two for some years now so I'm more than happy straddling both fields. Producers/Editors/Agents take note.
You'll soon be able to order Wolf Creek: Origin from the Penguin site, or when it becomes available in stores.
http://www.penguin.com.au/products/9780143566717/origin-wolf-creek-book-1
http://www.penguin.com.au/products/9781742537672/origin-wolf-creek-book-1 (ebook)
It's a shame it's not available for Christmas, though I'm not sure I want to be responsible for this little shocker at the bottom of someone's stocking.
WOLF CREEK: ORIGIN
Nature vs nurture turns out to be a bloodbath
The wide open outback offers plenty of space for someone to hide. Or to hide a body.
When wiry youngster Mick Taylor starts as a jackaroo at a remote Western Australian sheep station, he tries to keep his head down among the rough company of the farmhands. But he can't keep the devils inside him hidden for long.
It turns out he's not the only one with the killer impulse – and the other psychopaths don't appreciate competition. Is Cutter, the station's surly shooter, on to him? And what are the cops really up to as they follow the trail of the dead?
In the first of a blood-soaked series of Wolf Creek prequel novels, the cult film's writer/director Greg McLean and horror writer Aaron Sterns take us back to the beginning, when Mick was a scrawny boy, the only witness to the grisly death of his little sister. Origin provides an unforgettably bloody answer to the question of nature vs nurture. What made Mick Taylor Australian horror's most terrifying psycho killer?
________________________________________________________________________________________
The 'Wolf Creek 2′ trailer in all its headbutting glory (& first reviews)
October 22 2013
Here's the first official Wolf Creek 2 trailer, replete with truck crashes, headbutts and lots of Mick shit-talking:
The trailer made its way online last night, followed by a Q&A with herr director Greg McLean at http://www.wolfcreek2hangout.com.au/ You can still watch the interview, I believe.
We also now have an official poster (the infamous watermark one-sheet was just a quick mockup for sales distributors at Cannes). I'm calling it the crotch-shot.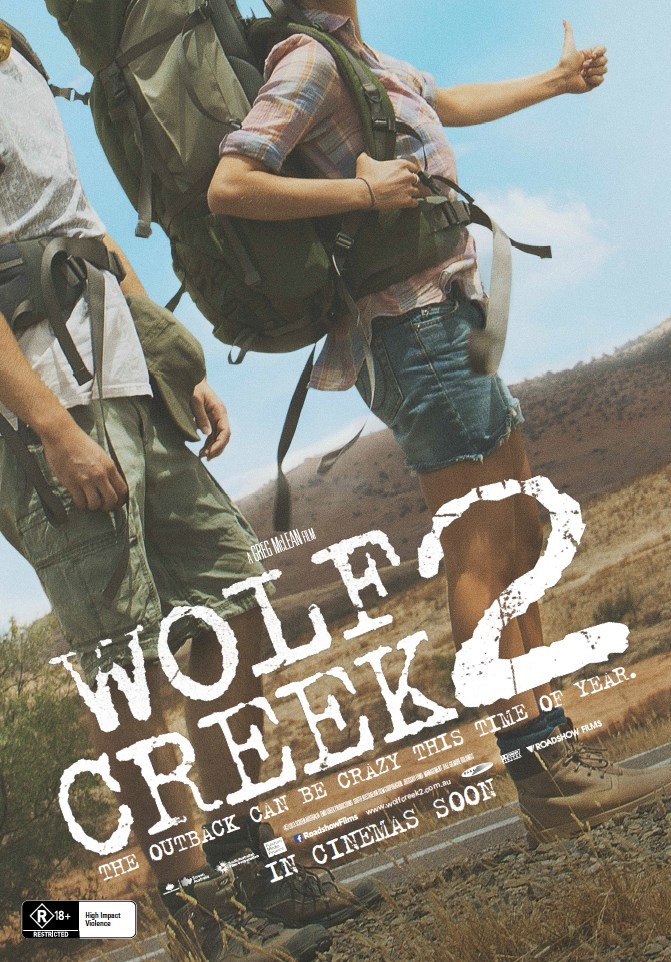 Looks like a fun road trip, no?
**EDIT: The Wolf Creek 2 website's just gone live, replete with the trailer and some stills to peruse. 'Tis here: www.wolfcreek2.com.au
We premiered at Venice early September to (I'm told) a standing ovation, and we've also just screened at the prestigious SITGES Festival in Catalonia. Both Variety and The Hollywood Reporter reviewed WC2 following the Venice Film Festival screening and were mostly — if guardedly — positive.
Guy Lodge's Variety review had this to say in its opening paras:
[The Wolf Creek sequel] isn't playing quite the same game, baiting auds with more-of-the-same terror for its first third, before taking an unexpected left turn into something approximating culture-war comedy — albeit with lashings of Grand Guignol gore. Neither as striking nor as fundamentally scary as its predecessor, this pumped-up, robustly crafted pic is still quite a ride, and one that genre-inclined distribs should have no qualms about hitching.
I'm okay with that. We purposefully tried to not rehash the first film, as can often be the case with sequels, and play a more unexpected game. And I don't know that the film's meant to be as especially scary as such — as it's so much more action-based and thriller-oriented. But if the young 'uns in front of me at one of the test screenings watching much of the movie between their fingers were anything to go by, it's scary enough for some.
Deborah Young in The Hollywood Reporter calls it an "edge-of-seat gorefest" and states that:
[…] poetics are clearly peripheral to the film's main concern, which is to be as scary and violent as possible for worldwide sadism fans who want to leave the theater with twisted guts of their own.
Yes. Sorry about that.
Empire Online's Damon Wise also caught the screening and despite not actually liking the first film had this to say about the sequel:
This time round, though, there are switch-and-bait surprises, some genuine attempts to portray the human cost of such vicious violence, plus a lot of exhilarating chases that could come straight from the '70s golden age of Ozploitation, when Brian Trenchard-Smith was king.
Oo cool.
And to think there's still four months to go before you can all see it.
Dang.
________________________________________________________________________________________
My First Interview: 'A Stern Warning'
September 16, 2013
An old friend of mine from the Australian Horror Writers days, Bryce Stevens, has just interviewed me for his charmingly-titled Choking Dog Gazette. It's my first real standalone interview, so I'm grateful to Bryce for showing the interest. And it's nice to be getting some press too. It's a little amusing that with all the interviews and articles on Wolf Creek 2 that are starting to surface no-one has taken the time to speak to the person who, you know, actually wrote it. Maybe that will change, I don't know, but I'll have some things to say about the writing process and my intentions and approach in a post soon, so at least I'll get the author's POV out there.
Steve Proposch, the former editor of the seminal Bloodsongs magazine (which I was also involved with back in the day), has been kind enough to repost the interview as part of the September issue of online art magazine Trouble, so I'll link to that and post his version of the interview below. Check out the troublemag.com site for other articles of interest every month. It's a great independent overview of the visual and performing arts scene.
http://www.troublemag.com/stern-warning-a-chat-with-novelist-and-screenwriter-aaron-sterns-by-bryce-stevens/
'A Stern Warning: A Chat with Novelist and Screenwriter Aaron Sterns'
Interview by Bryce Stevens
Aaron grew up and went to school in the state of Victoria in Australia. After studying Shakespeare, the Romantic Poets and Greek tragedies at university, Aaron convinced his graduate school to let him study contemporary horror; his PhD work examines the impact of late capitalism on the works of Bret Easton Ellis, David Cronenberg, Clive Barker and other exponents of postmodern horror. As well, Aaron has presented academic papers on American Psycho and Crash at the International Conference on the Fantastic in the Arts.
Aaron's first published story, 'The Third Rail', appeared in 1998 in the very successful Jack Dann/Janeen Webb mass-market anthology Dreaming Down-Under; published in hardcover and paperback with a subsequent reprint. A number of stories followed, including his take on werewolves, 'Watchmen', which was quickly optioned for film after appearing in 2003's tri-country Gathering the Bones, edited by Jack Dann, Ramsey Campbell and Dennis Etchison.
Aaron has for many years now been a major player in the development of the Australian horror scene, having edited The Journal of the Australian Horror Writers and worked with Bloodsongs magazine, and also serving as the regular Australian correspondent for Hellnotes: The Insider's Guide to the Horror Field. Since the late 1990s, however, Aaron has been actively involved with screenwriting. It is his contribution to this latter field of horror and speculative fiction that we will concentrate on in this article.
Currently, Aaron is busy filming the Australian horror/thriller Wolf Creek 2 — of which he is co-writer — in the heat and dust of the South Australian Outback. I was not able to have a face-to-face with him so this is an email interview, with Aaron probably shaking his fist at the cruel sun, while I sit comfortably here, near Sydney, with a cold beer.

Bryce Stevens: Let's begin with your story 'Watchmen'. Can you tell us how that tale was offered for option to film?
Aaron Sterns: I showed that story around to friends before submitting it, as I usually do, and it fell into the hands of Adam Simon (who wrote and directed the trippy Bill Pullman/Bill Paxton Roger Corman-horror Brain Dead, amongst others). It was a pretty raw story for me, being based on a number of progressively Taxi Driver-like years bouncing in nightclubs to pay the bills while studying, and Adam saw some potential in the idea.  He commissioned me to adapt it into a screenplay (now called Blood), but it was clear it needed more world-building. The editor of most of my short stories, Jack Dann, encouraged me to expand it into a novel as well, which until that time I'd never been game enough to attempt, and I've spent the last few years (when I've had time) developing the storyline and mythology. It's in pretty good shape now, I think, so I'll see how I go. Hopefully all the work's been worth it.
BS: I have found that it is not always necessary to meet publishers face-to-face to make a story sale. Often word of mouth or previous published stories will garner a writer attention for potential future sales. Do you think it's different for screenwriters, whereby it's better to personally meet and greet potential backers or directors/producers?
AS: It's all about the meetings. A good spec script or a produced credit should at least suggest you can complete a coherent screenplay, but there's still an element of auditioning. It might be pitching your take, listening to their angle, developing an idea together. You can do a lot more remotely in the Internet age, but you still need face-to-face contact. To be a serious screenwriter you probably really need to live in the epicentre of it all: Hollywood, but I'm not quite there yet. Maybe a few films from now.
BS: You were credited as Script-Editor on the Australian gruesome creature-feature Rogue (about a monster crocodile stalking a group of tourists in tropical Australia). Can you tell us how you came to be involved with that project?
AS: I've had a bit of a weird initiation to film, having come from academia and horror fiction and theory, and would never have contemplated screenwriting if I hadn't met Simon or Greg McLean (director of Wolf Creek and Rogue). I was lucky enough to meet Greg before either of us were published/produced, and I shared an office with him and another friend, Dan Austin, here in Fitzroy. We'd trade scripts and stories back and forth and talk film (him) and horror theory (me) for far too much of the day. We then wrote a few spec scripts together, and once he made Wolf Creek things opened up a bit. He moved on to a script he'd written some years previously that I'd given various notes on — Rogue — while I wrote the sequel to Creek. I was then brought in during the editing of Rogue to give my two cents about the structure and shaping. I like to argue so quite enjoyed that actually.
BS: Was your successful involvement with that production a catalyst for you to seek more professional work of this kind, or were you approached by other Australian production companies?
AS: I did script-edit a number of other screenplays after this, helping out a producer I knew with some scripts at the funding application stage. While breaking down others' stories helped my own craft, I've since tried to minimize how much of that work I take on. There's only so much time in the day (particularly with a beautiful little daughter-who-must-crawl-everywhere taking up so much of it!) and I'd prefer to be spending it on my own work.
BS: You mentioned to me in an email a while back that you had a cameo in Rogue. It must have been fleeting, because I didn't see you. What character did you play? Oh, and did you get chomped?
AS: I didn't make the final cut, alas. After the nightclubs I spent a number of years doing bit parts and extras work (mainly just to get a look at film sets like Ghost Rider and The Pacific) and have cameoed in each of Greg's works, appearing in his short film ICQ as a sadomasochist wearing a leather mask and not much else who cuts his hand off, the Nazi General in the trailer for his WW2 zombie graphic novel Dark Axis, one of the evil truckies in the roadhouse in Creek, and recently as … someone, towards the end of Creek 2 (which I can't disclose until it's released). There was supposed to be a final shot in Rogue where the croc's been captured and is strung up by grinning hunters. Greg enlisted a bunch of friends and then had to cut us from the film (as it was better to finish with a shot of Michael Vartan's Pete). Ah well, at least I got to hold a shotgun for a whole day.
BS: One of the Monty Python team once commented on their final movie as a group: "The Meaning of Life was a good movie, but it was one script rewrite away from a great movie." In regards to your own work, how do you know when enough is enough?
AS: Screenplays are rewritten incessantly in the lead-up to financing, during pre-production, and often even during shooting. There's always some tweaking that can be done, or someone has an opinion that must be incorporated. Film is collaborative, as they say, and you can't afford to be precious about your words, as annoying as that can be. In fiction you can argue for your prose with an editor and sometimes win. In film you're often arguing against twenty others, and sometimes they're even right. Your job is to know which battles are important, and when some suggestion's going to destroy your idea, and when one will improve it. I'm always focused on the end product, so I don't care if I have to swallow my pride if it's for the good of the movie. The flip side of this is that it's very hard to know when a script's ready to show, let alone ready for shooting. Everything's so permeable that it can sometimes be hard to know if enough is ever enough. You can rewrite forever. The most important thing is to nail the central idea and solidify the structure. Sequencing of scenes and dialogue changes and cutesie flourishes are minor compared to securing those massive things.
BS: Let's talk a little about your latest project, Wolf Creek 2. The first movie was an international success, even gaining the attention of Quentin Tarantino, who praised John Jarratt's role as the sadistic murderer Mick Taylor [Jarratt subsequently appeared in Tarrantino's film Django – ed]. Can you tell us how you came to be recommended for this gig?
AS: Greg and I had already written spec scripts together (including a fast-zombie movie before the Dawn of the Dead remake stole our thunder). I'd talked a lot with him about Douglas E. Winter's theories of anti-horror and the tendency in modern horror to undermine generic conventions, and a little of this may have found its way into Wolf Creek, as it arose from a more conventional script of his about a serial killer who hijacks a tour bus in the Outback. We started casually spitballing ideas for a while until we happened upon one that seemed big enough for a film. Great, Greg said. Now go write it.
BS: Can you tell us the process of collaboration on a film script, as you did with Wolf Creek 2?
AS: We spent a lot of time on the treatment — I think it was over thirty pages long in the end — and once we were happy I secluded myself for a few weeks to write the first draft. I'm happy to say that's still the spine of the story. Greg did his own pass and we've basically been passing it back and forth since. There were little changes still being made during rehearsals, and even in the editing room there were things to nip and tuck. Thankfully I've been involved during the whole process, which can be a rare thing for screenwriters, who are often discarded once they've written the script, like a prom date who's put out too soon. It's crazy, because probably no one knows the structure and intention of the film better than the writer/s.
BS: When one or the other of the collaborators has what they believe is a great scene and their writing partner is against it, how is a compromise met?
AS: It depends who can argue loudest. You have to be open to criticism and weigh up whether the suggestion's valid. There's an adage that you must 'kill your darlings' during rewriting. A great scene or image or line that doesn't fit with the whole of the movie has to be cut. It doesn't matter how good it is. That's part of the benefit of having another writer on board: that second critical opinion. Later on the producers have their notes, even the investors sometimes have their notes. By this stage the script's starting to be dragged kicking and screaming out of the writer's hands, but we can still have some influence here, fighting changes we don't agree with, or working out how to incorporate good suggestions. It's tough, but once everyone's on the same page hopefully the budget's still in place and everyone else can do some work.
BS: Has there been any rewrites during production of Wolf Creek 2?
AS: Many. But that first draft has surprisingly stayed very much intact. There's a new prologue scene at the start, and we now have a different ending, but the core storyline is all there. It's quite amazing really.
BS: Earlier this year you informed me you were on location for the film in the dry summertime outback of South Australia. Can you tell us what it was like being on set, watching the shoot, in such trying weather conditions? And how did you feel when you heard the actors reciting the dialogue you wrote?
AS: It was hot, damn hot. But I did spend some of my early years living in Adelaide, so I'm used to the dry heat there. I was only on set a small percentage of the overall shoot, so I got off lightly compared to everyone else. And I was too happy to be there to complain. The first day I was on set was quite surreal, as I turned up mid-morning to the sight of two characters from my dreams hitchhiking nonchalantly down a closed-off highway. I couldn't stop grinning at how well these two actors (I won't say who they are yet) fitted my imagination, but then I remembered what I put them through later and felt instant guilt. Glee mixed with guilt, that's the emotions I remember. I felt the same thing when I saw the first cut.
BS: Is the sequel as confronting as Wolf Creek?
AS: 'As confronting'? I hope it's a whole lot more. We've ramped up everything in the sequel. And John's pulled no punches in his portrayal of Mick. There's a couple of scenes in particular that I was worried we could have pushed too far, but in the context of the film I think are justified and work brilliantly. The audience will make up their minds, of course, but we've put a lot of work into pushing this to the limits.
BS: You mentioned you have a cameo in WC2. Can you tell us what to look for, or when to expect you?
AS: I'm right at the end. Look for the big angry guy (I could say that about all my roles, really).
The only shot I was (so far) allowed to use from my visits to WC2 (because they thought it was funny that I was in a dressing gown). (with thanks to Cam Oliver for the photo)

BS: Do you have any humorous anecdotes about your time on the Rogue or Wolf Creek shoots that you might like to share with us?
AS: I did get to play with the actual R2D2 used in the Star Wars films (the ones shot in Sydney) that maker Justin Dix brought to the set of Rogue one day. And I got to have a lightsaber fight with Nash Edgerton, who was Ewan McGregor's double for Obi Wan Kenobi's fight scenes. As a former Kendo exponent, it doesn't get much better than that. Also amusingly with Rogue, someone leaked a story that a crocodile had been let loose from the set in Warburton, and before we knew it a Channel 7 chopper was buzzing the lake we were filming on. It took a while to convince them the only crocs in the film were animatronic.
BS: You're also writing the first in a series of Wolf Creek novels, is that right? Can you tell us a bit more about the intended series?
AS: The films are sequels, extending out from the first movie. But the novels are prequels set in Mick's early years. I've written the first in an intended series of six, Origins, which follows Mick's fairly horrible childhood and his first job as a seventeen/eighteen-year old on a cattle station where he's trying to fit into society and failing. These novels will flesh out the Creek universe in a unique way I'm not sure any other Australian horror film has done, or could do.
BS: Can you tell us how you approached writing the novel? Did you just go scene by scene, or because it is a novel and not a 90-minute screenplay, did you delve deep into event and characterization?
AS: It's not based on a screenplay, but is a completely new story so it's not written as a simple expansion or adaptation of a film. I approached it as if it was an Australian Gothic novel, unmindful about criticisms of Creek being a simple slasher film (which it isn't) or a one-dimensional horror. I felt I could say something about the darkness in the Australian psyche in this novel, capture some of the desolation and harshness of the landscape, and explore the unwinding of Mick's mind. My intention was that it could stand alone without the film, rather than just being a knock-off attempt to exploit the franchise. Penguin commissioned the series last year, and Greg managed to convince me to write the first (and juiciest, as it's the origin story) despite a deadline of just four months. I had two weeks to flesh out the two-line idea into an actual story and then conduct a lightning research trip. Firstly I interviewed John Jarratt about his ideas on Mick's character (as I would have to delve deep into the serial killer's psyche), then I picked up on some of John's stories about his own childhood. He mentioned he'd grown up in Aramac, a tiny town in the middle of Queensland, so I booked a flight and visited it, then arranged to stay at a cattle station nearby for the second half of the book. I developed the story as I drove the vast Queensland highways, then jumped straight into the writing upon returning to Melbourne. And somehow I made the deadline. It was such an intense and harrowing experience I'll have to see if I'm involved with any of the other novels, but if not, there's a wealth of local horror writers we're hoping to tap to continue the series.
BS: You mentioned to me that prior to writing the novel you were told to 'go for it', so you did just that; and then when you handed in the manuscript they asked you to tone down a few places. A. What happened there? And B. You won't be letting the unused prose go to waste, will you?
AS: It's a common theme with my work. I'm always having to cut out the good stuff. There were a few scenes that were a bit too graphic for Penguin, but the screenwriting experience has prepared me well for knowing when it's necessary to rewrite for market, so I fought for what I thought should stay, and changed what I thought was indeed gratuitous. I hope we've got a happy compromise. People expect Creek to be horrific, but in retrospect there are probably a few things I surprised even myself with.
BS: Many writers have their personal favourites. Some like the highly disciplined short form, or verse; some enjoy the leisurely pace of the novel, whilst others may prefer the strict guidelines of a screenplay. I know you like all forms. Do you now have a preference? Also, because they are such differing disciplines, how do you manage to juggle your hats?
AS: It's not easy. My short story writing has fallen by the wayside, because each story requires so much effort for relatively little gain. The more years I've worked as a writer the bigger my ideas are getting too, so I'm leaning more towards longer works now. But the way I see it is, you do short stories for the art, novels for depth and to have some control, and screenplays to make an impact. The writing techniques required for each are almost at opposite ends of the spectrum (film is all external description and short clipped sentences; whereas prose allows internal reflection and metaphor, so it can be very hard to switch back and forth between the two). But there are not many horror writers that get to write both fiction and film, and even less in this country, so I'm going to do my damnedest to continue writing in all mediums.
BS: Do you have any plans to deliver any more of your punchy short stories any time soon? Would you consider publishing a collection at some stage?
AS: I've always intended to get enough stories together for a collection, but it's been hard to put aside the time to do so. I have a couple ready to go out, but also another twelve or fifteen sitting in the wings awaiting writing. I think maybe I need to give up sleeping so I can get everything done in my life. That being said, I am being forced to write a short story by the end of the year—for your Cthulhu: Deep Down-Under collection—so I guess that's the best way of getting these stories done: have someone make me do them.
BS: So, what is next, film-wise and fiction-wise, for you Aaron?
AS: I'm hopeful that by the time this interview's published I'll have another (very dark) film into production. That will make it quite an extraordinary year. I'm partway through a new novel that was pushed aside for the Creek one, so I'm looking forward to getting back to that. And I have a number of other screenplays I'm working on that I'll start going out with next year once Creek's released. On top of that I'd like to write two more books in the Blood series, and there's another two or three novel ideas I have swirling. That should keep me going for the next ten or so years.
This interview took place in June 2013 and appeared in Choking Dog Gazette issue 11 Vol, 4 # 3
Thanks to Bryce and Steve.
________________________________________________________________________________________
'Wolf Creek 2′ World Premiere – Venice Baby!
July 29, 2013
It's official. The world premiere of Wolf Creek 2 will be at the Venice International Film Festival, running from August 28-September 7. It's extraordinary that a horror sequel has made it into such a prestigious event, and points I think to the efforts of everyone to make this a film of exceptional quality. It's just a shame that I won't be able to attend, being the lowly writer and all. But that's our lot, I guess. I'll have to wait until February next year like the rest of you.
We're just finishing up the final post-production polishing. I made a visit to our sound studio during the week to lay down some ADR for my cameo at the end of the film. I still can't say what the cameo is, but at least I'm now sure I haven't been edited out. Quite a weird experience trying to replicate in a sterile studio the emotion and intensity of dialogue on location, but it's only a few lines so hopefully I muddled my way through.
I've also been given another set pic from one of my night visits. Yes, it appears I'm standing over Herr Director, making sure he doesn't alter any of my precious words. Because I was.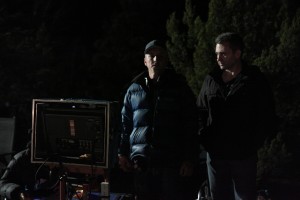 Thanks to Cam Oliver for the pic.
It's been a busy few weeks. Hopefully there'll be some things to report soon. Amongst it all I managed to do an interview for my good friend Bryce Stevens' Choking Dog Gazette. It'll be released in the next few weeks, and I'll let you know then how to grab a copy, or access it online. It's my first real interview, covering not only my fiction but also my film work with the Creeks, Rogue, et al, so I'm quite chuffed to have been put on the spot. I hope it's worth a read.
Here's the SA Film Corp's press release announcing our acceptance into Venice:
http://www.safilm.com.au/Article/NewsDetail.aspx?p=16&id=2590
WOLF CREEK 2 to Debut at the Venice Film Festival
Wolf Creek 2 has been invited to premiere at the 2013 Venice Film Festival for an out of competition midnight screening.
"I'm absolutely thrilled that Wolf Creek 2 has been selected to screen at one of the most prestigious film festivals in the world," said Director Greg McLean.
"Presenting our film to an international audience ahead of the Australian release will not only be a great honour, but also a great way to experience how this very Australian movie plays to a global audience. My hope is it will be embraced for being every bit as entertaining, controversial and compelling as the first movie."
Actor John Jarratt who once again steps out as the hauntingly sadistic Mick Taylor said "It's very rare for a film festival to accept a sequel, unless it's exceptionally high quality. This is a wonderful endorsement of our great film."
The Venice Film Festival is the oldest international film festival in the world and takes place annually on the island of the Lido, Venice.
Trapped in a bloody battle of wits with sadistic serial killer Mick Taylor, a fresh group of unsuspecting backpackers find no mercy in this terror-filled sequel to Wolf Creek.  His irreverent attitude towards human life has escalated to a sadistic new level, more terrifying than ever; will anyone escape this gruesome game or has the nightmare only just begun?
Written by Greg McLean and Aaron Sterns and produced by Helen Leake (Swerve, Black and White, Heavens Burning), McLean and Steve Topic (Crawlspace), the film comes nine years after the original Wolf Creek hit screens internationally.
Wolf Creek 2 will be released in Australia on the 20th of February 2014 by Roadshow Films. International sales are being handled by Arclight Films.
________________________________________________________________________________________
'Wolf Creek 2′ Gets a Release Date!
July 9, 2013
Yes, February 20th 2014 is D-Day (or Head-On-A-Stick-Day). Director Greg McLean announced at ComicCon on the weekend that we'll be releasing early next year, at least in Australia. No word yet on the international release.
"Thrilled to announce the release date for Wolf Creek 2 in Australia
and New Zealand will be Feb 20th, 2014. Thank you Village Roadshow!,"
herr director just tweeted.
We've spent the last how-ever-many weeks running test screenings while Sean (our editor) and Greg put the final touches to the edit. I'm happy to report that despite the intensity of… a few certain scenes we had no walkouts! I thought that was amazing considering the hell we put our characters through, but hopefully that means the story's compelling enough to glue people to their seats. The feedback from these screenings turned out to be quite worthwhile actually, because it highlighted a few things we needed to compress (such as the start) and clarify (the ending), but also validated the power of other scenes I was worried might have gone a bit too far. (If you tell me to 'go for it', I will. I cannot be held responsible.) We're all locked off now, so bring on the festivals, then bring on our big release.
Here's the controversial one-sheet, by the way. Yes it's a little similar to a certain other bloody film making the rounds at the moment (cough-Evil Dead-cough). Consider it a homage I guess. Regardless, Mick cuts a striking figure, don't you think? And this is Mick's movie. He's going to be under your skin by the end of it.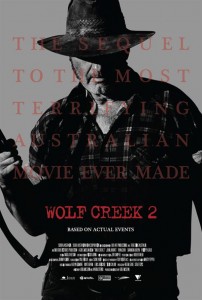 http://www.shocktillyoudrop.com/news/174837-wolf-creek-2-gets-a-release-datein-australia
Wolf Creek 2 Gets a Release Date…in Australia
by Ryan Turek
July 07, 2013
Roadshow Films announced that it will release the sequel, Wolf Creek 2, on February 20, 2014 in Australia.  Hopefully, a U.S. debut will follow shortly after that.
"Our goal is to create an even more suspenseful, chilling and unforgettable experience for audiences and we feel very confident they will not be disappointed," said Greg Mclean.  "I'm so excited to be once again working with Roadshow Films on the new movie and look forward to unleashing the next instalment of this thriller across Australia early next year."
Wolf Creek was the number one Australian film in 2005 and also became the highest grossing Australian R18+ film of all time.
Trapped in a bloody battle of wits with sadistic serial killer Mick Taylor, a fresh group of unsuspecting backpackers find no mercy in this terror-filled sequel to Wolf Creek. His irreverent attitude towards human life has escalated to a sadistic new level, more terrifying than ever, will anyone escape this gruesome game or has the nightmare only just begun?
Written by Greg McLean and Aaron Sterns and produced by Helen Leake, Greg Mclean and Steve Topic, the film comes nine years after the original Wolf Creek hit screens internationally.
Wolf Creek 2 will be distributed in Australia by Roadshow Films. International sales are being handled by Arclight Films.
________________________________________________________________________________________
On the Set of 'Wolf Creek 2′
May 3, 2013
I managed to make it to set a couple of times during the shoot, once to do a cameo, and again for a couple of days to hang out and watch some key scenes being filmed.
Once I'd costumed up I was taken to a closed-off Adelaide highway and had the surreal experience watching characters I'd written some six years ago brought to life. I felt a little guilty too, considering what we put them through later in the script, but the actors didn't seem to hold that against me (at least at that stage).
I then performed my standard role (look menacing/ beat up someone) and retired to the Hawker Pub to drink with the crew. Quite a great experience. There are lots of photos I'll be allowed to use later, but until then the buggers in charge (ie. Greg and Producer Steve Topic) would only release one for now. Because I'm in a dressing gown. Thanks guys. I either look like a movie star or a bum.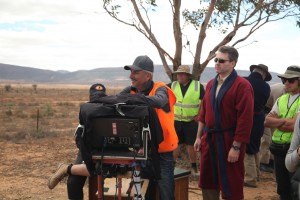 On set at Hawker – thanks to Cam Oliver for the photo
A week or so later I returned to Adelaide (this time with R & N) and watched a couple of night shoots. I lucked upon the most graphic moment of the film and watched stunned along with everyone else as it played out. When I'd written the scene I'd half-assumed it would never be filmed, but I'd been told to 'go for it' — and as I thought the impact was essential for the story and characters (and audience) I did indeed go for it. If anything, Greg's pushed the scene to the extreme. You'll know when you see it. I hope it makes it in as it was shot, because it's one of the most mind-numbingly powerful scenes I've seen.
Greg and Sean are now deep into the edit, and the movie's starting to take shape. There's still a bit more honing to go (they have weeks of editing yet), but I can see the movie has the potential to be as intense and dark and real as I/we wanted it to be, and yet it's also perversely more fun than I expected (which I'd chalk up to Greg and John knowing this character so well and playing with him).
I'll post more when I'm allowed, but until then know everyone's still working hard to make Wolf Creek 2 as incredible as possible.
________________________________________________________________________________________
'Wolf Creek: Book One' first reading @ Oz Horror Con 2013
Feb 10, 2013
My Oz Horror Con session featured the first ever reading from Wolf Creek: Book One. The first in a projected series of five or six Wolf Creek prequel novels, Wolf Creek: Book One follows a young Mick Taylor as he discovers and unleashes the darkness within.
I'd intended to read a brutal passage featuring Mick and his father earlier in the book, but then realised there wasn't a skerrick of humour in the scene, so decided to switch it for a later passage where an older (and emerging) Mick happens upon a couple of unfortunate hippies.  Still ends brutally, but at least there's a few funnies along the way.
Here's an action shot: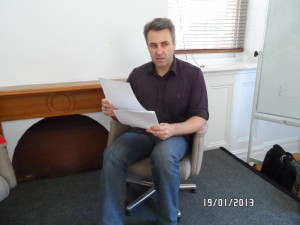 The rest of the session went well. I briefly talked about my writing career as a short story writer and novelist alongside my screenplay work, my experience working on both the sequel film and the prequel novel, and (vaguely) what our intentions were in pursuing both timelines of Mick Taylor — into the future and back into his past. Herr Director McLean managed to send along a few pre-production photos just days before the shoot started, so as an exclusive I was able to show some photos and relay a few anecdotes. I think people enjoyed themselves.
My thanks again to Mark Smith-Briggs for chairing the session and keeping me on target, and Steve Dillon for organising. And to my pre-release Mick Taylor bobblehead for overseeing the reading (he was sitting behind me in the above shot):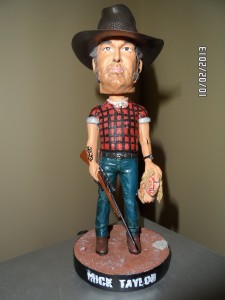 (How lifelike is that? Can be obtained here.)
Oh, and I've actually just returned from my first visit (and cameo!) to the Wolf Creek II set, but as I'm about to head back to Adelaide tomorrow to attend a couple of the night shoots you'll have to wait for my post (and a couple of approved pics if I can wrangle them). I will say it was an amazing and somewhat surreal experience seeing the script come to life! But more on that later.
________________________________________________________________________________________
'Wolf Creek 2′ – The day has arrived
Jan 21, 2013
After seven years building to this moment, shooting started today in South Australia!
I'm not over there yet (having to be in Melbourne to attend Oz Horror Con for one thing), but I'll be heading to the set in a week and a half for a look (and potentially another little cameo… more on that later).
________________________________________________________________________________________
'Back Up the Creek' – 'Wolf Creek II' @ Oz Horror Con 2013
Jan 14, 2013
Just me this time. With Wolf Creek II only days now from shooting (and herr director Greg McLean in Adelaide furiously prepping), I'll be representing the series at Oz Horror Con here in Melbourne this weekend.
And it's going to be a doozy.
Yes, I'll be talking about my experience writing the Wolf Creek II script, and how Greg somehow convinced me (chained me to a desk–a three month deadline! yikes) to write the prequel novel as well.  But I've also been allowed a few closely-guarded pics from pre-production… and I'll be doing a world-first reading from the novel. (I've picked out a lovely little scene between Mick and his father. Such a happy childhood.)
Mark Smith-Briggs–a talented local horror writer in his own right–has kindly agreed to do the grilling, so many thanks to him for helping the Creek Clan. And also to Con Organiser Steve Dillon for wrangling us into the busy schedule.
Here's the official session details (and my very cool page):
http://www.ozhorrorcon.com/aaron-sterns
Wolf Creek II session @ Oz Horror Con
2pm Saturday 19th January, 2013
The Cellars, Donkey Wheel House, 673 Bourke St Melbourne
Aaron Sterns–the co-writer of Wolf Creek II and the first Wolf Creek prequel novel–will discuss the expansion of outback serial killer Mick Taylor's twisted world.
Not only will he have on hand exclusive behind-the-scenes photos from the upcoming sequel shoot, he'll also be giving the first ever reading from the novel series!!
So if you're a Wolf Creek fan this should really whet your appetite. Hope to see some faces there.
________________________________________________________________________________________
'That was 2012′
Dec 21, 2012
What a year. The movie's moving along (we start shooting next month), the prequel novel is done.
And this: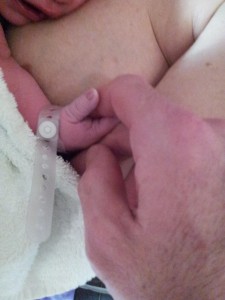 Welcome to the world my little munchkin.
________________________________________________________________________________________
'Wolf Creek II' Armageddon pics
Oct 20, 2012
Our panel at Armageddon October 13th–the first for Wolf Creek II–went well. Those who attended received a few tidbits regarding the new film and the first novel, along with some insights into the writing process. Quite strange to be talking about both stories after working on them for so many years.
Anywhere, here's a couple of pics of Greg and I in action: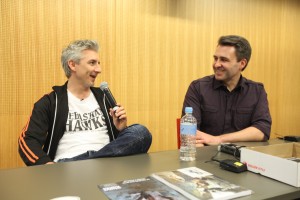 No, G's not interviewing me. There was only one mic.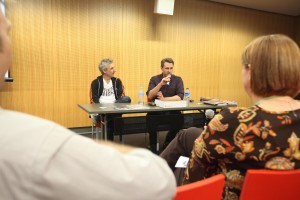 Thankfully I wrested it away a few times.
(thanks to Cam Oliver for the photos)
The panel also saw the launch of Greg & Tristan Jones' new crowd-funded graphic novel Sebastian Hawks: Creature Hunter. They've already reached 10% of their goal, so check out the site to score some great crowd-funded rewards: http://www.pozible.com/index.php/archive/index/11289/description/0/0 or that newfangled facebook thing: http://www.facebook.com/Diezelpunk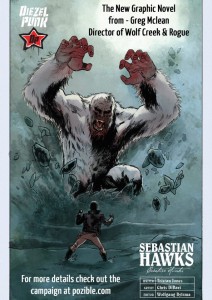 ________________________________________________________________________________________
'Wolf Creek II' panel @ Armageddon Expo
Oct 10, 2012
I shall be participating in a Wolf Creek II panel at the Armageddon Pop Culture Expo, Melbourne Exhibition Centre this Saturday 13th October, Stage Three @ 3:30pm.
It begins.


http://armageddonexpo.com/au/special-events/greg-mclean
Comic Panel – 3.30PM Saturday – Stage Three
Greg McLean – EMU CREEK PICTURES
Film Director Greg McLean talks about his feature films Wolf Creek and Rogue, and the upcoming sequel to the horror hit movie Wolf Creek II which begins production in 2013.  Greg recently established a genre film producing company Wolf Creek Pictures, with Red Hill (directed by Patrick Hughes) and Crawlspace (directed by Justin Dix) as its first projects.
The filmmaker also recently launched a comic book publishing company, Diezelpunk.  The first book released by the company Dark Axis—Rise of the Overmen is a WW2 action/ horror tale featuring a group of GIs stumbling on a crazed German weapons facility in the final days of the war.
Joining him onstage will be Aaron Sterns, co-writer of Wolf Creek II and the first Wolf Creek novel and Tristan Jones, writer of Sebastian Hawks—Creature Hunter, one of the new graphic novel titles being created by Diezelpunk.
______________________________________________________________________
'Wolf Creek II' is Go
Oct 5, 2012
We're greenlit!
ScreenAustralia approved funding for Wolf Creek II at their recent September board meeting, so we're finally under way. Pre-production begins in a couple of weeks, with filming to take place January and part of Feb in South Australia. Stay tuned to this website and Emu Creek for more info.
As an added bonus here's the exclusive, official logline hot off the presses:
The Australian Outback becomes a nightmare hunting ground once more
as the terrifying Mick Taylor locks onto unsuspecting backpackers.
But when his prey escapes, the chase begins
and nothing or no-one will stand in Mick's way.
Yes, we have a chase movie.
Get ready.
________________________________________________________________________________________
'Return to Wolf Creek' iBook
May 27, 2012
Things are moving… As a lead-up to Wolf Creek II, Emu Creek and Sharp Agency are putting out an incredible innovative horror iBook—'Return to Wolf Creek'.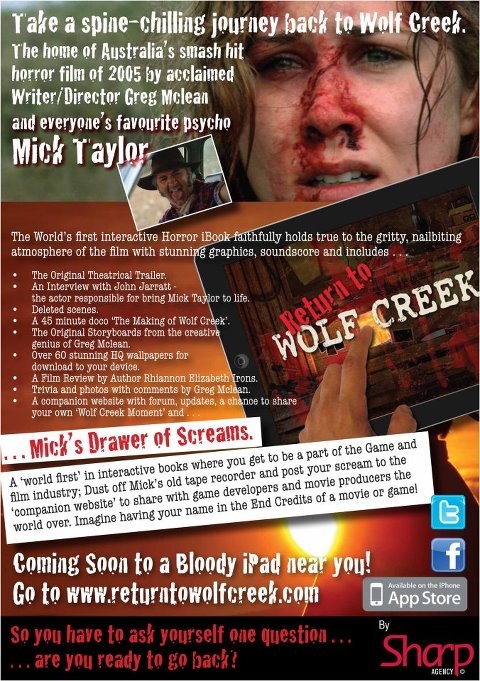 The app and accompanying website (www.returntowolfcreek.com) will feature a 'never-before-seen' collection of videos, photos and trivia from the 2005 movie. There'll also be updates from the Wolf Creek II production camp, as well as a blog and chance for fans to tell their own 'Wolf Creek moment'.
Apparently, a groundbreaking interactive section called 'Mick's Drawer of Screams' will give users a chance to be part of the horror film community like never before. I don't know what that bit means, but it all sounds cool, hey?
The iBook's due on the App Store June 1st, with an Android version to follow (so the rest of us can use it too). Keep an eye on the facebook page (and my website of course).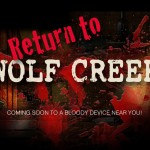 ---
'Watchmen' reprinted in new werewolf anthology
May 01, 2011
'Watchmen' has just been reprinted in the new werewolf anthology Bewere The Night, edited by Ekaterina Sedia, alongside stories by Holly Black and Kaaron Warren and others. It's a brand-spanking new version of the story, reflecting some of its expansion into the novel Blood (ie. there's more cool werewolf transformation now).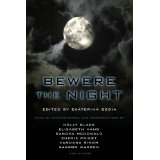 Just released by Prime Books, it's available at Amazon!
From the back cover: "Kitsune. Werewolves. Crane wives. Selkies. Every culture has stories of such strange creatures – animals turning into humans, humans shapeshifting into animals. Sometimes seductive, sometimes bloodthirsty, but always unpredictable like nature itself, these beings are manifestations of our secret hearts, our desire to belong to both worlds: one tame and civilized, the other unfettered and full of wild impulse. Here are stories that will make you wish you could howl at the moon until your heart bursts with longing or feel yourself shedding your human body as easily as a snake sheds its skin. Beware the night…it might not kill you, but it will certainly steal you away!"