I have another article in a newspaper today — my local the Progress Leader. I like the photo a lot more in this one, I have to say. Hopefully I don't look quite as intimidating (though I've been told that's quite fitting considering what I'm publicising).

Back to the Beginning for Epic Aussie Horror Story
by Holly McKay, Camberwell Progress Leader, 7th January 2014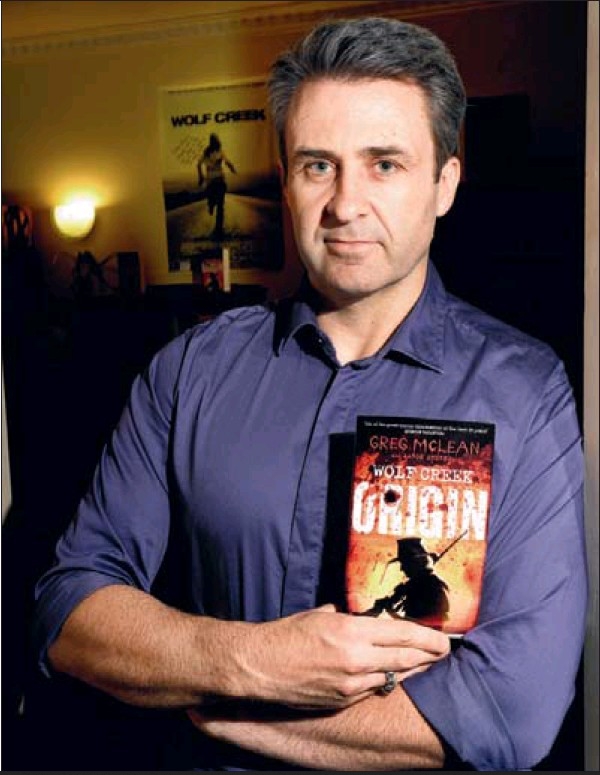 Aaron Sterns with his Wolf Creek prequel novel. Picture – Steve Tanner
A Balwyn North writer with a passion for gothic literature has co-written the prequel to one of Australia's greatest horror films.
Aaron Sterns has not only co-written the sequel to the film Wolf Creek, Wolf Creek 2, but is also the co-author of the prequel novel Wolf Creek: Origin.
Sterns said the book, released last Thursday, told the backstory of the films' central character, Mick Taylor.
The book was released alongside another book, Wolf Creek: Desolation Game as part of a series of six books.
Sterns said the idea for Wolf Creek: Origin came about as a way to give readers an insight into the childhood years of Taylor.
"It goes right back to the beginning.
"It follows him as a ten-year-old in his home town and how he witnesses the gruesome death of his sister, which has repercussions through his own life. [And] it follows him as he works on a cattle station and is pushed to the extreme by others — that's when you realise the depth of his psychosis."
Sterns said he and co-author Greg McLean, the producer [and director] of the films, had come up with the background story while filming the sequel.
"I saw it as an opportunity to write a great Australian gothic story."
[Actually, I'd completed the novel long before we started shooting, but close enough.]