My Oz Horror Con session featured the first ever reading from Wolf Creek: Book One. The first in a projected series of five or six Wolf Creek prequel novels, Wolf Creek: Book One follows a young Mick Taylor as he discovers and unleashes the darkness within.
I'd intended to read a brutal passage featuring Mick and his father earlier in the book, but then realised there wasn't a skerrick of humour in the scene, so decided to switch it for a later passage where an older (and emerging) Mick happens upon a couple of unfortunate hippies.  Still ends brutally, but at least there's a few funnies along the way.
Here's an action shot: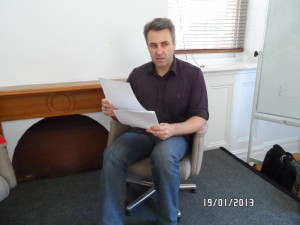 The rest of the session went well. I briefly talked about my writing career as a short story writer and novelist alongside my screenplay work, my experience working on both the sequel film and the prequel novel, and (vaguely) what our intentions were in pursuing both timelines of Mick Taylor — into the future and back into his past. Herr Director McLean managed to send along a few pre-production photos just days before the shoot started, so as an exclusive I was able to show some photos and relay a few anecdotes. I think people enjoyed themselves.
My thanks again to Mark Smith-Briggs for chairing the session and keeping me on target, and Steve Dillon for organising. And to my pre-release Mick Taylor bobblehead for overseeing the reading (he was sitting behind me in the above shot):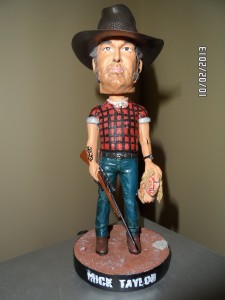 (How lifelike is that? Can be obtained here.)
Oh, and I've actually just returned from my first visit (and cameo!) to the Wolf Creek II set, but as I'm about to head back to Adelaide tomorrow to attend a couple of the night shoots you'll have to wait for my post (and a couple of approved pics if I can wrangle them). I will say it was an amazing and somewhat surreal experience seeing the script come to life! But more on that later.
For more posts: THE LATEST.