Here's the first official Wolf Creek 2 trailer, replete with truck crashes, headbutts and lots of Mick shit-talking:
The trailer made its way online last night, followed by a Q&A with herr director Greg McLean at http://www.wolfcreek2hangout.com.au/ You can still watch the interview, I believe.
We also now have an official poster (the infamous watermark one-sheet was just a quick mockup for sales distributors at Cannes). I'm calling it the crotch-shot.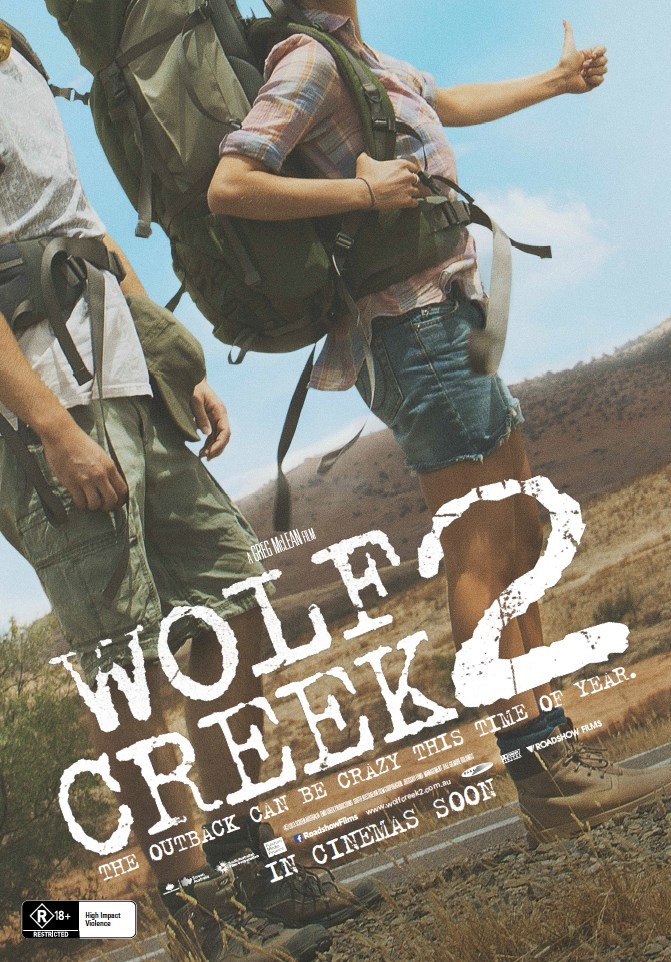 Looks like a fun road trip, no?
**EDIT: The Wolf Creek 2 website's just gone live, replete with the trailer and some stills to peruse. 'Tis here: www.wolfcreek2.com.au
We premiered at Venice early September to (I'm told) a standing ovation, and we've also just screened at the prestigious SITGES Festival in Catalonia. Both Variety and The Hollywood Reporter reviewed WC2 following the Venice Film Festival screening and were mostly — if guardedly — positive.
Guy Lodge's Variety review had this to say in its opening paras:
[The Wolf Creek sequel] isn't playing quite the same game, baiting auds with more-of-the-same terror for its first third, before taking an unexpected left turn into something approximating culture-war comedy — albeit with lashings of Grand Guignol gore. Neither as striking nor as fundamentally scary as its predecessor, this pumped-up, robustly crafted pic is still quite a ride, and one that genre-inclined distribs should have no qualms about hitching.
I'm okay with that. We purposefully tried to not rehash the first film, as can often be the case with sequels, and play a more unexpected game. And I don't know that the film's meant to be as especially scary as such — as it's so much more action-based and thriller-oriented. But if the young 'uns in front of me at one of the test screenings watching much of the movie between their fingers were anything to go by, it's scary enough for some.
Deborah Young in The Hollywood Reporter calls it an "edge-of-seat gorefest" and states that:
[…] poetics are clearly peripheral to the film's main concern, which is to be as scary and violent as possible for worldwide sadism fans who want to leave the theater with twisted guts of their own.
Yes. Sorry about that.
Empire Online's Damon Wise also caught the screening and despite not actually liking the first film had this to say about the sequel:
This time round, though, there are switch-and-bait surprises, some genuine attempts to portray the human cost of such vicious violence, plus a lot of exhilarating chases that could come straight from the '70s golden age of Ozploitation, when Brian Trenchard-Smith was king.
Oo cool.
And to think there's still four months to go before you can all see it.
Dang.
For more posts: THE LATEST.