There's a very nice article in today's Ballarat Courier about how my High School English teacher and one Stephen King started me on the road to writing horror. I indeed walked down a side street I'd never seen before and found a used bookstore with King's It as the only book on display in the window. I promptly bought it, then everything else he'd written up until then. His Danse Macabre even introduced me to horror theory, so I'm very happy to have this little anecdote in print.
http://www.thecourier.com.au/story/2076387/ballarat-link-to-horror-film-wolf-creek-2/?cs=62
Ballarat link to horror film 'Wolf Creek 2′
By Kara Irving, The Ballarat Courier
February 10, 2014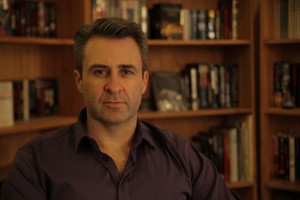 Funnily enough, Ballarat has ties to Australian horror film Wolf Creek 2.
Before Melbourne writer Aaron Sterns co-wrote the sequel to the box office hit, he lived in Gordon and attended Ballarat East High School.
In fact, if it wasn't for his high school teacher Ros McArthur, Wolf Creek wouldn't have a prequel or a sequel.
"We had moved to Gordon and I went to high school in Ballarat," Mr Sterns said.
"I wanted to study graphic design at university, but Ros was part of the reason why I got into writing and chose to study at Deakin (University in Geelong) instead.
"She knew my passion was writing and swayed me to study a course there, so I did."
As they say, the rest is history.
Mr Sterns, who lived in Ballarat for about 15 years, went on to appear in a cameo role in the original Wolf Creek in 2005. In 2007 he was the script editor for another Aussie horror flick, Rogue.
After the local and international success of Wolf Creek, Mr Sterns started writing a script for the sequel, and eventually, a prequel novel series. Mr Sterns said living in Ballarat also inspired his novel-writing career.
"I was walking along an arcade where Target is today and I discovered a small bookstore I'd never seen before," he said. "I noticed Stephen King's novel It in the front window. I know it sounds strange, but it seemed as if I was drawn to the book."
Mr Sterns said King's novels had since influenced his writing.
Now based in Melbourne with his family, Mr Sterns hinted he was considering a return to Ballarat for a book-signing in the coming weeks.
"I'm hoping sometime after the film release," he said.
Wolf Creek 2 is released nationally on February 20.
For more posts: THE LATEST.