Yes. Yes I am.
My University town's newspaper The Geelong Advertiser has run a great article today about the grounding Deakin Uni gave me for my horror career (being the only university at the time to even consider including genre fiction on the curriculum). Considering I taught there for a number of years (in Gothic and Subversive Fiction amongst other things) it's nice to now be able to acknowledge the contribution.
http://www.geelongadvertiser.com.au/news/horror-man-learns-his-skills-at-deakin-university/story-fnjuhori-1226826519533
Horror Man Learns his Skills at Deakin University
Margaret Linley, The Geelong Advertiser
February 14, 2014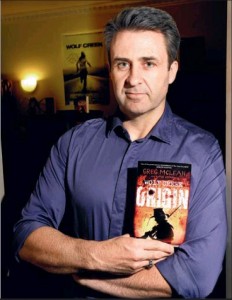 AARON Sterns is the horror guy, the go-to man for all things grotesque, macabre and scary. It's a skill set he honed while studying and lecturing at Deakin University.
And so it's no surprise his name shares equal billing on the screenplay for Wolf Creek 2, due to be released next week.
He is also the co-writer of a novel that is a prequel to the original Wolf Creek movie in which character Mick Taylor, played by John Jarrett, tortures and kills some backpackers whose car has broken down in the outback.
"The book looks at Mick Taylor's incredible backstory,'' Mr Sterns said. "So many people wanted to know. We get hints (in the films) of some of the barbaric possibilities that a bushman might have gone through where death is seen almost as a part of life it's almost mundane.
"I seized upon that. I place him working on a cattle station. I had his father a dogger, a dingo hunter. There's that exposure to death.''
Mr Sterns paid tribute to both his study and teaching experiences — he taught gothic and subversive fiction — at Deakin, which allowed him to focus on horror writing, a genre largely ignored by other universities.
"I knew a lot about the history of serial killers, the trigger moments, and so when I was given the opportunity to write about the most iconic serial killer (Mick Taylor) I could bring all of my imagination to the fore,'' the former Geelong man said.
"Taylor has become emblematic of the fear of the outback and it struck a chord. He is the expert bushman who didn't take kindly to tourists trampling all over his backyard. Wolf Creek is the highest grossing R film ever in Australia, the highest grossing film for that year.''
Australia, he said, was full of people clustered around the coastline inherently suspicious of the vast interior that can swallow people whole.
Mr Sterns was a consultant on the first movie, sharing an office with Greg McLean, the writer and director. He also had a cameo role, playing one of Taylor's cronies in the pub.
When the sequel idea was floated ''the script was handed back and forth'' between the two until it was ready.
Wolf Creek 2 will be released next Thursday.
Origin: Wolf Creek, by Greg McLean and Aaron Sterns, is published by Penguin. RRP $19.99
For more posts: THE LATEST.