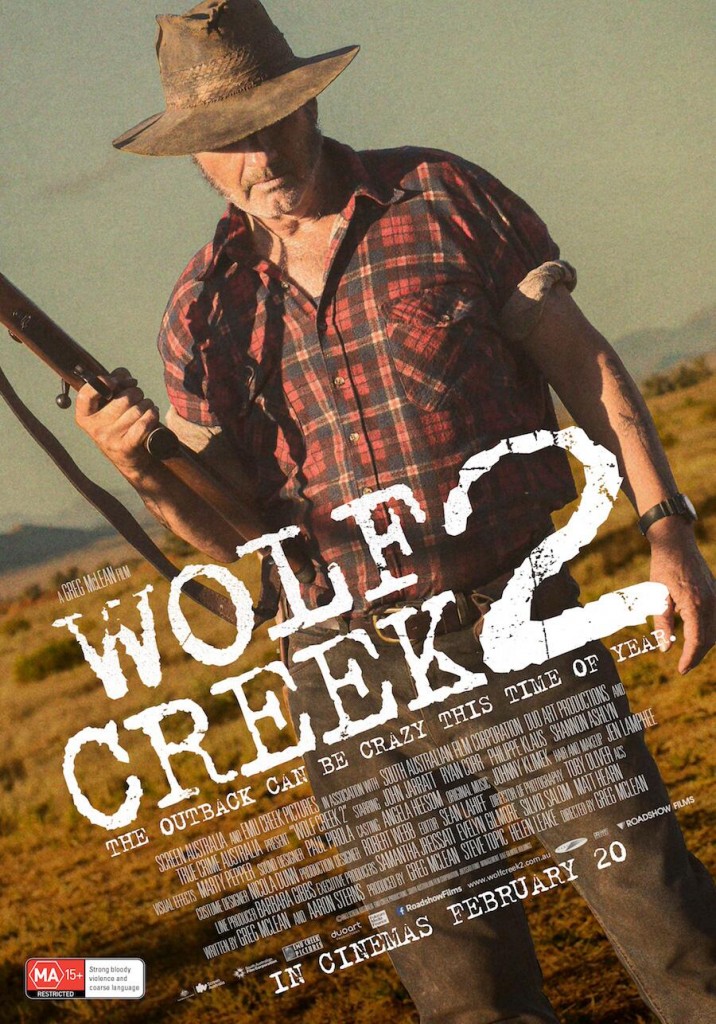 It's been a monster week. Wolf Creek 2 opened in Australia on February 20 and life has been a blur. I've been to screenings at Roadshow, a cast and crew screening in Adelaide that I introduced (with Producer Helen Leake and Roadshow Head of Production Seph McKenna), another fan's screening in Adelaide that I also introduced, and then the Melbourne premiere Wednesday night at the Coburg Drive-in. (I've since gone to see it twice again at Doncaster and South Yarra's Jam Factory to experience it with a big crowd.) I'd still prefer the uncut version (the Aus theatrical version is MA and takes a couple of my more choice images out — what did they expect, bringing a horror writer in?). But I'm told the DVD will be uncut. I'm holding them to that.
As well as that I was interviewed by Channel 9 News at Adelaide Airport after I'd barely stepped off the plane, and I've been doing a series of radio interviews to regional stations (thanks to an old friend Paul Cook who'd put the word out). In the space of days: Star FM Mid-north coast with Nic & Josh; Hot FM Central Queensland with the very funny EJ & Browny; Hobart's Heart FM 107.3 with David & Kim; Radio Esperance WA with Wayne Taylor; Radiowest with Paul himself; Star FM Albury with Ben & Kristie (that was a fun one); Star FM Coffs Harbour with Sami & Jay; and I have ones upcoming with Stacey & Elliot at Hot FM Cairns and Jase & Jess at Star FM Mount Gambier. John Jarratt tells me he'd do all that in an hour. Pretty overwhelming to a reclusive writer though. EJ at Hot FM CQ was kind enough to send me their interview, and can be found here: http://www.4shared.com/mp3/xfwYaKA9ba/Wolf_Creek2_Full_edited_interv.html It's a hoot.
And now to the reviews. I'd have to say I'm a little inclined to agree with some of the comments about the overdose of humour (if you've read Wolf Creek: Origin you'll see the tone I tend to convey — it's bleak and confronting and brutal. There's some humour, but it's pretty black and spare). And there are way too many kangaroos
But, hey, the film got made, I'm happy with it, and I'll be even happier with the DVD where people get more of a taste of the original vision.
Generally, the reviews have been great. Paul Byrnes at The Age/ Sydney Morning Herald gives it four stars, and says it has "bowel-twisting tension, and a clear sense of purpose and theme". He gets special points for mentioning me.
Jake Wilson gets even more points for introducing me thusly in The Age/ Sydney Morning Herald: "[Mick's] back to his old tricks in Wolf Creek 2, which McLean directed from a script he co-wrote with author and academic Aaron Sterns (intriguingly described by his publisher as a former 'researcher in postmodern horror')." Now that's how you'd like to be described in a national newspaper. He describes the film as "the most notable home-grown fiction feature to hit cinemas since P.J. Hogan's Mental".
Luke Buckmaster in The Guardian says the sequel is "louder, faster and more entertaining. The body count is bigger; the death scenes more elaborate", while Ron Cerabona also in the Sydney Morning Herald says "if you like horror movies, Wolf Creek 2 is well worth seeing", giving it three-and-a-half stars too (which seems to be the standard).
There's also more nice reviews up on Quickflix, Cheatedhearts, Switch (four stars too), Truly Disturbing, Access Reel, Resident Entertainment, and AAP.
And then there's Leigh Paatsch at the Herald Sun who gave the film half-a-star, and called it a "knuckle-dragging exercise in torture porn". Well, it's just as well he didn't get to see the R version then, isn't it? He seems to be having a go as much at the genre — and the sick perverts who write/watch/read it — as the film. Maybe he could defer to someone else at the paper a little more open-minded next time he has to watch one of these nasty, nasty horror movies. At least they mightn't come into the cinema with a pre-determined review. But, hey, each to their own. My pre-determined view is I've never much cared what the guy thinks, so I guess we're even.
Over at my facebook page (www.facebook.com/aaronsternsauthor — check it out) I've been running one last competition for signed copies of Wolf Creek: Origin, inviting people to photograph themselves next to the many Creek 2 billboards plastering the country. The winner was a dog showing its arse to Mick. Not sure what that says about my followers — maybe just that they're a cool irreverent bunch. Or they saw a dog and clicked LIKE after all the unrelenting horror stuff I post there. Anyway, here's a pic I forgot to post. You have to do these things: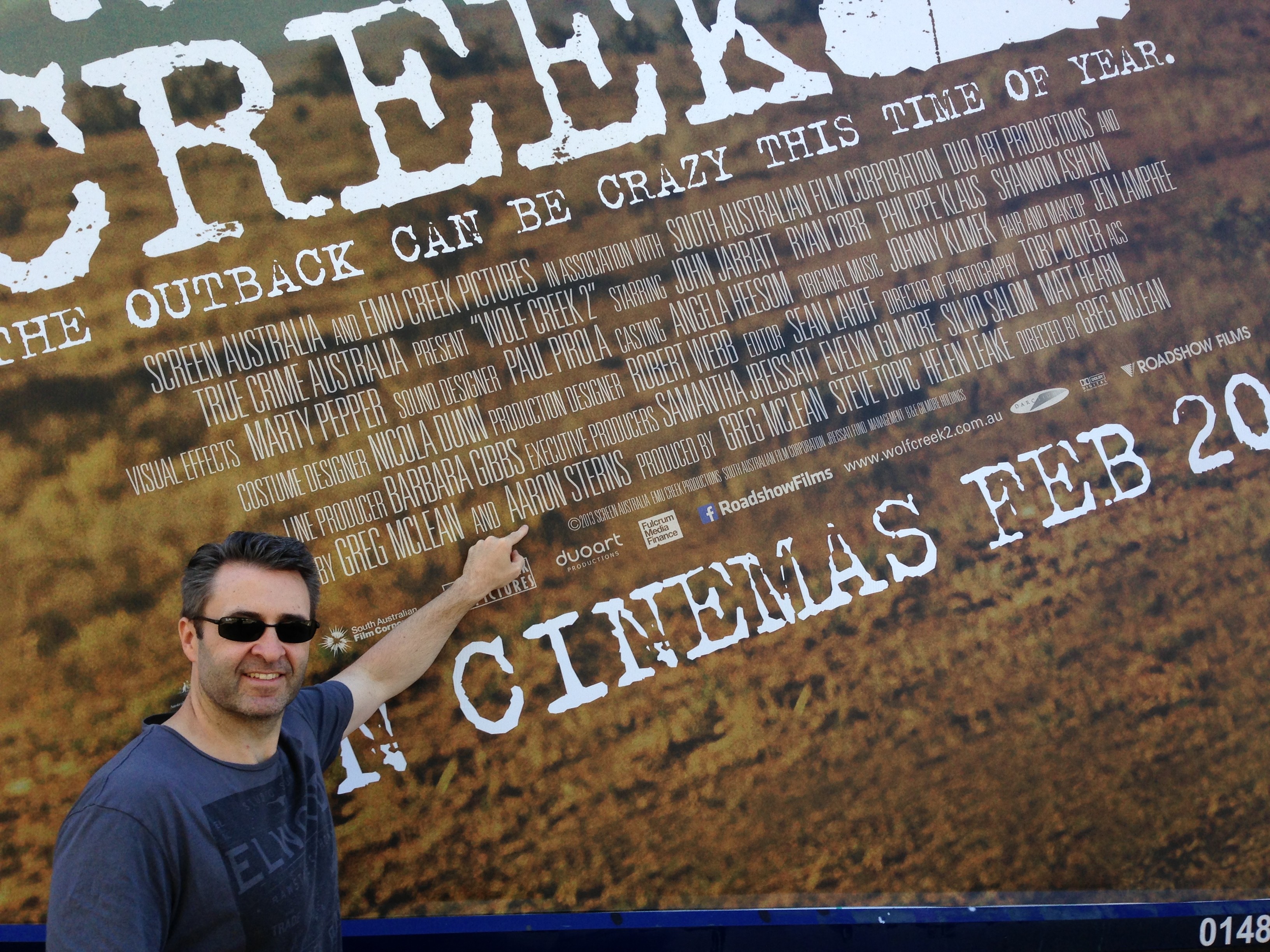 (Cnr Elgin and Drummond Sts, Carlton)
For more posts: THE LATEST.