Wolf Creek 2 releases on VOD in the United States today–and it's the full, uncut version.
The film in the original state is much more uncompromising and cohesive, I feel, and early US reviews seem to be reflecting this. The Horror Society describes it as "a superior horror thriller that works on many levels", while The Quiet Earth says "if such a thing as an artistic horror movie exists, Wolf Creek 2 is it." Joblo's reviewer even says it's "the first time this year a horror film entertained me so much!" (of course, the year is young)
And we even get a theatrical release May 16, a rare feat for a little Aussie horror movie in the big US market.
But that's not all. The Wolf Creek prequel novels were released today in the US by Penguin Global.
Wolf Creek: Origin is available here at Amazon. For those who don't know, Origin follows a young Mick Taylor's doomed struggle to overcome a brutal and traumatic childhood. Michael Helms in the latest Fangoria calls it a novel of "frequently extreme proportions", and says "your expectations will be flayed […] typical scene-for-scene novelizations can only pretend to the kind of creativity found here." A cool summation indeed.
The second book in the series, Wolf Creek: Desolation Game (written by Aus horror author Brett McBean and McLean), tracks Mick's transformation from amateur murderer to trained killer during the hell of the Vietnam War–and his discovery of a little something called 'head-on-a-stick'. It's available here.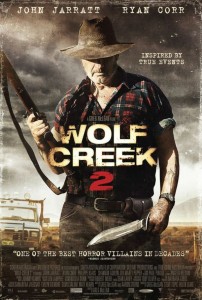 For more posts: The Latest